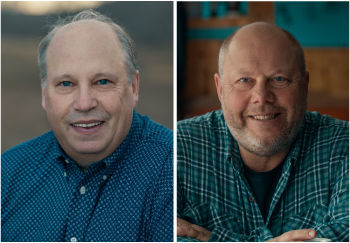 A longtime, powerful state representative appeared to lose his reelection bid Tuesday as voters of a central North Dakota legislative district favored two Republican newcomers for November's general election.
Rep. Jeff Delzer, R-Underwood, chairs the House Appropriations Committee. He lost District 8 Republicans' endorsement in March to challengers David Andahl and Dave Nehring, who also enjoyed Gov. Doug Burgum's endorsement. Candidate Bob Wheeler also sought a House seat.
Burgum poured $1.85 million of his own money into a political group that targeted Delzer, with whom he has tangled over budget issues. Delzer led a rule change that essentially sidelined Burgum's budget blueprint for the 2019 Legislature.
With all seven precincts reporting late Tuesday, Nehring and Andahl appeared to win with 30% and 29% of the vote, respectively, to Delzer's 22% and Wheeler's 18%. Delzer was about 500 votes behind Andahl. Nearly 7,250 people voted.
"I'm truly humbled by the results tonight," Nehring told the Tribune in a text message. "I'm ready to get to work for the people of District 8 and bring new conservative leadership to the state House."
While Delzer appeared to have lost, Deputy Secretary of State Jim Silrum said about 41,000 mail-in ballots had yet to be returned from about 196,000 sent out statewide.
"Anything is possible, considering how many ballots that were sent out (and) have not yet come in," he said.
County canvassing boards meet Monday to certify election results.
"For some of these races, I think it's going to be critically important for the message to be 'Stay tuned, see what Monday brings,'" Silrum said.
Whoever advances to November will face Democrats Linda Babb and Kathrin Volochenko.
Sen. Howard Anderson Jr., R-Turtle Lake, is the only District 8 Senate candidate.
Delzer, a farmer, has chaired the powerful House Appropriations Committee since 2011. He has served in the House for nearly 30 years.
District 28 House
Reps. Mike Brandenburg, R-Edgeley, and Jeff Magrum, R-Hazelton, will face Democrat Beckie Phillips in the District 28 House race, which saw Brandenburg and Magrum endorsed but opposed to each other in the primary.
Brandenburg campaigned with former Rep. Jim Grueneich, who resigned from Jamestown's District 12 in Jamestown and moved to his hometown of Ellendale in District 28.
Brandenburg and Magrum had 37% and 35% of the vote, with all 22 precincts fully reporting. Grueneich had 28% of the vote.
Longtime Sen. Robert Erbele, R-Lehr, goes on to November. He is unopposed.
District 34 Senate
Mandan-area voters chose small business owner Doug Larsen over former North Dakota Commerce Commissioner Al Anderson, whom party faithful endorsed, for the Republican nomination for District 34 Senate.
Longtime Rep. Dwight Cook, R-Mandan, chose not to seek another term. Larsen beat Anderson with about 57% of the vote. He'll face Democrat Adam Michal in November for the Senate seat.
More than 130 legislative candidates filed for the 23 Senate seats and 46 House seats on the 2020 ballot, including 76 Republicans, 55 Democrats and two Libertarians. Republicans control the House 79-15 and the Senate 37-10.