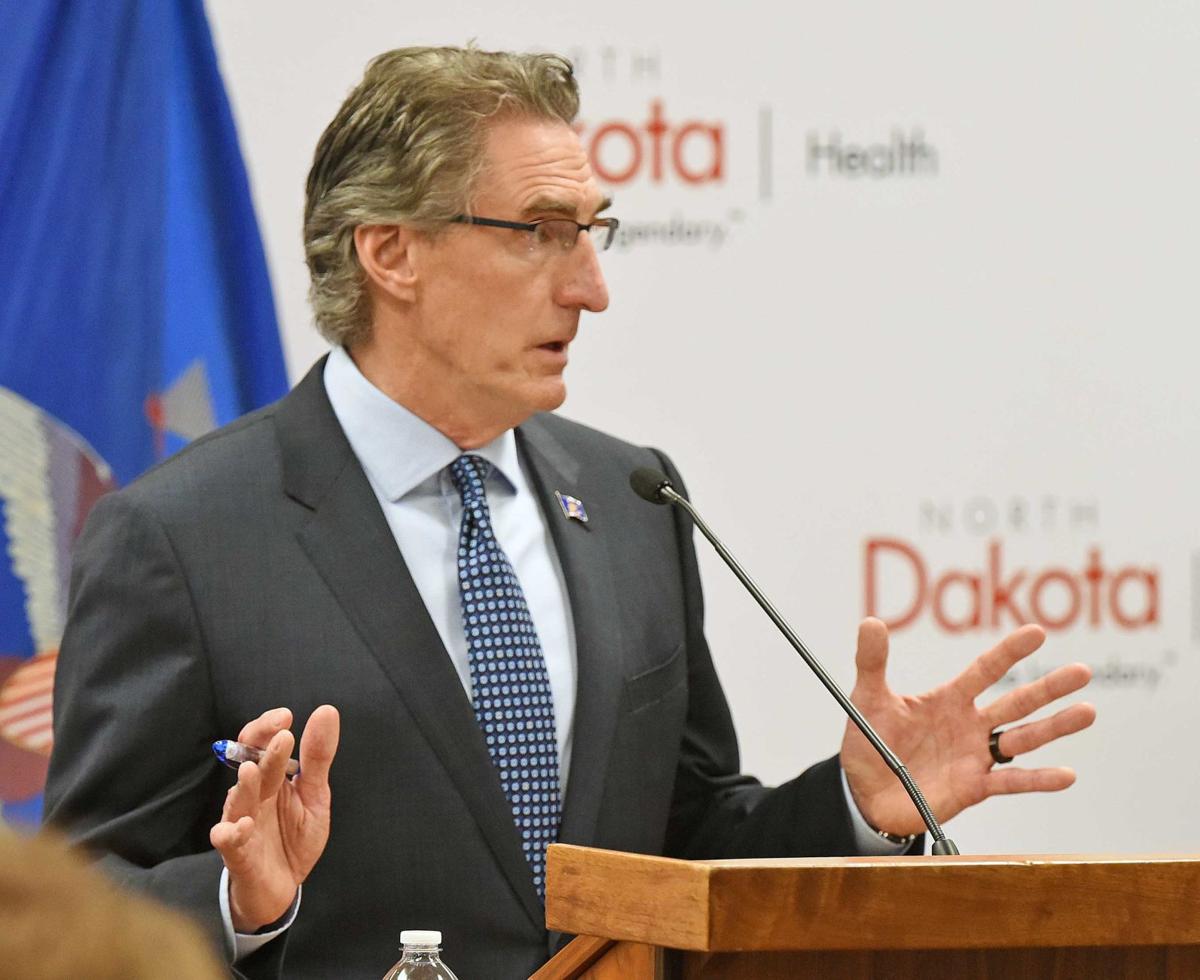 Former Gov. Ed Schafer has concerns about Gov. Doug Burgum's hefty donations to a political group that successfully targeted a powerful, fellow Republican's reelection bid.
"To have ... one Republican just outright campaigning with gobs of money and negative advertising against another Republican worries me about the shaping of our Republican Party," Schafer said.
He had two thoughts upon learning of Burgum's donations totaling $1.85 million to the Dakota Leadership PAC, run by former Burgum advisers, which ran advertising against longtime House Appropriations Committee Chairman Jeff Delzer, R-Underwood, who appeared to lose his reelection bid Tuesday.
"My first thought was he's in a no-win deal," Schafer said, pointing to likely future opposition to Burgum by lawmakers.
"My second thought was he can't make his relationship with the Legislature any worse," he added, calling Burgum a "great leader," but one with a "very poor" relationship with the Legislature.
Burgum and Delzer have tangled over budget issues, including a rule change Delzer led that shunted the governor's 2019 budget blueprint, frustrating Burgum.
But Burgum, a wealthy former software executive elected in 2016, has maintained he doesn't have a rocky relationship with the Legislature, despite his 2016 campaign statements to break up establishment politics and a 2017 interbranch lawsuit over executive and legislative authority.
Schafer, whose 1992 gubernatorial win is seen as helping propel North Dakota's Republican Party to dominance in state politics, said he sees fences needing mending in the party.
"We need to stand for the same things," Schafer said.
Governor's spokesman Mike Nowatzki did not immediately respond to the Tribune regarding Schafer's comments.
North Dakota Republican Party Chairman Rick Berg said the party's supermajority brings advantages and disadvantages, including differences of opinion. He called Burgum's tactics "unprecedented."
"There's always been tension between the legislative branch and the executive branch," said Berg, a former House majority leader and speaker. "And I would guess that every governor has been in that situation. My take on this is (we) probably have to wait until after the next legislative session to determine what that impact is with the governor being so involved, financially, in legislative races."
Burgum is seeking reelection with Lt. Gov. Brent Sanford. They will face Democrats Shelley Lenz and Ben Vig and Libertarians DuWayne Hendrickson and Joshua Voytek in November.
Schafer senses an "underlying disappointment" from the Legislature in the way it works with the governor, manifested in Burgum's sidelined budget plan.
"I think if you look closely you'll see the Legislature constantly trying to pull authority, responsibility, oversight out of the governor's office and into the Legislature," Schafer said. "And to me that's a signal that they don't like what's going on in the governor's office."
House Majority Leader Chet Pollert, R-Carrington, has said he sees "difficulties in the future" for relationships because of the Dakota Leadership PAC.
Schafer, who endorsed Burgum in his 2016 gubernatorial bid against Attorney General Wayne Stenehjem, said he has spoken to Burgum about working relationships with the Legislature and "negative advertising, because I hate the campaign they put up against Delzer and telling falsehoods about a long-term public servant."
Schafer suggests Burgum needs to "shed his business acumen and understand the public process better," which can be "tricky" for businesspeople entering government.
"There's a separate and equal branch of government, so they don't report to you, man," he said. "They don't get their pay from you and they don't get their report card from you."
Burgum's "money politics" bothers Schafer, the former governor said. Such spending blocks people from seeking office, he said.
"If money is the only answer, then you have a government that is built by the wealthy, the elite and the chosen few. That's it. And that's not good government," Schafer said.
He's not sure what the dynamics will be in the 2021 Legislature. But the fences can be mended, he added. 
"I think this is a wake-up call or a shock or whatever the case may be," Schafer said. "We're at this point between the two branches of government and we've got to figure out how to bring them together for good policy direction for the state of North Dakota and for the people of North Dakota."