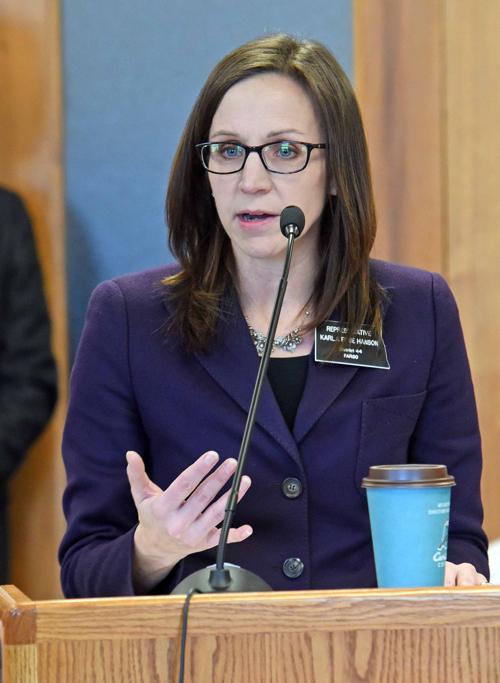 Bipartisan legislation would establish a paid family leave program for North Dakota workers kickstarted with Legacy Fund earnings.
Fargo Democratic-NPL Rep. Karla Rose Hanson introduced House Bill 1509 Monday to the House Industry, Business and Labor Committee. The bill would require businesses with 50 or more employees to participate in the program, with 2 cents contributed each by employers and employees on every $10 in wages.
Hanson said the bill is inspired by the federal Family and Medical Leave Act and would seek to attract workers. A $5 million loan from Legacy Fund earnings would start the program's fund, to be paid off after 20 years. 
"Countless North Dakota families face the problem of choosing between their job and temporarily taking care of a loved one," Hanson said, emphasizing the bill "is not a government handout," but a state-facilitated program.
Hanson said the program would offer up to 12 weeks of coverage per year and 66 percent of wages, capped at $4,000 a month. The program would extend to employees who work at least 25 hours a week, among other time requirements. 
Monday's hearing drew a stream of support and opposition amid standing room-only attendance. 
Bismarck Democratic-NPL Sen. Erin Oban offered her support for the bill as a co-sponsor and from her caretaking experiences involving her father's terminal cancer diagnosis and her son's birth, when she quit her job. 
"Kids take care of dying parents. Spouses or siblings take care of family seriously hurt or injured or sick, and people have babies," Oban said. "And in those most stressful or wonderful or painful times, the most developed nation in the entire world continues to make people choose between being with their loved ones or earning their paycheck." 
Hanson said her bill would be meant for situations that are "occasional in life, not frequent in life," extending to "significant events" such as childbirth or serious medical situations involving inpatient or continuing care.
Other supporters included representatives of the North Dakota AFL-CIO, AARP, the North Dakota Nurse Practitioners Association and the North Dakota Women's Network. 
Opposition included the Greater North Dakota Chamber, National Federation of Independent Business Owners and the Associated Contractors of North Dakota, as well as North Dakota Workforce Safety & Insurance. 
"In short, if this proposal advances, numerous points require clarification for the fund to be meaningfully established and maintained," said Tim Wahlin, WSI's chief of injury services.
The business groups said a variety of companies already offer or have expanded paid family leave programs.
"A government mandate has not been needed nor is needed in the future to help companies or force companies compete for workforce on the private market," said Arik Spencer, president and CEO for the Greater North Dakota Chamber.
Lawmakers asked about the program's eligibility, its frequency of use and its payment schedule. Hanson said an employee would contribute about $96 annually, on average. 
"This provides some financial security for someone who faces those caregiving needs," Hanson told the Tribune. 
The House Industry, Business and Labor Committee will continue discussing the bill Wednesday afternoon in the Peace Garden Room of the Capitol.