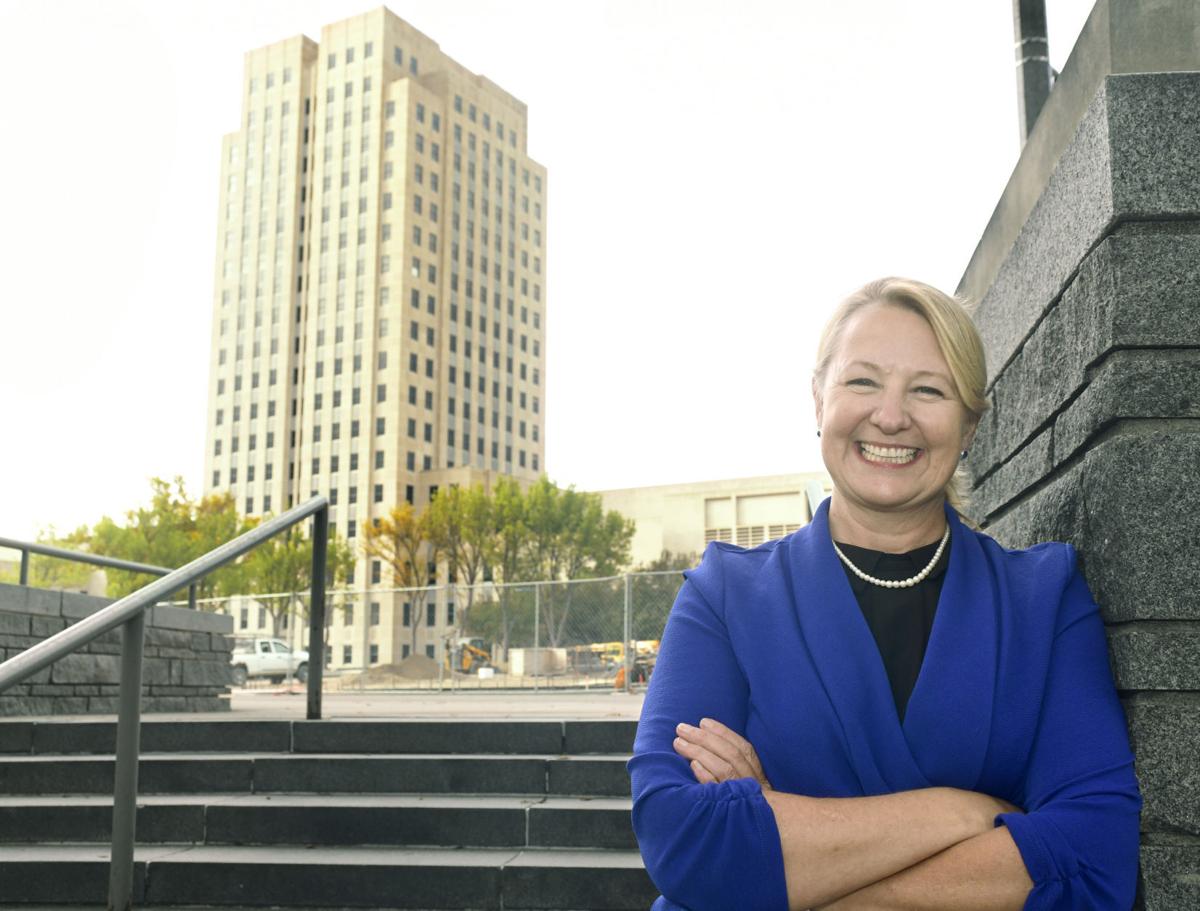 Gov. Doug Burgum's Democratic-NPL challenger on Thursday laid out a proposed coronavirus response plan that mandates masks and also delegates wide responsibility to a key adviser -- a strategy Shelley Lenz says aims to remove politics from management of the pandemic.
The Dickinson-Killdeer veterinarian, and Sharon-area farmer and former state Rep. Ben Vig are the Democratic-NPL nominees for governor and lieutenant governor, respectively, challenging Burgum and Lt. Gov. Brent Sanford, who are Republicans seeking a second term.
Lenz touted her crisis management experience as a veterinarian-scientist and advocated a nonpartisan approach informed by "internationally recognized epidemiologists, medical professionals and dozens of community members from across North Dakota."
She said Burgum's response "isn't working," citing North Dakota's status as a coronavirus hot spot in the U.S. with winter looming. 
"The response must not be political. Our response must be driven by data from reliable, neutral sources, and must evolve as new information emerges," Lenz said in a videoconference with reporters.
Her four-page proposal outlines a "unity of response" with the Legislature and tribal leaders, including a "State-of-Emergency Legislative session" to implement the plan.
The proposal has goals relating to COVID-19 testing, implementing public health guidance that includes a mask mandate, and recommending new policies for paid family leave, extended unemployment insurance and expanded health care services.
Core to the Democrats' proposal is a centralized "incident command" of several sections of "non-elected officials" handling operations, planning, logistics, finance and administration. They would be managed by a commander who "has overall responsibility for (the plan's) implementation, operations, central communications, and establishment of ongoing goals and objectives," according to the proposal.
The commander would likely be medically and military trained and would engage with "independent expert operations research to determine the best practice to increase overall effectiveness of strategy," Lenz said.
She criticized Burgum's structure of response, which she believes prevented former Interim State Health Officer Dr. Andrew Stahl "from executing the job without political pressure."
Stahl resigned last month to return to clinical practice after three months as interim, replacing Mylynn Tufte, who quit in May to return to the private sector. New Interim State Health Officer Dr. Paul Mariani began this week.
Burgum has refrained from mandating masks in public, instead advocating personal responsibility in wearing face coverings and boosting education through a public health campaign that the state's Department of Health has yet to roll out because it's been delayed due to public bidding requirements.
His administration in March convened the COVID-19 Unified Command comprising Cabinet members and state officials, now led by governor's Chief Operating Officer Tammy Miller, North Dakota National Guard adjutant general Maj. Gen. Alan Dohrmann and Mariani.
Burgum also has held dozens of public briefings since mid-March, when the pandemic emerged in North Dakota. His administration developed the "ND Smart Restart" plan for rebuilding economic activity and resuming normal daily life, involving a county-level, color-coded risk indicator and myriad coronavirus data available online.
Governor's spokesman Mike Nowatzki pointed to the Burgum administration's "proactive approach with targeted, pragmatic measures, a light touch of government and an emphasis on personal responsibility to save lives and livelihoods." He cited North Dakota's top ranking for COVID-19 testing in the U.S., the state's low fatality rate and its Vulnerable Population Protection Plan. 
"People elect governors to lead and to consider emergencies holistically, not to hand over critical decision-making to unelected appointees," Nowatzki said.
Lenz compared the commander role to that in response to a flood or wildfire, a person "with clear, quick lines of communication to respond quickly to best practices, knowing everything on the ground." The commander would be a governor-appointed advisory role, she said.
"The incident commander would be the one who decides whether it's better to spend $1.8 million of taxpayers' monies on a PSA or whether to issue a mask mandate," Lenz said. "That is what an incident commander does. This plan takes the political self-interest of the governor out of the equation and ensures our leaders are doing what is best for the health and economic situation of our state."
She also said she understands "that I'm ultimately responsible for all the decisions that get made in addressing any crisis."
"But I also believe it is super-important to build strong teams and to trust your people, and that's how you build public trust," she said.
Concerned about COVID-19?
Sign up now to get the most recent coronavirus headlines and other important local and national news sent to your email inbox daily.