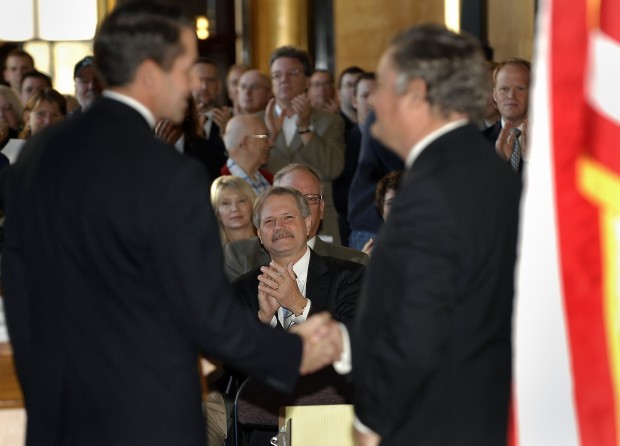 Lt. Gov. Jack Dalrymple will appoint Drew Wrigley to be the next lieutenant governor when he becomes governor in December.
Wrigley, 45, is a lawyer and was formerly North Dakota's U.S. Attorney under the Bush administration. He also was a deputy chief of staff in the early days of the Hoeven administration.
Though Dalrymple talked to many people about the job before offering Wrigley the position on election day, Dalrymple said his policy experience and willingness to be a team player got him the job.
Wrigley repeatedly thanked Dalrymple, saying "As you can imagine this is a big day for us. I think it's my allergies that are getting the best of me."
Asked about how active he was in seeking out the job, Wrigley said "I did express to Lt. Gov. Dalrymple some months ago that I understood there was a process going on and that people were making themselves known."
He said, to laughs, he didn't lobby for the job, but rather participated in "dignified, non-panting discussions."
Wrigley hasn't been shy about his interest in one day returning to the governor's office.
At a meeting with the Tribune editorial board in the summer of 2009, Wrigley, who had just resigned from his post as a U.S. Attorney, said he enjoyed the executive branch and would run for governor under the right circumstances.
Dalrymple said before he offered the job he asked Wrigley if he "would be comfortable with the notion of being the No. 2 person if I should decide to run for election in 2012, and Drew said he would."
Wrigley simply said, "If he wants me he's got me," but as for his intentions of one day running for governor, he would only say "No one knows because it's the people that decide these things."
You have free articles remaining.
As for Dalrymple's decision to run for re-election, the governor-to-be said he probably won't make up his mind until he gets through legislative session.
"Sometime next fall I think people will begin to legitimately ask me what my plans are," he said.
Wrigley comes to the job from Noridian Administrative Services, a private-sector Medicare and Medicaid provider. He will be taking a considerable pay cut by returning to public service, making about $85,000 a year as  lieutenant governor.
The picture of the transition of power is beginning to get clearer. Wrigley will start working Nov. 15, but will not become lieutenant governor until Dec. 7 when Gov. John Hoeven resigns. On Dec. 8, Dalrymple will give the budget address as governor.
Dalrymple said some of the office staff will be leaving to work for Hoeven either in-state or in Washington, D.C.
"I basically told the entire staff they're welcome to stay, but they're considering their options," Dalrymple said.
Dalrymple said his administration will have an added focus on infrastructure in oil country and touted Wrigley's western roots though he was raised in Fargo.
Many Republicans were pleased with the appointment.
"There's no perfect choice out there for filling a slot like that," said Bob Harms, who is active both in the Republican Party and the tea party. "But it's a very good choice for the Dalrymple administration because it reaches out to the conservative community."
Attorney General Wayne Stenehjem has worked with Wrigley frequently over the past several years in his role as a U.S. Attorney and described Wrigley as being bright and a quick study.