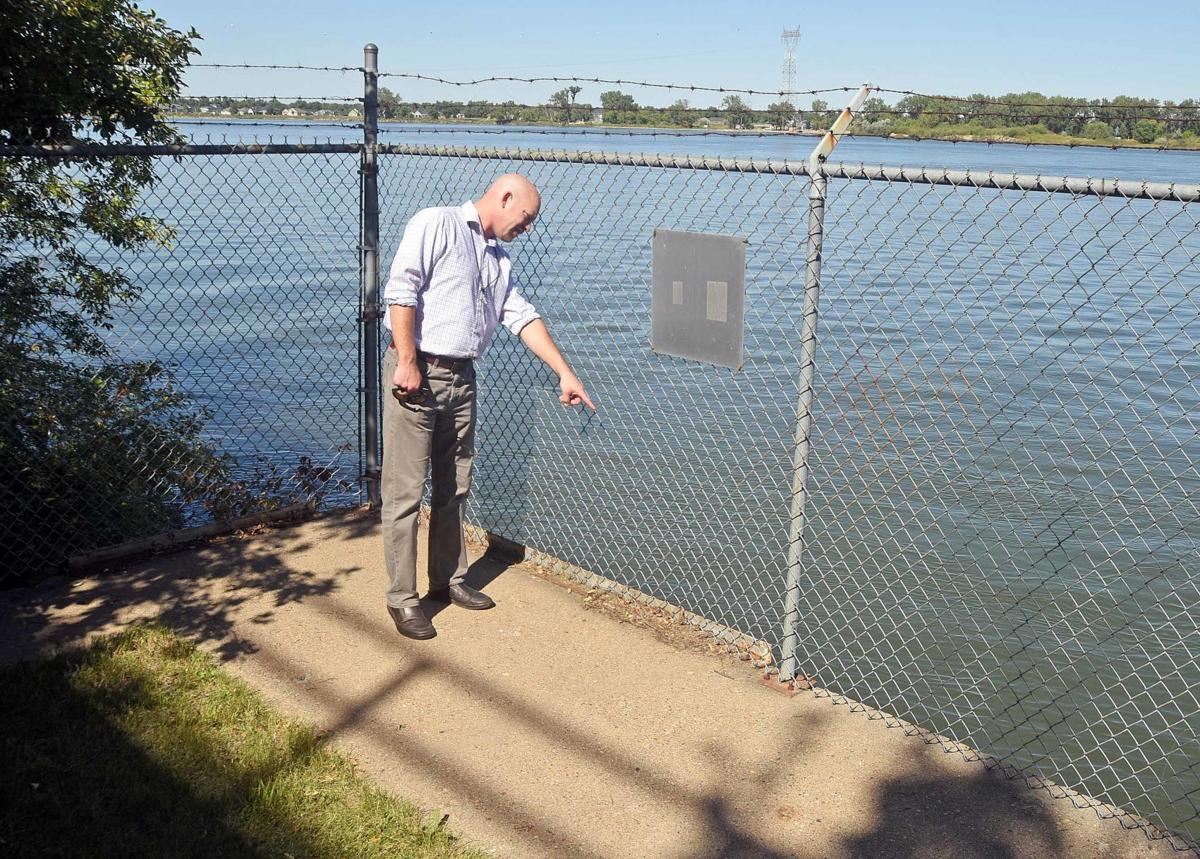 The price of Mandan's raw water intake project keeps rising due to shifting market factors and the "challenging" nature of the project, an engineering consultant says.
It now stands at $36.6 million after the project was rebid in late spring. That's up from a $30 million prebid estimate in April and significantly higher than the initial estimated cost of $20.8 million in early 2019.
The project entails building a new water intake facility on the Missouri River, three-quarters of a mile downstream from the existing 63-year-old one.
That facility's location on the river is prone to sand settling in front of the intake pipes, hindering the treatment plant's ability to pump in water for residential and business use. 
The new intake facility would be in a deeper, more stable part of the river with a "much better hydraulic situation," according to city Planning and Engineering Director Justin Froseth.
The project was bid last fall, but city officials decided to rebid after receiving a lone bid of $24.2 million, several million higher than anticipated.
The city in February paid $225,000 to Grand Forks-based engineering and consulting company Advanced Engineering and Environmental Services, known as AE2S, to create a new bid package. AE2S consultants broke up the project into multiple phases to entice specialty contractors that do river work to bid on only one phase of the project.
Mandan city commissioners heard a presentation Tuesday on the bids received. Multiple bids were received for each phase of the project.
Phase 1A bids were opened on May 19, and the lowest came in about 20% more than the engineer's estimate. Phase 1B and Phase 2 bids were opened on June 3, with the lowest phase bids coming in at about 19% and 50% over the engineer's estimate, respectively. The total estimated cost of the project stands at $36.6 million based on the lowest bids for each phase.
"Obviously those amounts over are concerning," Froseth said.
Commissioner Dennis Rohr was troubled that AE2S was so far off with its estimates.
"That seems a little problematic to me, given the fact that we paid them a pretty good amount of money and then they come up with that miscalculation on the engineering costs there," Rohr said.
Mayor Tim Helbling echoed those concerns but said he didn't think AE2S intended to mislead anyone. He said there is "some pretty good rationale" behind the higher price of the joint project with Marathon's Mandan Refinery.
"There's some things happening in the marketplace today that nobody anticipated. I think we need to give them a chance to sort things out," Helbling said.
Many different market factors, including a lack of materials caused by the trade war with China, have changed since the project was originally put together, said Laith Hintz, project manager with AE2S. He's been involved with the intake project since 2015.
Hintz said the area where the intake pipe will be in the river is difficult to get to, and a portion of the water pipeline will cross refinery land that has multiple railroad crossings, which is more challenging for contractors to work around.
"If it was something that was routinely done, a lot of times it's a lot easier to get your arms around what those costs are going to be," he said. "When you have some of these more challenging installations, sometimes it's hard to fully appreciate what a contractor might be looking at as far as risk."
The State Water Commission previously committed to funding 60% of the project, but that amount was based on the original project estimate of $20.8 million.
The city put in an additional funding request to the State Water Commission, which earlier this month decided to hold off any additional funding requests until its July 16 meeting, Froseth said. The city is seeking a 60% match on the updated project estimate of $36.6 million.
Froseth said he will come before the city commission at its July 21 meeting with a recommendation, depending on the results of the State Water Commission meeting.