As a bill dealing with high-level radioactive waste works its way through the North Dakota Legislature this session, a group of concerned citizens is urging the public to pay attention.
Senate Bill 2037 sets up a framework for permitting and regulating the storage and disposal of spent nuclear fuel and other high-level radioactive waste.
Regulators and legislators working on the bill say it is necessary to clean up outdated language in state law and define a process for the state to respond if the federal government ever designates North Dakota as a repository for high-level radioactive waste.
"This is not something that we really want in our state at all," said Sen. Jim Roers, R-Fargo, a legislator working to refine the bill. "But if it's forced upon us, we need to have some structure to be able to navigate the permitting process and approval process."
A group of Pierce County residents known as the North Dakota Community Alliance has concerns about the bill and is promoting amendments they say will better protect the public.
The alliance formed after local residents were caught off guard by a U.S. Department of Energy proposal to drill an exploratory borehole near Rugby. The project did not involve storing nuclear waste, but testing the stability of the rock. Residents objected and the county said no to the project in 2016.
"Everyone knew it was a test," said alliance member Stephanie Steinke, who lives near Rugby. "We were just already looking ahead to what does that mean for Pierce County if it's successful?"
Since then, alliance members have been actively researching issues related to the disposal of nuclear waste, including viewing webcasts of meetings of the U.S. Nuclear Waste Technical Review Board from the Rugby High School. Now they're working to raise awareness of the issue as the state develops regulations.
"This is something we've never dealt with. I don't think a lot of people understand how dangerous it is," Steinke said. "We're making a decision for many, many future generations."
Updating the law
As a result of the Pierce County proposal, state legislators tried to clarify issues related to high-level radioactive waste storage facilities in the 2017 session. State officials realized they needed to do more research, said Ed Murphy, state geologist.
"The more we dug, the more problems we saw with the existing statute," Murphy said.
In between legislative sessions, the Geological Survey and the North Dakota Department of Health studied existing laws and developed recommendations, which are now part of the bill being considered by the Senate Energy and Natural Resources Committee.
"A big push for this bill is to come up with a mechanism where if the state of North Dakota wants to say no to a federal high-level radioactive waste repository, this is the mechanism to do that," Murphy said.
If the federal government nominates a site to be a nuclear waste repository, the governor or legislature of a state has up to 60 days to issue a notice of disapproval and explain why the state does not approve, according to the federal Nuclear Waste Policy Act.
Attorneys for state agencies say North Dakota's current law outlining how the state would respond is unconstitutional and needs to be updated, Murphy said.
The bill gives the North Dakota Industrial Commission the authority to issue a notice of disapproval when legislators are not in session. The Industrial Commission consists of the governor, attorney general and agriculture commissioner.
If a nomination comes during a legislative session, lawmakers would have the authority to issue a notice of disapproval.
Rebecca Leier, a member of the North Dakota Community Alliance, said she's concerned the bill gives "sweeping powers" to the Industrial Commission and state geologist. Leier told legislators during a Jan. 4 committee hearing that the group would prefer legislators to retain oversight.
That's one suggestion legislators are not likely going to be able to approve, said Rep. Jon Nelson, R-Rugby, who is working with alliance members to draft amendments to the bill.
Legislators meet for 80 days every two years. Attorneys for state agencies say it would be unconstitutional for legislators to require the governor to call them into special session to deal with a nuclear waste site nomination, Nelson said.
"That's one of those issues that we're probably not going to be on the same page," Nelson said.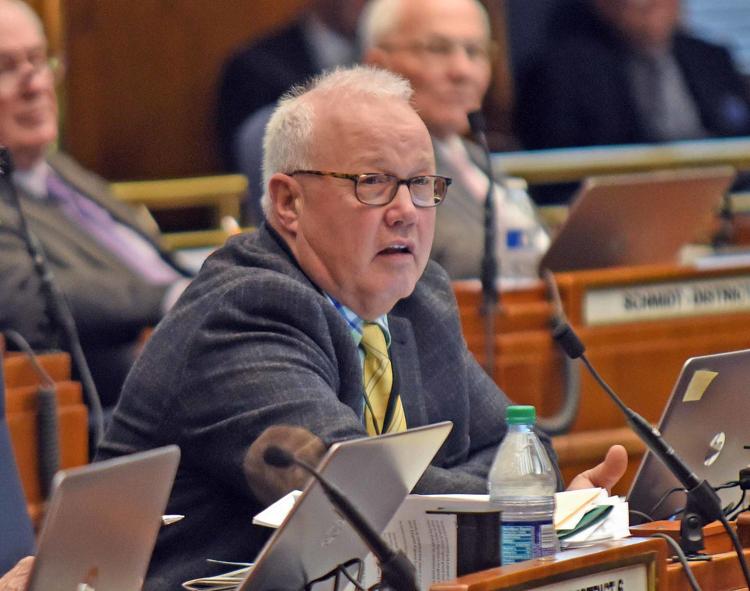 Permitting process
The bill also outlines a state permitting process for high-level radioactive disposal facilities, as well as a process to issue test permits.
That portion of the bill is "unnerving" to many people, Steinke said.
Leier said alliance members worry the bill as currently drafted creates a "road map" for the approval of high-level radioactive waste storage or testing in North Dakota.
Alliance members are promoting amendments to give citizens a greater voice in the process, such as a longer public comment period, requiring a notice published in the local newspaper, and notifying residents within 30 miles of a proposed site. In addition, they're pushing for higher permitting fees and bonding requirements and working to ensure county governments have a voice in the process.
The bill states that a county zoning regulation may not prohibit a high-level radioactive waste facility permitted by the Industrial Commission, but may regulate the size, scope and location of a facility.
Dave Migler, chairman of the Pierce County Commission, said county commissioners look out for the safety and well-being of the county, and he hopes the local government will have as much say as possible.
"Our biggest thing is we really need to have some input on it," Migler said.
The bill also creates a high-level radioactive waste advisory council that would consist of the state engineer, state health officer, state geologist, commerce commissioner, directors of the state Department of Transportation, Game and Fish Department, Department of Environmental Quality and citizens representing county government, city government and the agricultural community. Members would meet at least once per year, review administrative rules and site suitability and issue a report for a proposed facility.
Alliance members say it's been difficult to track the bill's progress in the Legislature from afar. The Senate Energy and Natural Resources Committee meets on Thursdays and Fridays in the Fort Lincoln Room at the Capitol, but it's unclear when the bill will be discussed next. The schedule for this week only says "committee work."
Roers, a member of the committee, has been working with Nelson to draft amendments to the bill. On Thursday, Roers said he planned to introduce the amendments within 10 days and Nelson said he planned to show the proposal to alliance members in advance.
"This is a statewide policy," Steinke said. "We just want to make sure that people statewide know this is happening and have a chance to get their voice heard now, while there's time to do so."