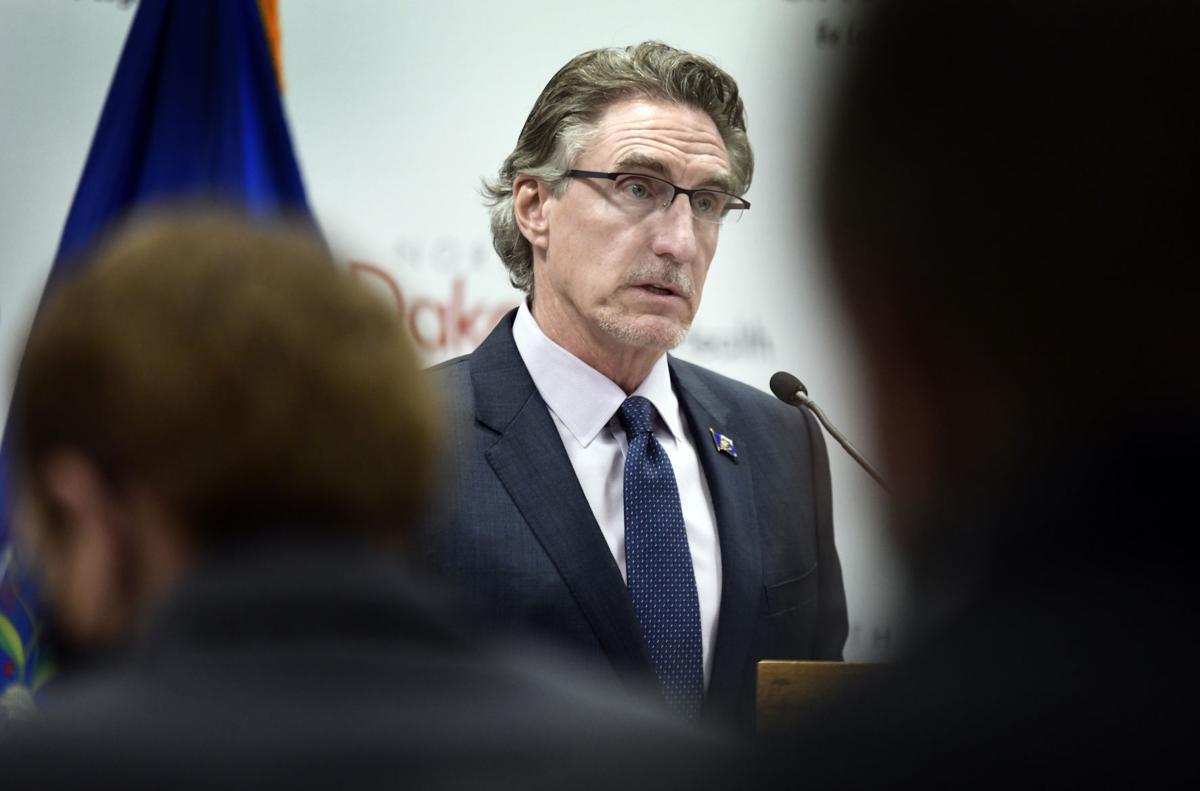 Gov. Doug Burgum has put more than $2.8 million of his own money into a political group run by former advisers that is focusing on a higher education ballot measure and the reelection bid of North Dakota's schools superintendent.
The first-term governor who is seeking reelection drew criticism last summer from fellow Republicans for the Dakota Leadership PAC, which successfully targeted a Republican candidate for state treasurer and Rep. Jeff Delzer, R-Underwood -- the top House budget writer, with whom Burgum has tangled over budget issues.
Burgum, a wealthy former software executive, has downplayed his donations to the group, seeing it as nothing new in politics.
Some Republican leaders view the group negatively.
Former Gov. Ed Schafer has said he's worried to have "one Republican just outright campaigning with gobs of money and negative advertising against another Republican."
House Majority Leader Chet Pollert, R-Carrington, has said he sees "difficulties in the future" for relationships because of the Dakota Leadership PAC. Delzer called Burgum's hefty donations "not right."
Burgum said the Dakota Leadership PAC supports GOP-endorsed candidates and a conservative agenda.
He called the practice of executive branch officials supporting legislative candidates "as common as breathing."
"I don't even know how that even made it into an article in the first place because it's such a common practice," he told the Tribune on Thursday.
Burgum might have a point, according to Mark Jendrysik, professor of political science and public administration at the University of North Dakota.
"I can understand the governor's perspective. He certainly wants people in the Legislature who support his goals, his particular vision for the state," Jendrysik said. 
Burgum's donations in excess of $2.8 million are "all relative" but "in terms of North Dakota politics, it's a lot of money," the professor said. 
"For North Dakota, I think $2 million goes a long way," Jendrysik said.
Different focus
In mailers this fall the group is supporting State Superintendent Kirsten Baesler, calling her "the leader North Dakota schools need now!"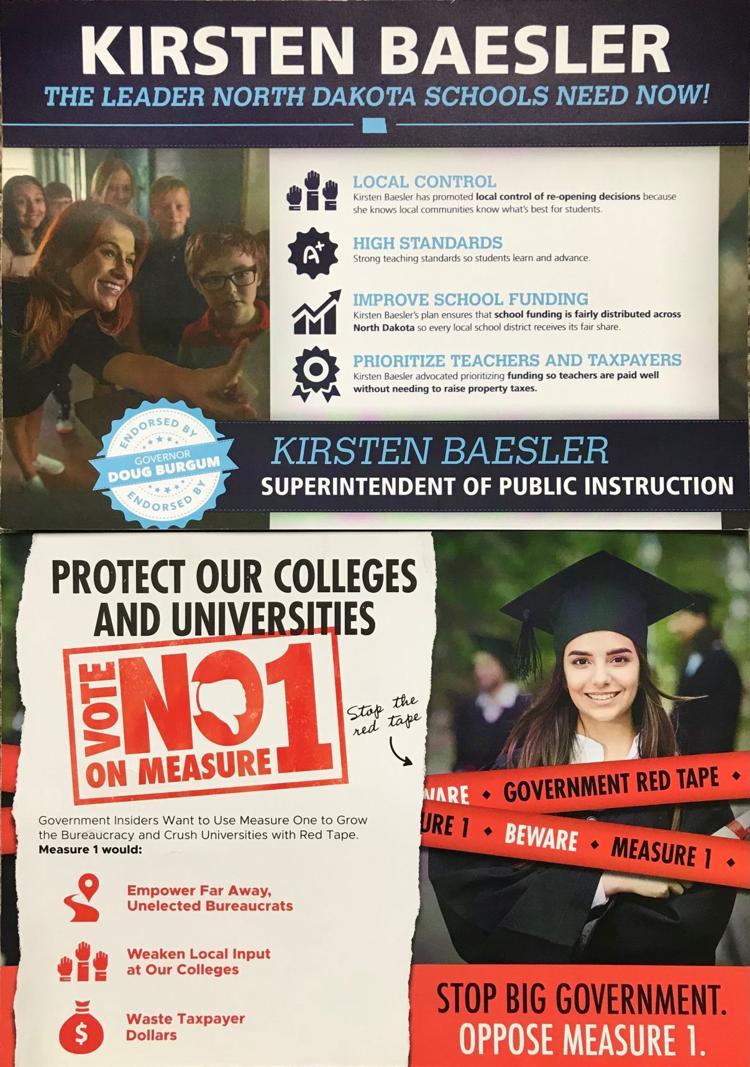 Baesler is seeking a third term. She is challenged by Underwood School District Superintendent/Activities Director Brandt J. Dick. North Dakota's Republican Party issued a letter of support for Baesler last summer.
Schafer thinks the group's general election focus is different than in the primary, when "the money was being spent against Republicans by a Republican governor and it was being spent in a method that was trying to create a Legislature that was more friendly to the governor instead of the common, not-always-friendly interaction between the legislative branch and the executive branch."
Dakota Leadership PAC mailers for Baesler feature "Endorsed by Governor Doug Burgum" with his photo.
Burgum praised the superintendent of public instruction, citing her K-12 teaching, administrative and governance experience. 
"We've been able to partner well on all the things that we're doing around innovation and K-12, and I feel like she's the right person to lead us forward for the next four years," he said.
'Big Government in Disguise'?
The group also is blasting Measure 1, which would expand North Dakota's State Board of Higher Education from eight members to 15 and their terms from four years to six. The board oversees North Dakota's 11 public colleges and universities.
Dakota Leadership PAC mailers say Measure 1 "is bad for North Dakota," is "Big Government in Disguise" and will "Empower Far Away, Unelected Bureaucrats." North Dakota's governor appoints the board's members.
Burgum opposes Measure 1, which the 2019 Legislature passed for 2020 voters to decide, following a task force's yearlong study into higher education governance.
Schafer said a governor should weigh in on measures, being a representative of the people. 
"I didn't have the vision of doing it with PAC money, but I always stood up and had the press conference and said, 'This is what I believe is right for the state and this is how I prefer the people to vote,' which is what our current governor is doing in a different way," he said.
Burgum formed and led the 15-member task force comprising state lawmakers, university professors and researchers, and others, which in late 2018 recommended a three-board model.
The governor said the state needs an improved higher education governance structure than the model established more than 80 years ago. He cited "incredible forces" of changing economics, technology and culture, among other reasons.
"It's not really working to fit the institutions," Burgum said of the current board. 
The 2019 Legislature considered different measures, killing a bill for a two-board model and passing a resolution that bore Measure 1.
"The idea of just taking the existing model and doubling the size of the existing model, it doesn't really solve the problems that we identified during that yearlong study," Burgum said. "So I again would say if this doesn't solve the problem that we should be opposed to it, and we should go back to the drawing board and come up with a plan working together that could solve the problem."
Measure 1 would amend the state constitution. The proposal was designed to create greater flexibility by bringing more areas of expertise to the board.
Here to stay?
Burgum said the Dakota Leadership PAC "is the kind of thing that Republicans have been talking about for decades."
"When you're an elected official, you don't give up your rights to free speech," he said.
Jendrysik is interested to see how the 2021 Legislature plays out after the Dakota Leadership PAC's involvement in elections. 
For 2022 and elections beyond, Schafer said, "I would hope that the PAC and the kids who are running it would focus it on the reasons to put the PAC together in the first place, which is for good things for North Dakota, and it sounds like they've got a ton of money there and it sounds like they're going to continue to engage, and it's my hope that they do engage on good things for our state."