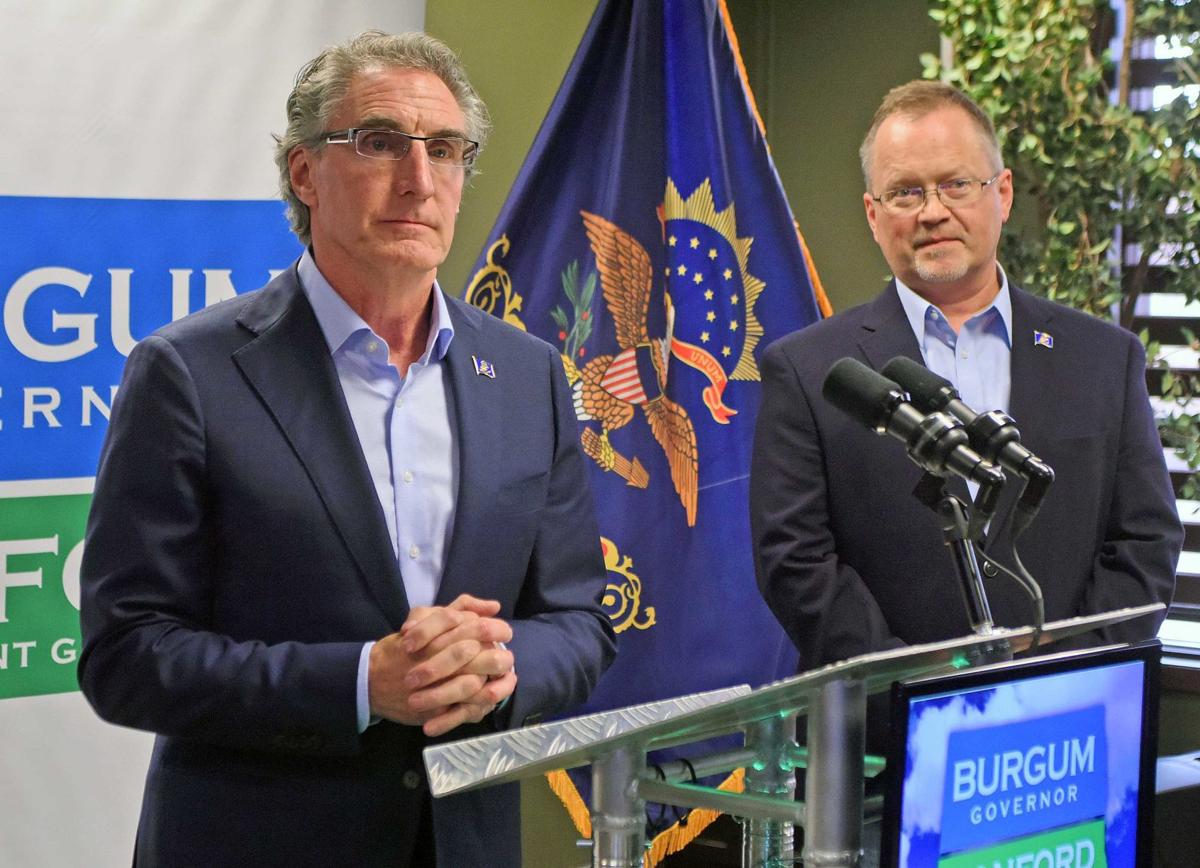 Gov. Doug Burgum says his $1.85 million in donations to a political group targeting fellow Republicans before the June election is nothing new when it comes to politics.
The Dakota Leadership PAC is run by past advisers of the wealthy former software executive. The group has disseminated ads against other Republicans, including a state treasurer candidate and the longtime House Appropriations Committee chairman, Rep. Jeff Delzer, R-Underwood.
Delzer said he is trying to run a positive campaign in a four-way Republican House race, in which he lost the endorsement of District 8 Republicans. He feels Burgum has not respected the separation of powers with his hefty donations.
Delzer frustrated Burgum before the 2019 Legislature in leading a rule change that sidelined the governor's budget blueprint. Burgum said he felt his recommendations had been "tossed in the garbage."
Burgum on Friday said he is supporting locally endorsed legislative candidates and those who share his and Lt. Gov. Brent Sanford's vision. Legislative and executive branch officials have historically supported one another in races, he added.
He also noted GOP leaders were unable to endorse statewide candidates due to the cancellation of their convention amid the coronavirus pandemic. Burgum has endorsed state Rep. Thomas Beadle, R-Fargo, for state treasurer. He gave his campaign $25,000.
"The idea that this is something that doesn't happen and is really unusual, again, there's no basis in fact for the claim," the governor told reporters. "Just look at politics in America ... since its founding, and this would just fit right into that, of legislators and executive branch people supporting each other."
Competition is a good thing for the party and the state, he said. 
It takes money to "create a level playing field" in races, he added, hinting at what President Donald Trump's May 24 tweet endorsing treasurer candidate Dan Johnston is worth.
"Is that worth a million, 2 million bucks? Might be, I mean, seriously, in today's world," he said. "The dollars is an isolated metric because there's other factors that play into it to try to create a level playing field."
Delzer, a farmer who has served almost 30 years in the House, said Burgum's donations are "a lot of money to try to influence other races, and frankly I don't think it's right."
"If he wants to support somebody a little bit, that's one thing, but trying to influence, totally influence who he has to work for, to me, is not right," Delzer told the Tribune. "Separation of powers is very important to the citizens and the people of North Dakota, and frankly I think this kind of goes against the separation of powers."
Burgum pointed to a 2016 ad signed by many lawmakers in support of his Republican gubernatorial opponent, Attorney General Wayne Stenehjem, whom he beat in the 2016 primary.
"I don't recall any of those 81 legislators suggesting that was a separation of powers issue at the time," he added, asking reporters to "please let people know I'm smiling when you're writing this."
Burgum's donations have roiled at least a few in his party.
Republican Treasurer Kelly Schmidt, who is not seeking another term, told the Tribune in a text message, "I would have more respect for the Governor if he would have used his $1.85M to do something Legendary and left a legacy versus a political riot," referring to the GOP District 8 House and state treasurer races, as well as the three-way GOP District 28 House race in which Burgum also has left his mark.
"(I)t's a political riot," Schmidt said.
The governor said "it remains to be seen" if he will support primary winners in the fall.
But the Dakota Leadership PAC will be around for 2022, 2024 and beyond, he added.
"We've seen in the past, people have complained about some initiative that ends up on the ballot that's funded by Hollywood, comes in here and there's nobody to stand up and take a North Dakota point of view against it, and I think there's a reason it's called a Dakota Leadership PAC," Burgum said. "There's an opportunity for us to lead here with North Dakota ideas."
Regarding advertising perceived as negative, Burgum said races include pointing out the strengths of favored candidates "and then you share the facts about the other person's record."
Delzer said the ads targeting him are "disparaging and misleading information."
Burgum said "The Dakota Leadership PAC is putting out information that's all been researched, it's facts-based, it's accurate, and you can look at the citings that they're using for that." The group will comply with all necessary rules and disclosures as well, he said.
"But we saw this two years ago and four years ago and whatever," Burgum said. "There's a lot of energy that goes into the primary and maybe less in the general."
Get Election 2020 & Politics updates in your inbox!
Keep up on the latest in national and local politics as Election 2020 comes into focus.