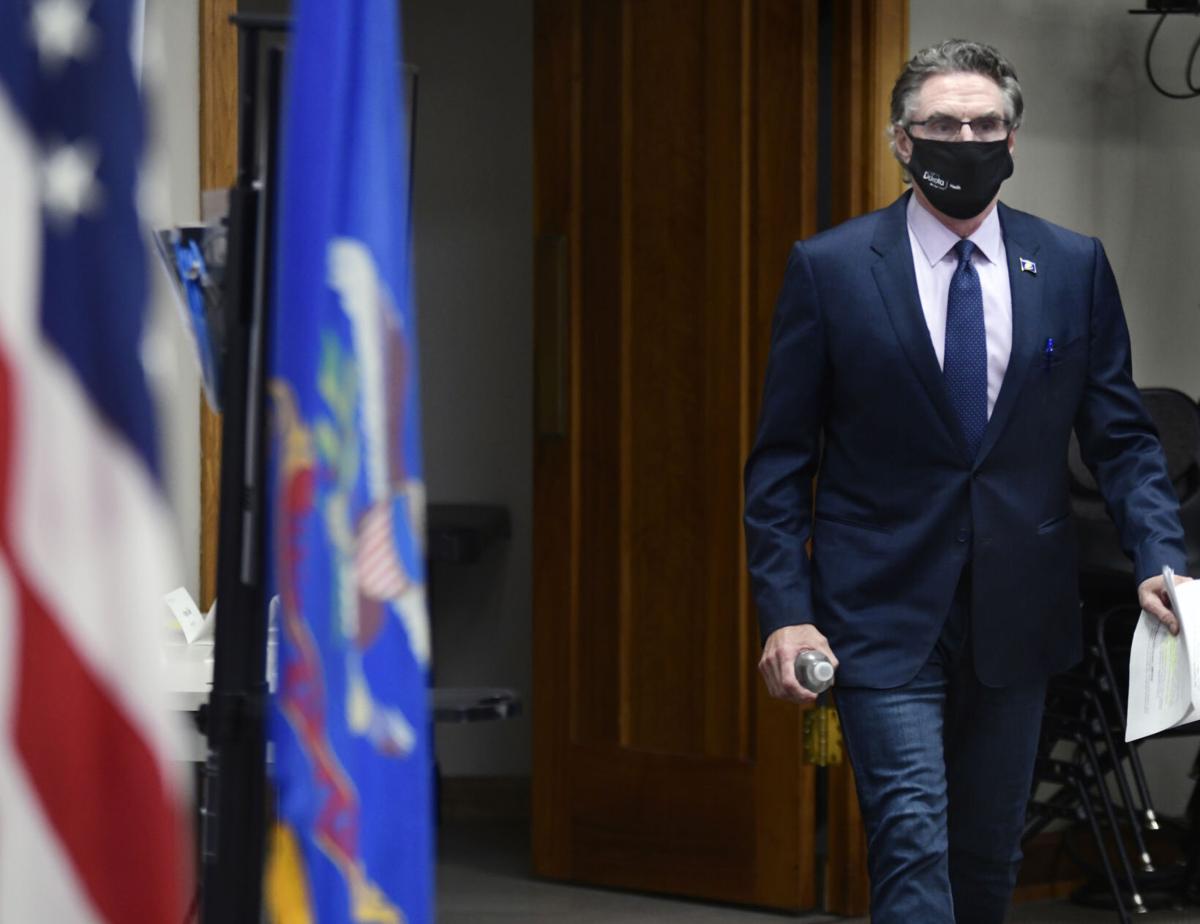 Gov. Doug Burgum supports a seat belt law to help mitigate traffic deaths, but he won't issue a mask mandate amid North Dakota's growing coronavirus cases.
"I would just say that I'm going to stand by both of those decisions, and maybe there's some theoretical conflict in holding those two views," he said when asked this week about his vocal support in 2018 "absolutely" for a primary seat belt law but not presently for a statewide mask mandate.
The 2019 Legislature defeated such a bill, which passed the Senate 24-23 but failed 38-54 in the House amid arguments of personal freedom. North Dakota has a secondary seat belt law, under which an unbuckled driver is ticketed only after a traffic violation. State law requires minors in vehicles to wear seat belts. Children younger than 8 must ride in a child restraint or a booster seat.
Burgum on Monday reiterated his support for a bill, citing his administration's "Vision Zero" initiative of eliminating traffic fatalities.
North Dakota had 100 crash deaths in 2019, at least 34 of which were "unbelted fatalities," according to state data. In 2018, an unbelted fatality occurred every 10 days in North Dakota.
Face masks also have generated debates of personal freedom in North Dakota, most recently before a unanimous Morton County Commission vote rejecting a mask mandate.
"In both cases I'm for compliance. It's just two different methods to get to the same place," said Burgum, who advocates face masks and personal responsibility in wearing them.
His administration is promoting #MaskUpND in a public health campaign. Seat belts are a component of his administration's "Vision Zero" campaign.
"There are probably a million excuses why people don't wear seat belts, but none of them will keep you alive," an ad narration says. 
Data is "very, very strong for seat belts saving lives," Burgum said. The U.S. Centers for Disease Control and Prevention reports that seat belts reduce the risk of death and serious injury by 45% and 50%, respectively.
"It seems to me like this is a well-established science that's been around. ... North Dakota, we're just on the tail end of this, of sort of understanding that," he said, citing decades of research into seat belts preventing crash deaths.
"This seems like a bit of no-brainer based on everything that's there," he said.
Face masks are "a community thing," he said.
"If I'm sitting in my driveway, not going anywhere and wearing a seat belt, I'm not helping anybody else, OK?" Burgum said. "But if I'm putting a mask on and going into public, I'm helping other people, and so this is a different thing. This is a community thing. This is a 'We're all in it together.'"
The CDC in July urged the public to wear masks to reduce coronavirus spread, citing research that included two Missouri hairdressers symptomatic with COVID-19 and wearing masks who did not spread the virus to any of their dozens of clients.
"Cloth face coverings are one of the most powerful weapons we have to slow and stop the spread of the virus -- particularly when used universally within a community setting," CDC Director Dr. Robert Redfield said in a statement. "All Americans have a responsibility to protect themselves, their families, and their communities."
A mask mandate to increase compliance with public health guidance could lead to the opposite in North Dakota, where many people reject a mask mandate, Burgum said.
"If I thought by not having a seat belt law that we could get more people to wear their seat belt, that's the camp I'd be in," he said.
Burgum called different approaches across states "a beautiful thing."
"We can have 50 cauldrons of democracy or 50 platforms of innovation, and we're going to continue to do in North Dakota the thing that we think saves the most lives and saves the most livelihoods," he said.
Concerned about COVID-19?
Sign up now to get the most recent coronavirus headlines and other important local and national news sent to your email inbox daily.