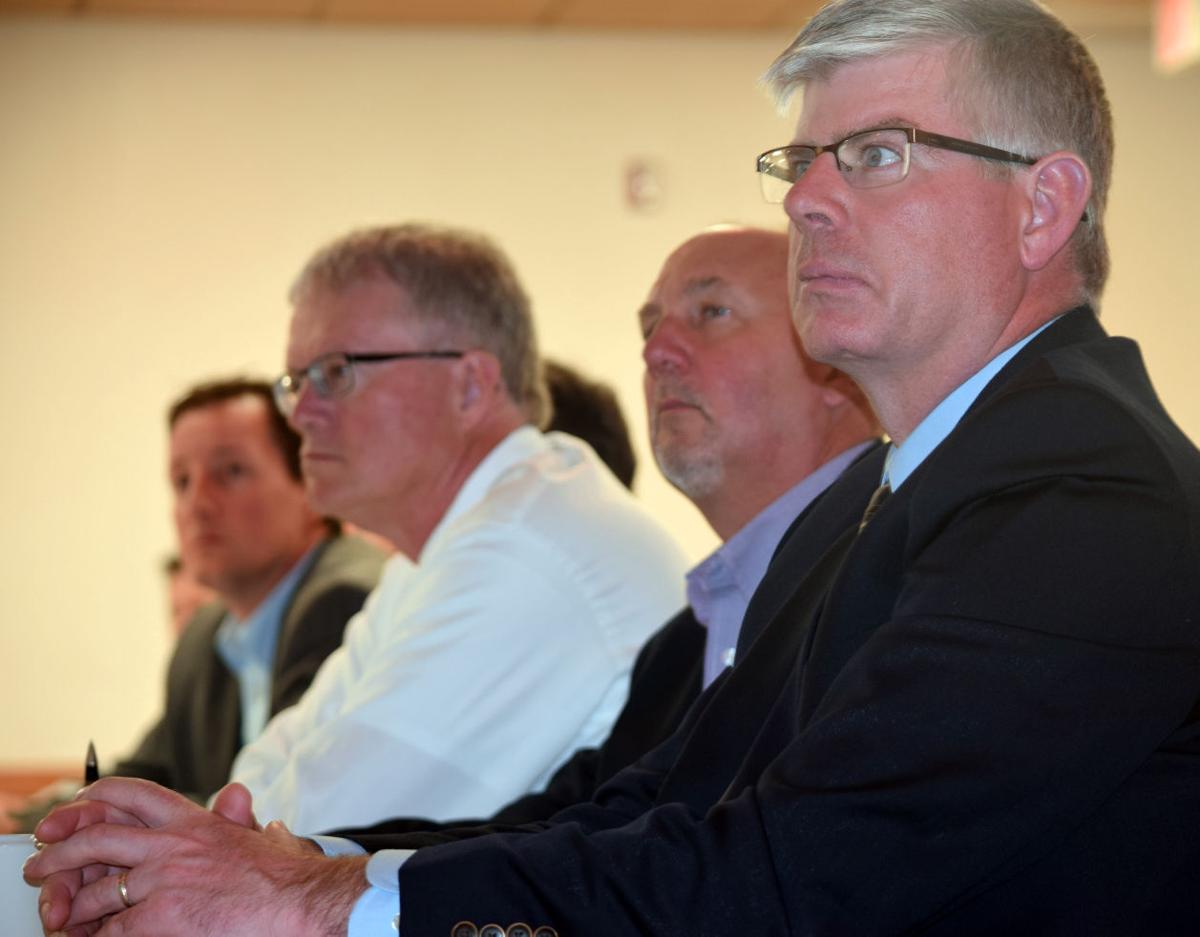 Gov. Doug Burgum has appointed a successor to a Bismarck-area legislative seat won by a deceased Republican nominee, taking party leaders by surprise and sidestepping an attorney general opinion.
Burgum on Wednesday morning appointed Wade Boeshans, of Washburn, who leads a coal mining company. The appointment came just hours after unofficial results in Tuesday's general election became complete.
David Andahl, 55, of Baldwin, died Oct. 5 from COVID-19. His death was so close to Election Day with early voting already underway that the ballots could not be changed.
The governor's office issued a statement Wednesday that said "Unique circumstances require gubernatorial appointment to fill seat." But hours later, Attorney General Wayne Stenehjem released a statement, calling Burgum's news release "inaccurate and untimely." 
Andahl and Dave Nehring, of Bismarck, teamed up to win District 8 Republicans' endorsements and voters' nominations for the House seats, defeating longtime Rep. Jeff Delzer, R-Underwood, in the June primary. Delzer is chairman of the powerful House Appropriations Committee, and had tangled with Burgum over budget issues.
Burgum gave $1.85 million to a political group run by former advisers that successfully targeted Delzer's seat.
Andahl and Nehring won about 36% and 41% of the vote, respectively, against Democrats Kathrin Volochenko, of Mercer, and Linda Babb, of Bismarck, who won 11% and 10%, respectively. 
Stenehjem last month in an opinion said Andahl's death, if he were to be elected, would create a vacancy that District 8 Republican party leaders could fill by appointment. District 8 Republicans continued to campaign for Andahl, seeing a path to appointing a successor if Andahl were to win.
The governor's office cited a state constitutional provision that "The governor may fill a vacancy in any office by appointment if no other method is provided by this constitution or by law."
Burgum said in the statement that "After extensive research, it became clear that the only legal and constitutionally viable way to fill the District 8 seat is through gubernatorial appointment."
"Our hearts continue to go out to David Andahl's family and friends," Burgum said. "There is no doubt he would have served the state well in the Legislature. The people of District 8 are entitled to full representation in the next legislative session, and Wade Boeshans is uniquely qualified to serve their needs."
Boeshans is president and general manager of BNI Energy, chairman of the Lignite Energy Council and president of the Bismarck State College Foundation.
"I'll be a thoughtful legislator who will work tirelessly with my colleagues for our businesses, communities and family-supporting jobs to ensure the success of District 8 and the state of North Dakota," Boeshans said in a statement.
Boeshans was not named before Election Day as an appointment to replace Andahl.
"It would have been premature to announce an appointment before the election results were in, as it wasn't yet known if an appointment would be necessary," governor's spokesman Mike Nowatzki said.
Boeshans said Burgum approached him in the last week about the seat.
"I have a strong track record of leadership, deep understanding of energy issues and regardless of how the jurisdictional challenge questions play out, I'm willing to help my district, help my state, and the governor asked me to do so and I accepted," he told the Tribune.
Stenehjem said in a statement that the governor has no authority to declare an election null and void.
"By statute, the Secretary of State is the supervisor of elections," North Dakota's longest-serving attorney general said in a statement that also cited his Oct. 13 opinion and noted the election results have yet to be certified.
"Despite the Governor's efforts to sidestep the statutory processes and the state Constitution, I have today advised Secretary of State Jaeger to follow the Opinion," Stenehjem said.
Jaeger said earlier Wednesday his office will follow Stenehjem's opinion. 
District 8 Republican Party Chairman Loren DeWitz said the governor didn't contact any district party leaders about the appointment, which DeWitz learned of Wednesday morning.
He has contacted the secretary of state and attorney general and awaits the election results to be certified, which he said will make official the vacancy created by Andahl's death. 
The district Republican Executive Committee will proceed with making an appointment, "until we hear something different," DeWitz said. Boeshans is unknown to him.
"Don't have a clue who the guy is, so we're just going to continue with the course we set up before," DeWitz said.
Boeshans said he hadn't spoken with district party leaders but plans to do so. He wasn't aware of the attorney general's statement when reached by the Tribune.
When asked whether Burgum appointed Boeshans to preclude a Delzer appointment, DeWitz said the governor "spent a lot of money in this district."
"Everybody can draw their own conclusions," he said. 
Delzer did not immediately return a phone message regarding Burgum's appointment.
Republican Party Chairman Rick Berg said he learned of Burgum appointing Boeshans a few minutes before being reached by the Tribune Wednesday morning. 
"I don't think this has ever been done before," Berg said.
He said he was not involved in or aware of Burgum's appointment decision.
"From my perspective I want to look at the legal aspects of that decision as well as the intent that the Legislature's had on filling vacancies," he said.
Democratic-NPL Party Chairwoman Kylie Oversen said the party is consulting with attorneys.
"The election is not yet official, but the governor already made a macabre power grab in an attempt to keep the seat he thought he had already bought by meddling in his party's primary," she said in a statement. "The plan appears to have been in motion for weeks while the COVID-19 crisis and hospital bed shortage grew more dire. His focus on an intra-party feud, rather than saving lives and livelihoods is disappointing and beyond the pale, even for Burgum."
Volochenko called Burgum's announcement "inappropriate," and said the district "deserves a representative who will stand up for their interests, not the governor's."
New state lawmakers take office Dec. 1 for four-year terms. Republicans grew their supermajority control to 40-7 in the Senate and 80-14 in the House. 
Get Government & Politics updates in your inbox!
Stay up-to-date on the latest in local and national government and political topics with our newsletter.