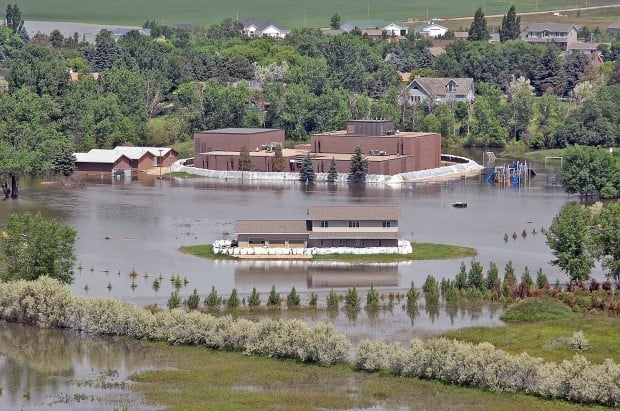 Flooding in the western half of the state will cause schools in Minot to start eight days late, while Bismarck Public Schools is working to get affected students and needed supplies into different schools.
Superintendents from both school districts met before the interim Education Funding and Taxation Committee on Tuesday to talk about some of the challenges presented by flooding along the Missouri and Souris rivers.
Minot faces severe damage to many of its buildings as well as the task of setting up a number of portable classrooms. In the long term, the city will likely have to rebuild several schools.
The tasks ahead of Bismarck are less daunting but still serious.
Prairie Rose Elementary remains the most threatened by floodwaters, said Superintendent Tamara Uselman.
The roughly 200 students and school staff will likely be integrated into Rita Murphy Elementary.
The plan is to double up - putting about 45 students in each classroom at Rita Murphy along with two teachers.
"It's going to be a tight squeeze, to be honest," Uselman said. "We're going to have to rethink and refigure space all over that building."
There will be some additional portables brought in, but the school will also have to order extra supplies such as desks, lunch trays and some books in order to be able to accommodate the swollen school. Uselman said officials have expedited the replacement schedule in order to make the purchases, something she estimates will cost about $10,000.
There will be other expenses, too.
Repairs to Prairie Rose are estimated to cost $20,000. Horizon Middle School, the facilities and transportation building and Solheim Elementary School will all need repairs to their parking lots after being used as sandbag sites. Some of the clay used in levee construction was taken from the Solheim Elementary yard, so that will need to be repaired as well. Some of those projects are already in the bidding process.
Uselman said school officials have already spent over $33,000 on flood-related expenses, an amount they expect to increase substantially but also expect to be reimbursed.
As for Minot, Superintendent Mark Vollmer said, many of the schools have sustained intense damage. Ramstad Middle School is still halfway under water, while those where water has receded have warped desks and floors, caved walls and dangerous mold. Several of the buildings will not be able to open on time.
In all, 1,276 students are being affected, along with 162 teachers.
Vollmer said the school district is in the process of tracking down parents, trying to figure out where people have settled and where they can place their children.
Perkett Elementary School was the only one where the dikes held, but being in one of the most heavily-affected areas, few people now live in that school zone.
Vollmer said the flood has exacerbated the housing shortage and overcrowded schools the city was experiencing pre-flood.
With the extensive damage and logistical challenges, Vollmer has moved the start of the school year back eight days, and he also is asking Gov. Jack Dalrymple to allow a school year five days shorter than that required by law. The other three days will be made up during the school year, he said.
Vollmer said the district is insured up to $50 million dollars, but with so much to rebuild, he expects it to cost much more. Though schools removed most of the textbooks and technology, desks and other supplies will be needed.
He's also expecting a loss in tax revenue, with taxable valuations going down
15 percent this year and 30 percent the following year.
A photo slideshow presented to the committee showed just some of the damage.
"It almost looks like a bomb went off in the building," Vollmer said of Ramstad Middle School, where debris littered the floor and the building's internal framing was the most recognizable thing remaining.
"I stopped counting after I got to 30 collapsed walls," he said.
Vollmer said he is trying to get that building condemned.
A statement from the governor's office Tuesday encouraged people to go to Minot to volunteer and gave state employees one day off to volunteer in the recovery efforts.
Get Government & Politics updates in your inbox!
Stay up-to-date on the latest in local and national government and political topics with our newsletter.