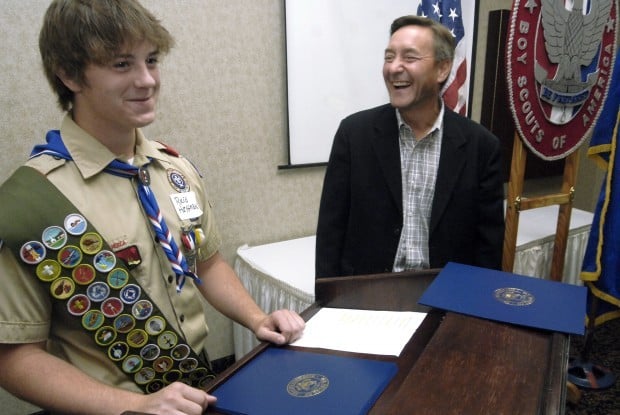 Executives with National Information Solutions Cooperative started their workweek on Aug. 13 at the entrance to the company's Mandan headquarters waiting for their guest. Rep. Rick Berg, R-N.D., arrived at 9 a.m. sharp. Berg was stopping for a private meeting and to learn about the cooperative's operations.
Berg's Bismarck-Mandan area visit on this morning was just one part of the freshman congressman's busy campaign schedule during the legislative body's August recess. Berg has found himself busy outside of his congressional duties: For months he has been locked in a tight Senate race with former Democratic state attorney general Heidi Heitkamp. The race has drawn national attention and is seen as one of a handful of races that could determine which party controls the Senate following the Nov. 6 election.
Berg spent nearly 26 years in the North Dakota Legislature. First elected in 1985, he rose to House Majority Leader in 2003 and held the post until 2009. Berg then ran for Congress in 2010 and defeated Democratic incumbent Earl Pomeroy. In 1982 Berg co-founded Midwest Management Company, a commercial real estate firm in Fargo that later became Goldmark Property management. Berg's wife, Tracy, is a family practice doctor in Fargo, where they live with their son, Jack.
President and chief executive officer Vern Dosch greeted Berg. He said NISC is an information technology company that develops and supports software for more than 600 members in 47 states, Canada and American Samoa. He said the cooperative processes the billing for 10 million to 12 million utility meters and has helped with the development of about 1,600 server systems nationwide.
Dosch called the company a local success story, with more than 430 of its 928 employees from the Bismarck-Mandan area.
"Typically, when you think of Bismarck you think government, you think ag ... you don't really think technology," Dosch said. "There's a lot of great tech jobs right here."
Berg said local companies providing opportunities in the technology sector and others is important to keeping North Dakotans in the state and in drawing people who left the state back.
"What's really driving Fargo is a bunch of kids that moved to Fargo rather than to the (Twin) Cities or Chicago," Berg said. "The more tech companies you have the better. It (competition) raises the bar," Berg said.
Berg said he's running for the Senate to help foster the kind of economic success North Dakota has experienced on the national level.
"I think our country's going down the wrong direction, it's going exactly the opposite direction North Dakota's heading in," Berg said. "I see this election as being about keeping the American Dream alive."
Berg said improving the nation's tax and regulatory policies would help business owners across the country, from the small business owner to larger companies like NISC.
"We do it by growing our economy ... we don't do it by raising taxes. I don't think you should increase taxes now on job creators," Berg said.
Berg said in his time in Congress he's pushed legislation to loosen up regulations he says would stimulate business growth. To do this, in December 2011 he introduced what he called the REGS Agenda. The legislation was meant to strip away red tape to allow for a more business-friendly regulatory environment and keep federal regulations from becoming overbearing or burdensome. It stalled in the Senate.
"One of the biggest threats to our energy industry, our health care industry and our business industry is a lack of common sense regulations," Berg said.
Before rolling out the REGS Agenda, Berg was a co-sponsor of the REINS Act. The act would've required congressional review and approval of any legislation that would have an economic impact of more than $100 million annually. With the national debt now having passed $16 trillion, Berg said the time for such oversight and reining in of spending is now.
"This current administration and Democratic Senate has allowed more than $1 trillion per year in negative cash flow," Berg said. "People can't figure out why our country can't do what we do in North Dakota. They can't figure out why we can't live within their means."
As the meeting came to a close, Berg told the NISC officials he was impressed with their work. He told them to contact the Bismarck office or his Washington, D.C., office if they have any specific legislative concerns.
After the meeting, Berg said the next senator will need to be able to work with congressional leaders, create coalitions and push policies that get the country's economy moving. One effort Berg spent time on over the summer was in trying to pass a new farm bill.
You have free articles remaining.
In late June, the Senate passed its version of a farm bill. It contains $23 billion in deficit reduction, including $4 billion to food stamps. The Senate bill also includes a supplemental coverage option that adds to crop insurance. Farmers can utilize the option to purchase a supplemental policy beyond their individual farm-based policy. The Senate bill also eliminates the direct payment program to farmers.
The House Agriculture Committee took up its own version of the farm bill. A House version of the bill passed out of committee on July 12, which includes $35 billion in savings, $16 billion of which comes in food stamp cuts. Once it passed through the committee, Republican House leadership refused to bring the bill to the floor.
Prior to Congress leaving for its August recess, Berg gave House leadership a letter signed by 61 representatives calling for a vote on the bill.
Berg also was one of three sponsors of a bipartisan discharge petition filed Sept. 13 by Rep. Bruce Braley, D-Iowa. A discharge petition forces a bill to the floor for a vote if a majority of 218 members of Congress sign on. The petition has more than 50 signatures.
Days before the current farm bill's Sept. 30 expiration came and went, Berg expressed disappointment in his party leadership.
"House leadership had handled this entire farm bill situation poorly, since it should have happened months ago," Berg said.
The farm bill is expected to be taken up at some point during Congress' lame duck session following the election.
Berg's next stop was the Radisson hotel in downtown Bismarck. He was there to take part in a ceremony for seven Bismarck youth who had attained the rank of Eagle Scout in the Boy Scouts of America.
Berg stepped to the podium and praised the Eagle Scouts, who were seated with their families. He said to achieve something that only about 5 percent of Scouts had achieved in the last year was something to be proud of.
"You're the next generation. You're the future of North Dakota," Berg said.
Berg noted that he's often asked in Washington, D.C., how the state of North Dakota has been successful. He said leaders in the state work in a way that members of scouts do: "You give back."
He later said he's for repealing the Patient Protection and Affordable Care Act, calling it a $1.7 trillion takeover the country's health care system. He said it should be replaced step by step with smaller pieces of legislation to better address health care costs and availability.
Berg is in favor of retaining some elements of the law, such as the Frontier Amendment and the provision relating to pre-existing conditions. The Frontier Amendment provides increased Medicare reimbursements to rural states, including North Dakota, to reduce the gap between reimbursement in rural and urban areas.
Berg said one of his biggest concerns in this election is the future of the next generation, including his son. Berg called the health care law a major regulatory hurdle that will negatively impact American businesses and families.
"This is really a legacy of debt for our children and grandchildren," Berg said shortly after the Supreme Court upheld the law. "It creates uncertainty throughout America. It's wrong for patients, it's wrong for doctors, it's wrong for seniors, it's wrong for North Dakota, it's wrong for America."
Berg told the Eagle Scouts that they have bright futures ahead of them. Berg said scouts are future leaders in their communities, and they should continue to strive to better their community.
"Step up and use your Eagle Scout training. You can get others to join with you, and you can accomplish great things," Berg said.
To ensure the American Dream is still as attainable for future generations, Berg said leaders in Washington D.C., are needed right now to begin fixing the nation's problems. He said the problem has been the Senate's unwillingness to take up more than two dozen bills forwarded from the House. Berg said progress will come through the Senate, and he believes he's more prepared than this opponent in making that progress a reality.
"We have to roll up our sleeves and get this country back on track. It's probably the most critical thing facing the nation right now," Berg said.