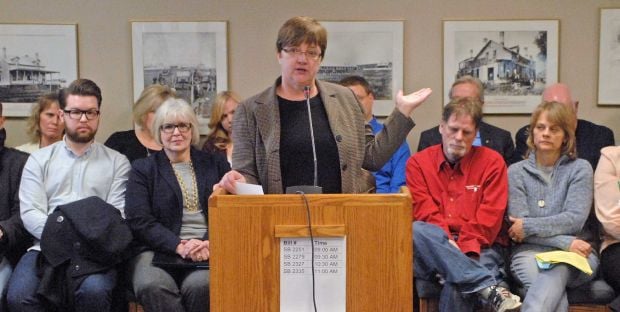 Lawmakers heard testimony Monday on a bill that would have North Dakota join more than 20 states that bar discrimination based on sexual orientation in the workplace, housing and government services.
The Senate Judiciary Committee heard several gay and lesbian residents ask lawmakers' approval of Senate Bill 2279. Residents and religious leaders in opposition said the bill would infringe on people's personal religious beliefs and create a special class of individuals under state law.
Bills similar to SB2279 failed during the 2009 and 2013 sessions.
Joan Glasser, of Bismarck, told committee members the state needs protections for people such as her son who is gay and a small business owner. Glasser said she wants her son to be able to stay in North Dakota and feel welcome.
"Our son is no different than any other son. Discrimination is not a North Dakota value," Glasser said. "We need to make North Dakota a state where you treat people the way you want to be treated."
Ken Connelly, an attorney for Alliance Defending Freedom, said SB2279 would create a special class and hurt businesses. He cited several examples of small businesses around the country facing litigation over declining to serve gay and lesbian couples based upon their religious beliefs.
"The so-called discrimination law is now being used as a sword," said Connelly, who maintained the wording of SB2279 is vague and presents a near impossible choice for businesses: violate their religious beliefs or risk litigation and damage to their reputation for declining service.
"Tolerance must be a two-way street in order to mean anything," Connelly said.
Jared Kellerman, of Fargo, told lawmakers the issue of sexual orientation caused him enormous stress and mental health issues growing up near Sheldon. He said the strain of concealing his sexual orientation was so great he went to South Korea for a year to teach English and take a break.
"People were more shocked by the fact that I was North Dakotan more so than I was gay. They had never seen one of us before," said Kellerman, adding that his time away from North Dakota helped and he was testifying to speak on behalf of others who may be too scared to speak publicly.
Mandan attorney Chris Lindblad compared legislation, such as SB2279, to civil rights legislation of the 1960s. He said it may not have been popular at the time but was the right thing to do. 
"The book of Leviticus should not dictate public policy," Lindblad said.
Tom Freier, executive director of the North Dakota Family Alliance, agreed with Connelly. Freier said he believed there already are adequate provisions in state law for the gay, lesbian, transgender and bisexual community.
"Government should not through unfair employment mandates … pick winners and losers," said Freier, adding that the exemptions for religious organizations in SB2279 fall short and affect their first amendment rights.