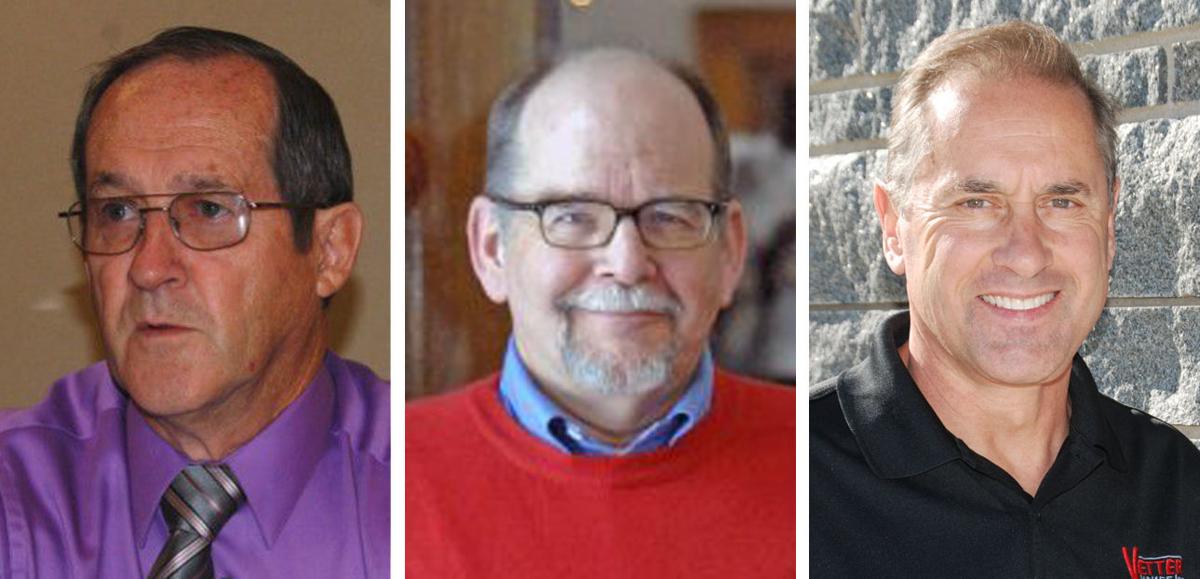 Three candidates for Burleigh County auditor in the June election are hoping to move on to the general election in November, but whoever ultimately wins the job might not have it for long, depending on how voters feel about keeping the position elected rather than appointed.
Leo Vetter, a construction company owner, Tracy Potter, a former state senator, and Dale Patrick, a Department of Environmental Quality manager, are hoping to be elected auditor/treasurer in November, each candidate believing they are qualified to serve as one of Burleigh County's chief financial officers.
The auditor/treasurer also administers elections and oversees public records. 
The selected candidate will serve until 2022, when former longtime auditor Kevin Glatt's term was set to expire. Glatt resigned in October without publicly offering a reason.
The three people vying to succeed him are on county residents' mail-in ballots for the June election, which will determine which two candidates move on to the November general election. The winner will be chosen then.
Meanwhile, county commissioners are hoping residents vote to make the county auditor/treasurer position appointed rather than elected. Chairman Jerry Woodcox reiterated the commission's stance on Monday that an appointed county auditor would allow the county to "get much better, qualified people" for the job.
One of the auditor candidates is partly running to make a statement on keeping the role elected, while the other two don't have an opinion either way. 
Leo Vetter
Vetter, owner of home builders Vetter Homes Inc., sees the position as a chance to return to a passion for accounting. After graduating from the University of Mary with an accounting degree in 1986, he worked in the state auditor's office for 3 ½ years. In the role, he reviewed financial records of political subdivisions, including counties, cities and school districts. 
"When we went into a county, what entailed the audit was doing the review of all the financial bookkeeping from clerk of courts, register of deeds, district courts, sheriff's departments, all those along with the cash balances, investments, several funds, etc.," Vetter told the Tribune. "That was a big bulk of what I did, was the county audits."
After quitting the auditor role, he formed Vetter Homes in the late 1980s. He still runs it today.
"My other passion was construction, and I felt, well I better do that while I'm young because it is more of a young man's game, sport, or an occupation, if you will," Vetter said.
But sometimes he contemplated his decision to make a career switch.
"When I left, there's always been that, 'Did I make the right decision?'" he said. "This would get me an opportunity to get back into that and kind of enjoy that, as well."
Still, his over 30 years working on residential and construction projects has put him in touch with county officials and staff, according to his campaign website at leoforburleigh.com.
"My experience working as a builder, working with other subdivisions, I would say I have a good understanding as to what needs to be done and how to work together to rectify some issues that arise," he said. "I feel I have good knowledge to work on both ends of it."
Dale Patrick
Patrick, an administrator who also serves on the Burleigh County Planning and Zoning Commission, sees the county auditor job as an opportunity to "do some of the same work that I've done in the past," he told the Tribune. 
He has experience managing five programs at the North Dakota Department of Environmental Quality, including the state's X-ray and radioactive materials programs. 
"So anybody that uses radioactive materials including hospitals that use material for treating cancers, I manage those programs," Patrick said. 
County auditors manage elections, with duties including hiring election workers, finding polling locations and testing elections equipment. In his current job, Patrick manages about 10 people, a similar size staff to the county auditor's office. He said he can "create a good working environment" and "empower staff to do the job."
"In my job, my current job, I've always been that way," he said. "I have an open door policy. My door is always open. No matter what I'm doing, they can always come in and ask me questions."
Patrick also has experience budgeting up to $9 million in grants while working as a Department of Public Instruction administrator in the early 2000s. During his roughly eight years working as a treasurer for the North Dakota Wildlife Federation, he helped the organization regain its nonprofit status in two years by "straightening out" the group's finances, he said. 
Tracy Potter
Potter, who served as a Democratic state senator from 2006-10, hopes to make a statement with his run for county auditor. He is writing a book about North Dakota politics and has taken issue with the county commission's attempts to make the county auditor/treasurer position appointed.  
"It was clear to me from the research that the people of North Dakota had to fight for every one of these rights that they've got," Potter told the Tribune.
Potter feels an appointed county auditor generally cannot be "independent, objective or outspoken" because, in being appointed, he "owes his job" to county commissioners. 
Politics aside, Potter said he is "qualified for the job." He also has served as the executive director of the Fort Abraham Lincoln Foundation for 21 years. 
"We had over 100 employees sometimes, especially when we were running the Lewis and Clark bicentennial event in Bismarck. I was the head of that operation," Potter said. "It's a big job to be the auditor. It's a big job, it's a big budget, but I've worked on that bailiwick and I'm confident that it's not too big for me."
During his term as state senator, Potter served on the transportation committee and the business, industry and labor committee. He said the connections he maintained working at the Capitol can help make Burleigh County "active in the Legislature."  
"I remember Kevin Glatt when he was an auditor, he was up at the Legislature very often," Potter said. "And so my relationships up there, on both sides of the aisle, really good personal relationships, that experience is effective, I think, for the auditor."
Get Election 2020 & Politics updates in your inbox!
Keep up on the latest in national and local politics as Election 2020 comes into focus.