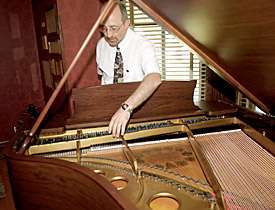 The grand piano that sits in the south parlor of the Former Governors' Mansion hasn't always sat there. Nor has it always had the look of a piano that has suffered the slings and arrows of some cruel piano masters and piano movers.
And with the help of a local piano restorer, it's hoped the beauty, the beauty inside, anyway, of the musical instrument, has been brought back to life.
According to old Steinway records, on May 5, 1910, the piano was then a just-finished Model O with a high-glossy mahogany finish at the Steinway & Sons factory at One Steinway Place, Long Island, N.Y. - which has been the factory location since 1853, and still is.
It remains a hands-on factory - without robotics, computers and the like. The piano wood is still cured outside in the factory's yard, for years sometimes, through snow and rain. Some wood eventually is discarded for not being adequate Steinway material.
The pianos are meant for forever, inside and out, with proper care.
The wood used is bent, shaped and hand-cut by craftsmen who are trained to specialize on a specific task - such as the job of bending wood into a piano rim. They work in the old building, which is still mostly cooled by fans, said local pianist Ann Wellin, who took a 31/2-hour tour in 1996.
"Craftsmen, trained generation after generation … It was real old world. It was kind of hot. They were sweating a lot," Wellin said.
"Every piece is hand-cut. It's not just a job. It's real art."
But the "real art" in the mansion's south parlor ran into some real problems.
Margaret Wolejsza, a Steinway customer service representative, who looked up the history of the mansion's piano through its serial number, said that on May 26, 1910, the piano, sold for $900, was shipped to the buyer, Stone Piano Co. in Fargo.
From 1910 to 1936, whatever adventures the piano had remain a mystery. In 1936, Gov. Bill Langer bought it for the mansion. It's unknown from whom and for how much, said Liz Lucas, a member of the Society for the Preservation of the Former Governors' Mansion.
When the mansion was vacated for the current governor's residence, the piano was given to the Grafton School in about 1960 and was used for piano lessons and sing-alongs.
Somewhere along the line, the 900-pound piece of art started to look different.
The bottoms of its legs were sawed off to put on large rubber casters. And its mahogany finish is only visible in a couple of small spots. It's no longer glossy, with a sort-of-walnut finishing. About 15 or 16 of the real-ivory keys had become badly damaged and some were missing. When the Grafton School got another piano, they put the old Steinway into storage.
In 1996, it came back to the south parlor - through the society's efforts. The group is trying to return old mansion pieces back to the house.
No one was allowed to touch the broken piano. But a couple years ago, Eric Nikiforoff, a Bismarck piano restorer, tuner and president of the North Dakota Chapter for the Piano Technicians Guild, was touring the mansion. And spotted the wounded Steinway. He started having restoration thoughts.
"Knowing how Steinways are built, they have a very, very solid foundation, so … if the basic structure is still intact, the possibilities for restoration is very good," he said.
He helped convince people it shouldn't be just an artifact. He thought there still might be music there, a usable piano.
So the society took the plunge and hired Nikiforoff.
"The appearance (of the piano) is not good," he said.
But that's not what his focus was. He wanted the Steinway sound back. The tricky thing is that a piano restorer won't know until the very end if he has managed to do that. Nikiforoff said that even with new parts, lots of tinkering, it might not add up to success. There are variables. Pianos are individuals, so to speak. He wouldn't know until he was done. Until he started playing the keys to tune it.
For the mansion piano, getting to the tuning stage took about 160 hours with about $4,000 in parts ordered from the Steinway factory. Just one brass bolt cost $10.
And he used a few unconventional tools - such as his 1984 Mercury Grand Marquis.
He brought his car's bumper into the job when the piano's "action," its keyboard, wouldn't come out of the piano in one piece like it should. It was very jammed. So in his double-car garage, which has a dual use as a piano shop with several banquet tables to hold the thousands of piano parts, he did some head-scratching. He got an idea - decided to use Marquis' bumper as an anchor on one end. And he used a cable system on the other to encourage it, ease it, out.
It worked. It all worked. When he eventually sat down to play, it played. Like a Steinway.
It doesn't look like it once did. But it sounds like it did.
"It compares to the brand-new instrument," he said. "I'm very, very happy with it, extremely pleased."
The Model O was discontinued in 1923, but the comparable model that replaced it, the Model L, in mahogany, would cost today $52,700 - a mid-range model. Steinways range from $36,000 to $92,000.
But such a purchase won't be necessary. Not that restoration is free.
The grand-piano total: $10,000 - money taken from the society's budget for renovation of the mansion's carriage house.
It's hoped that an upcoming music opportunity will help replenish the carriage-house budget.
At 4 p.m. Sept. 7, Wellin will play a benefit concert, on a different grand piano, in Bismarck's Trinity Lutheran Church, 502 N. Fourth St. Family members and friends also will perform. Tickets are $5.
But there's that other piano. And its time has come.
After the 4 p.m. concert, those who want to pay $25 can walk to the mansion at the northwest corner of Avenue B and Fourth Street.
And there, in the south parlor, on the piano now-instrument-not-artifact, Wellin will play a Joplin rag written in 1909, just a year older than the piano, and also play Chopin B flat Major Scherzo.
And maybe, if she takes requests, there will be time for a few bars from that oldie-but-goodie, "Thank Heavens, for Good Piano Restorers."
During that performance, the Bismarck-Mandan Thursday Music Club will host a reception.
Tickets for the Trinity concert may be bought at Herberger's, Eckroth Music, Bismarck Art and Galleries Association and the North Dakota Heritage Center.
Also, donations may be made to the Society for the Preservation of the Former Governors' Mansion in care of Darlene Turitto, 305 Ryan Drive, Bismarck, N.D., 58501.
For more information, call Liz Lucas at 223-5986.