Gov. Doug Burgum declared a statewide flood emergency on Wednesday after touring flood-affected areas along the Yellowstone River in western North Dakota and eastern Montana.
In an executive order, Burgum cited flood outlooks from the National Weather Service indicating the potential for significant river, tributary and overland flooding in the Red River and Devils Lake basins, and high water in the southern James River basin. The combination of deep frost depth and above-normal moisture from snow and fall rains have increased the risk of flooding because saturated and frozen soils won't be able to absorb snowmelt, compounding the risk of runoff, the order states.
"All signs point to a high potential for significant floods that could overwhelm local response capabilities across the state, and the devastating flooding we saw along the Yellowstone River shows just how quickly these situations can arise," Burgum said. "This emergency declaration is an essential step in making sure that state personnel and equipment are available and ready to respond."
More than 50 homes have taken on water and 110 residents have been displaced by flooding near the North Dakota-Montana border, where lengthy ice jams have backed up the Yellowstone River. 
During a meeting with displaced residents at the Fairview Fire Hall, homeowners described the devastation to their property and disruption to their lives caused by the unexpected flooding.
Jack and Jackie Damm, who live 1 mile south of Highway 200 and 1 mile west of the river, said their farmstead, which hasn't experienced flooding in the 70 years it has been in their family, is now under 4 to 5 feet of water, and like many families in the area they don't have flood insurance.
"We've never flooded before," Jack Damm said. "It came up so quick. We had about three hours to get out what we could."
Burgum has activated the North Dakota State Emergency Operations Plan and directed all state agencies, including the North Dakota National Guard, to maintain high readiness levels with flood response resources.
The State Flood Unified Command held its first meeting with staff from several state agencies Wednesday, discussing current hydrological conditions, weather forecasts, agency preparations and resource coordination and anticipated flooding in the coming weeks.
The executive order also grants emergency relief by waiving load restrictions and spring road restrictions for vehicles necessary for levee construction and other flood fight efforts in affected areas, at the discretion of the North Dakota Department of Transportation director.
The latest area in North Dakota to fear rising flood waters — as warm temperatures continue to melt abundant snow and ice — is along the Cannonball River Basin. On Wednesday, the National Weather Service in Bismarck reported a high of 57 degrees in Bismarck, which is the warmest it has been since Nov. 14, 2018, when it was 58 degrees.
Morton County Emergency Management delivered 3,000 sandbags and a load of sand Wednesday morning for a self-fill sandbag site on the Paul Weinberger property at 7134 25th Ave. near Breien to assist the citizens.
Morton County also has provided about 7,000 sandbags to Sioux County for residents that are and will be affected by rising water on the Cannonball River. The Standing Rock Sioux Tribe's emergency manager also requested 10,000 sandbags from Morton County and those will be available today.
The Cannonball River at Breien is expected to crest around noon Thursday at 20.6 feet. With significant snow pack along the Cannonball River Basin, the river will continue to rise due to runoff from Wednesday's warmer weather. Cedar Creek which runs into the Cannonball River, is seeing increased river flows and potential of additional ice entering the Cannonball River, thus impacting the river levels at Breien.
Earlier Wednesday, Morton County Emergency Management sent a CodeRED message to all residents of Breien and homes near the Cannonball River in Morton County advising them of the situation and to take precautionary measures for personal, livestock and property safety.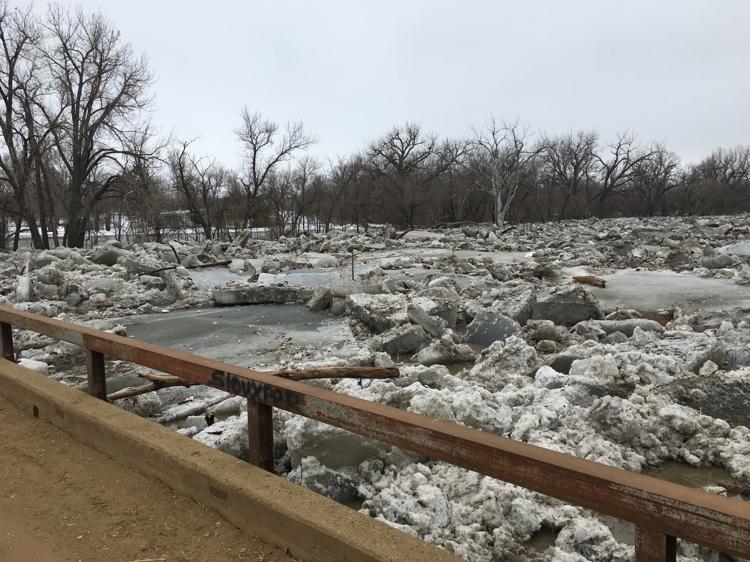 In addition, the bridge on the southern part of County Road 81 leading into Solen has been closed due to ice jams and will not reopen until the state Department of Transportation can inspect it and deem it safe to do so.
The water level along the Heart River is declining and will continue that downward trend over the next few days, even with the runoff from the melting. The Morton County Sheriff's Office reported at 5:15 p.m. Wednesday that ice was jammed at the mouth of the Heart River, but water was continuing to flow. In addition, a major ice jam at Trolley Bridge at Fort Lincoln State Park has let loose.