DaWise-Perry Funeral Services is building a funeral home housing the first crematorium in Mandan for families choosing cremation over a traditional casket burial, opting to put the facility in the northwest part of town and in an industrial area away from homes.
The locally owned funeral home's expansion marks the end of controversy surrounding the owner's initial plans to build a crematorium and relocate adjacent to a residential area, which led to public debate and multiple city ordinances.
"Both myself and my staff are excited about our new facility for serving families of not only Mandan, but the communities of Bismarck, Mandan and the surrounding area," said David Wise, owner and director of DaWise-Perry Funeral Services. "And we will be able to provide a larger facility for conducting not only services, but also receptions; basically a one-stop shop with crematory, a one-stop funeral home for families."
The $2.65 million building will be on Old Red Trail. It will be roughly 3,500 square feet larger than the funeral home's 62-year-old building along Memorial Highway. 
The funeral home also will house a chapel with a seating capacity of roughly 188 people, Wise said. In addition, there will be an open reception room and patio area for receptions after services.
Wise said he has observed more families choosing to have funeral and memorial services at funeral homes instead of churches. 
"It's not that people don't believe. It's just that people don't necessarily ... attend a specific church, but they still want to be able to have a service," he said. "And after services, customarily you will have a reception."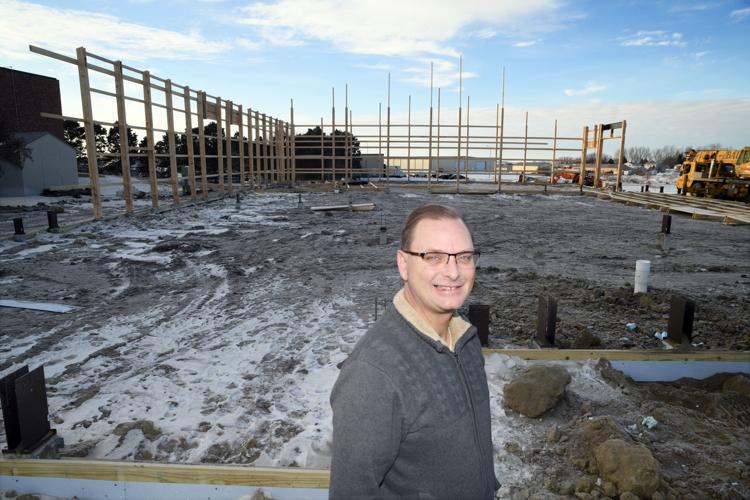 Wise expects the funeral home to be open this summer.
You have free articles remaining.
Last April, the Mandan City Commission passed an ordinance restricting crematoriums to the city-owned Mandan Union Cemetery after DaWise-Perry expressed interest in opening a second location and crematorium on land along 19th Street Southeast, next to the new Living Water Lutheran Church. Residents in the area expressed concerns in meetings about pollutants produced during cremations and properties potentially becoming devalued.
Wise said the ordinance was "unfair to me as a business owner." In June, he requested commissioners "reevaluate" the ordinance, according to a meeting agenda.
In September, the city commission voted to allow crematoriums outside the Mandan Union Cemetery, as long as they are in an industrial zone and at least 50 feet from a property line and 350 feet from an existing dwelling. 
Engage Church in Mandan offered the lot for the new location. 
"One thing after another, and it worked out to where I could build my new funeral home," Wise said. 
The facility also will include the crematory, which cost about $150,000. Bismarck has two crematoriums, which DaWise-Perry Funeral Services has been using.
The number of full burial spaces the city has sold decreased from 80 to 45 from 2012 to 2018. During those same years, the number of full burials decreased from 83 to 53.
Meanwhile, cremation burials more than doubled from 2011 to 2015, though they declined from 50 to 28 from 2015 to 2018. Cremation spaces sold also more than doubled from 2011 to 2015, though they decreased from 16 in 2016 to seven in 2018. 
DaWise-Perry Funeral Services charges $2,725 for a direct cremation. A direct cremation with a memorial service costs $5,050. A traditional service with a cremation costs $6,285. Wise said the funeral service will charge more with the new facility, though he declined to disclose the new rates.
"With a newer facility and crematory, costs go up, and costs go up on everything," Wise said. "But we are still going to be very competitive with funeral homes in the area."