Wearing white gloves, Stephanie Baltzer Kom gingerly leafed through the fragile pages of 200-year-old documents handwritten in Spanish.
"We don't have them translated, so we have no idea what they say," said the head of technical services for the North Dakota State Archives. The ragged papers were donated decades ago by a North Dakota man who acquired them from a prison camp in the Philippines during the Spanish-American War and are now among the state Archives' oldest manuscripts.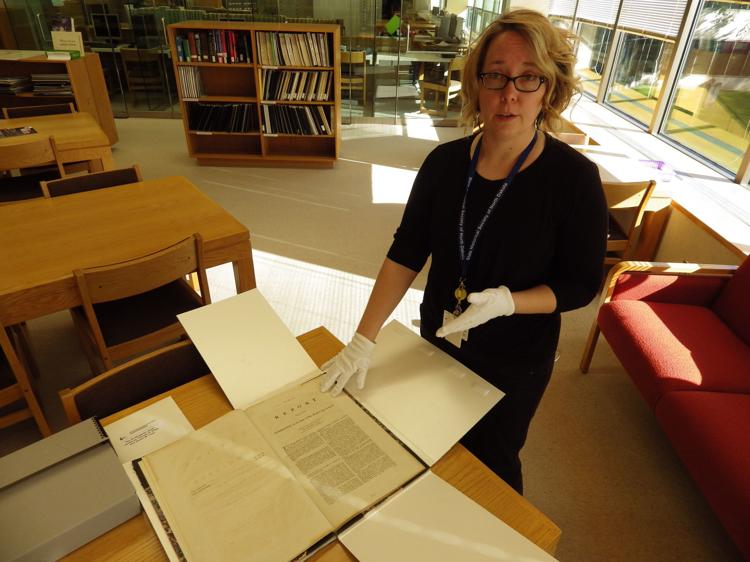 North Dakota's oldest archival and library materials reach back well before statehood and territorial times. While unboxing the archives' oldest publication from its carton wrapping, Baltzer Kom admired the marbled cover of a Hudson's Bay Company report printed in 1749.
"It's in actually really good shape for that time frame," she said. "We do have a lot of the stuff that deals with the fur trade, and so this is the oldest piece."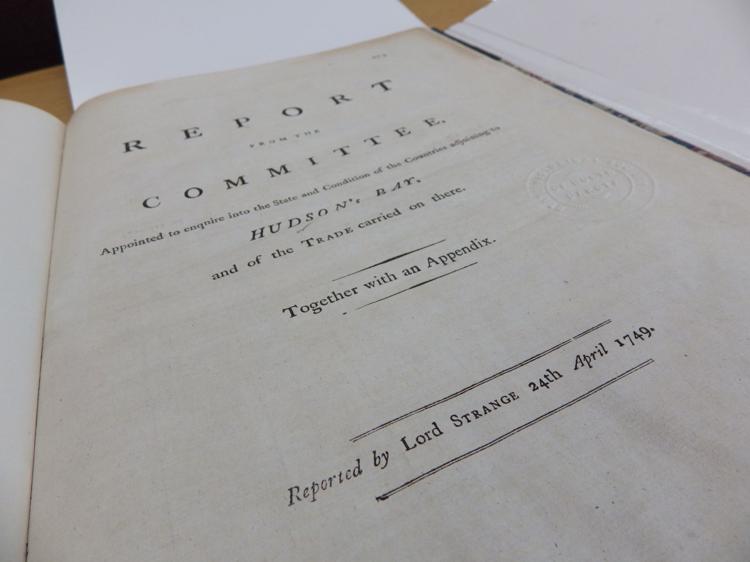 Baltzer Kom said other older materials, such as the Spanish papers, presidential documents and diaries, often have been donated from North Dakota residents' personal collections — such as the personal and legal papers of seed company magnate George Will's grandfather, dating to 1832, handwritten in such languages as German and Latin.
'Emergency box'
The archives tries to limit the scope of its donations, especially if an item might be better off elsewhere, according to Baltzer Kom.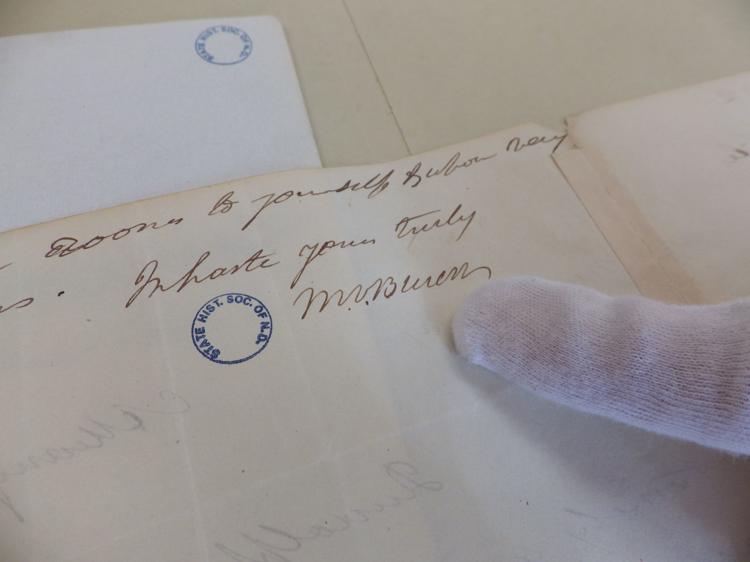 One box contains various presidential papers, including an order signed in 1839 by President Martin Van Buren. There's also an autograph of President John Tyler from 1843, stored in an "emergency box"— a collection of fragile, rare or one-of-a-kind items given priority for evacuation in case of fire, flood or other dire event.
Among its contents are autographs of Hunkpapa Lakota holy man Sitting Bull, letters pertaining to Lt. Col. George Armstrong Custer from his widow, a Karl Bodmer print of Mandans on the Upper Missouri River, and Confederate, German and Russian currency.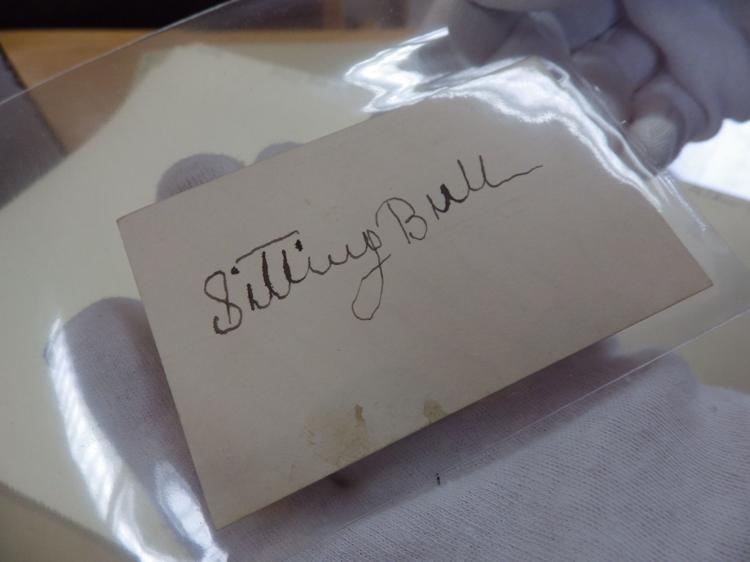 The crown jewel of the "emergency box"— and perhaps the entire archives —is the diary of Tribune reporter Mark Kellogg from when he embedded with Custer and the Seventh Cavalry in their march west in 1876, when Custer and 210 men were annihilated by Plains Indians at the Battle of Little Bighorn, or Greasy Grass. 
Criteria for what materials make the archives' special box are generally case-by-case, according to Baltzer Kom.
"A lot of times, stuff that's in here might not be overly valuable or research-worthy, but it's stuff that ... might not exist somewhere else, or it's just a signal to say this stuff is really fragile, so don't let it go," she said.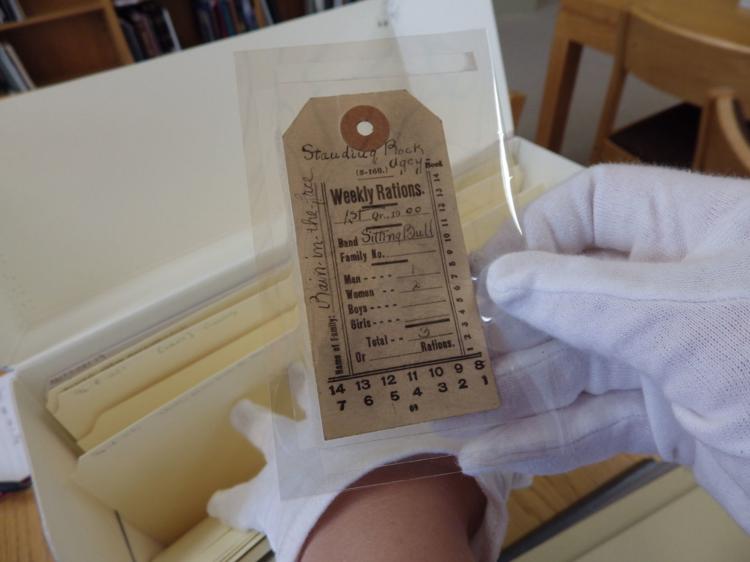 Use it, but don't lose it
At the North Dakota State Library, the oldest books and state documents there also tie into history from their time. Al Peterson, manager for circulation and reference at the state Library, flipped through the pages of one of two volumes of "The Manners, Customs and Condition of the North American Indians," by traveling painter George Catlin, printed in 1841. 
"These are actually his letters and notes," Peterson said. "This is his journals and notes of his trip up to this area" of the Missouri River.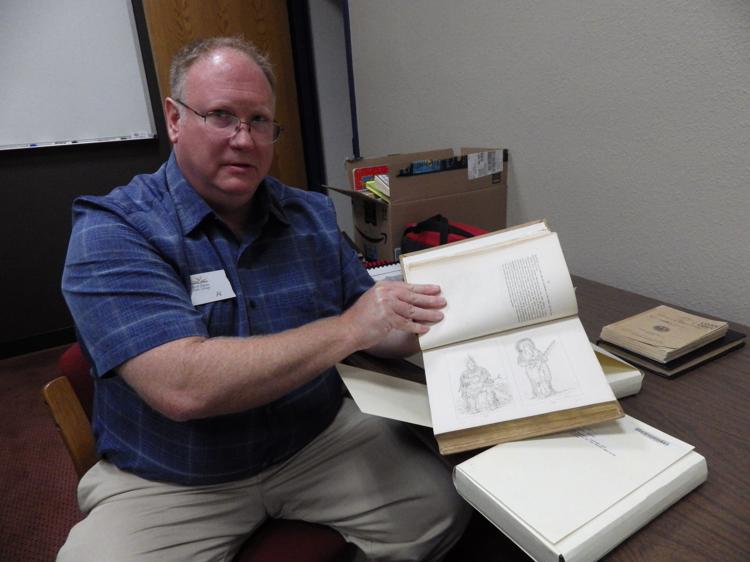 He noted just a few brown spots of book mold from moisture, but regardless, the state Library would probably circulate the 177-year-old volumes. The Catlin books are part of the library's special collection, which contains other books from the 19th century, circulated depending on condition.
While it might be "kind of rare" to circulate such aged books, Peterson said it's the library's philosophy to make them available.
"I would rather see it be used than sit on a shelf," he said.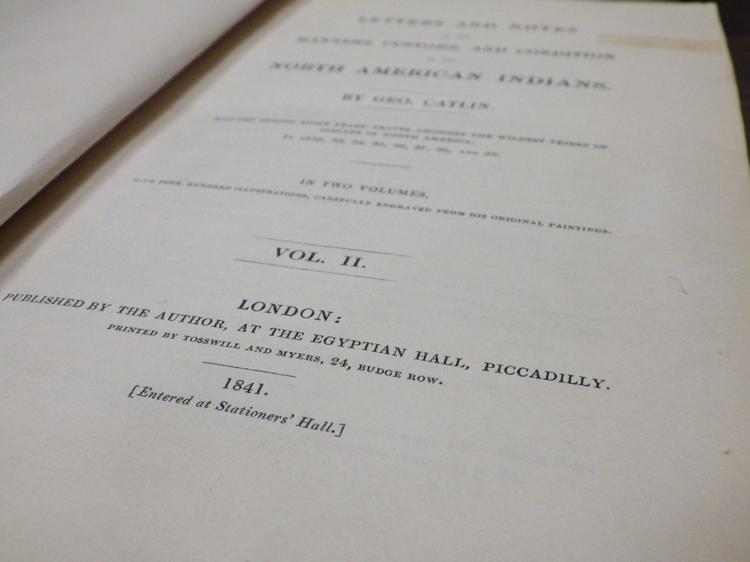 Resources in people's hands
Baltzer Kom said the archives has moved toward digitization of documents, especially ones of high interest. Handwritten items, once digitized, would be able to be searched for keywords, she added. Digitization also benefits storage costs and limits handling of fragile documents.
Peterson said the state Library's collection of state documents has been a mine for legislative historical research. The library's oldest state document is a pair of legislative journals for the Dakota Territorial House and Council from 1862.
State documents can be anything from a single sheet of paper to a film to a book, according to Peterson, who said the library often pulls years of history for researchers.
"I enjoy the challenge of finding the answer," he said. "When I get one of those really difficult ones, I dig in."
North Dakota State Librarian Mary Soucie said the state Archives and Library work well together in preserving state history. She noted the archives' temperature- and humidity-controlled storage for fragile documents as a nice feature. 
The state Library continually acquires and retains state documents — not every internal memo, Peterson said, but items such as governors' papers, regular reports and board minutes.
"Our goal is to get resources in people's hands," Soucie said.