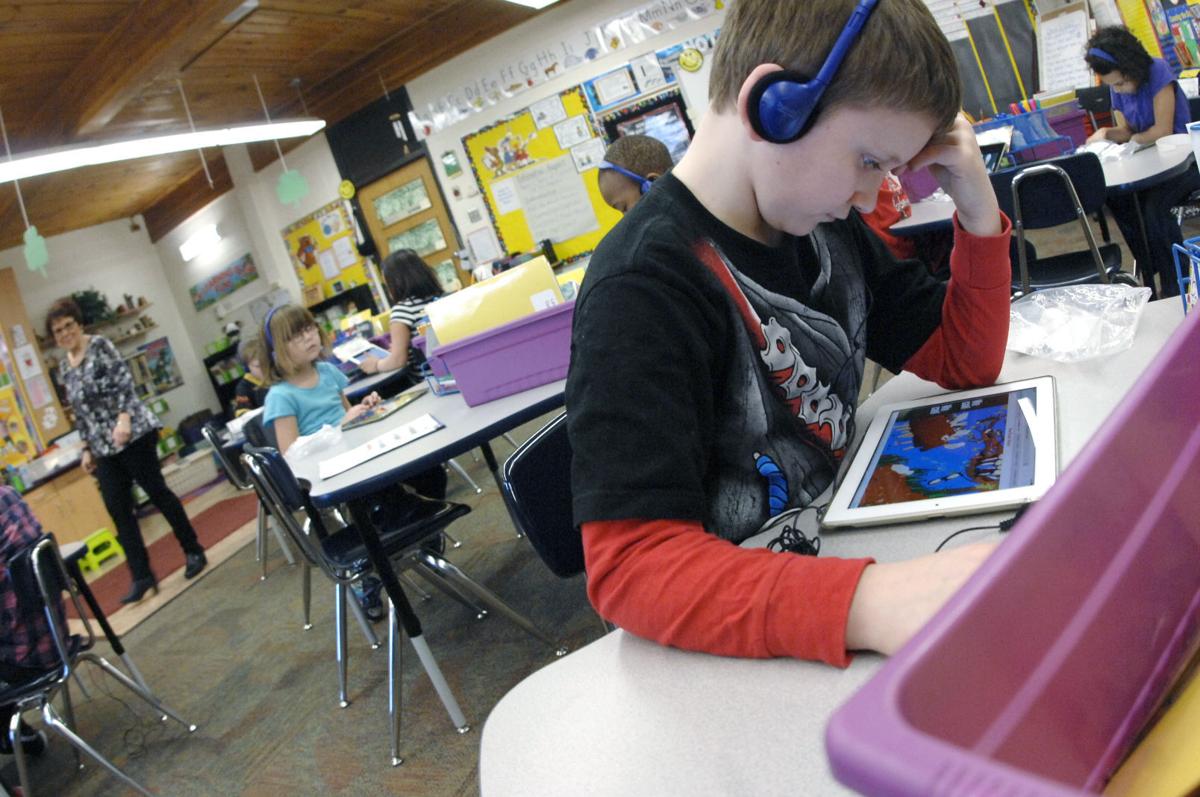 In Bismarck, kindergartners are tested seven times a year. In Mandan, they take five.
Some of the assessments are short — one to two minutes long that require students read a passage or complete several math questions. And while students statewide spend, on average, less than 1 percent of their classroom time testing, the number and time spent on tests is still concerning, State Superintendent of Public Instruction Kirsten Baesler said.
Many schools are administering more tests than required under state and federal law. In addition to mandated tests, local school districts are administering their own array of standardized assessments, something the North Dakota Department of Public Instruction would like to cut back on.
"I think there's been a lot of piling on over the last 15 years," Baesler said, conceding that she's seen this happen in school districts she's worked for -- Bismarck and Mandan.
Baesler says as schools find new and better assessments, they add them to the list and don't do away with old ones.
"(Assessments) provide good feedback, but we've gotten to a point where I think there is some opportunity for us to reduce the amount of time that we have our students spend on testing, and the amount of tests that our students are asked to sit for," she said.
According to a 2015 Department of Public Instruction statewide survey of school districts on the number of locally administered assessments in grades K-12, the majority of local testing takes place in grades K-5. In Bismarck, from kindergarten to grade 5 a student will take 41 tests. That same student will be tested 30 times in Mandan.
All schools administer the Smarter Balanced online assessment, the standardized test North Dakota has chosen to fulfill the federal testing requirement, every year in grades 3, 8 and 11 on English and math. Students in grades 4,8 and 11 also take a separate standardized science test.
Most schools also give one state-mandated test, called the Measures of Academic Progress test or another DPI approved assessment. But some give it more than once a year, which is not required.
In an effort to downsize, DPI is providing an optional evaluation for school districts to determine whether they could reduce or streamline standardized tests. The agency also is offering a pilot program training schools to evaluate whether they have balanced assessment systems. 
Staying Vigilant
At Bismarck Public Schools, the data from the district's assessments is reviewed constantly, said Ryan Townsend, the district's director of curriculum, instruction, assessment and teacher development.
One way educators use it is in "professional learning communities," sitting down together if one classroom is struggling with a particular concept, while another classroom of the same grade level is doing better.
"It depends on what the data points us to and where we can improve," Townsend said. "AIMSweb, (MAP), ACT Aspire, those are assessments that mean a lot to our teachers, and we use that data, we do."
But school administrators and Baesler agree: if you're not using the data properly, one test is too many.
"Just through our constant vigilance, we want to make sure that we're not over testing, but there isn't a magic number either," Townsend said.
He's pleased with what Bismarck has done to streamline assessments but thinks more could be done.
"This (evaluation) is the first step in us getting some pilot districts to begin this work, and we hope that it grows," Baesler said.
Checking in: testing in the oil field
In Watford City, kindergarten students are tested 47 times a year but the district doesn't spend any more time on the tests than any other school district. Students there in the heart of the oil patch spend 0.94 percent of their time each year on locally administered assessments.
"What we know about Watford City is they have a lot of students moving in and out. So for their school district, they have decided it's very important that we do a lot of quick, short check-ins with our kids," Baesler said.
The tests are generated by testing companies, and are called AIMSweb and STAR. The data is often used to group students properly in classrooms and to make sure students are at grade level, said Steve Holen, superintendent for Watford City schools.
"We're as excited at the elementary (school) as we've been in a long time because we're seeing some of the progress and the outcome of some of these intervention-type things to make sure we're doing and meeting the needs of these kids as they come in," Holen said. "If we use the data and it's really benefiting kids to know where they're at, I don't think it's been a negative in that sense."
Holen still said he'd be open to doing DPI's evaluation, which could help his district and others make their own determinations on which tests are necessary and which aren't.
Not less, better
Mandan is only doing one more testing time than what's required.
"It's not just about cutting down on testing, it's about doing it better," said Perry Just, director of curriculum, instruction and assessment for Mandan Public Schools. "Nine times out of 10, guess what happens? When you do better testing you do less of it."
For the past two years, the school district has made several efforts to streamline tests, making a switch from doing the MAP test at the high school level to doing ACT Aspire, a test offered in grades 9 and 10 that helps predict an ACT score in 11th grade. Eighty percent of Mandan students go on to college, so the ACT test matters more to them, Just said.
"It wasn't a matter of too much testing as a much as better testing," Just said, adding that, because Mandan has already cut back, the district does not feel it necessary to participate in DPI's assessment.