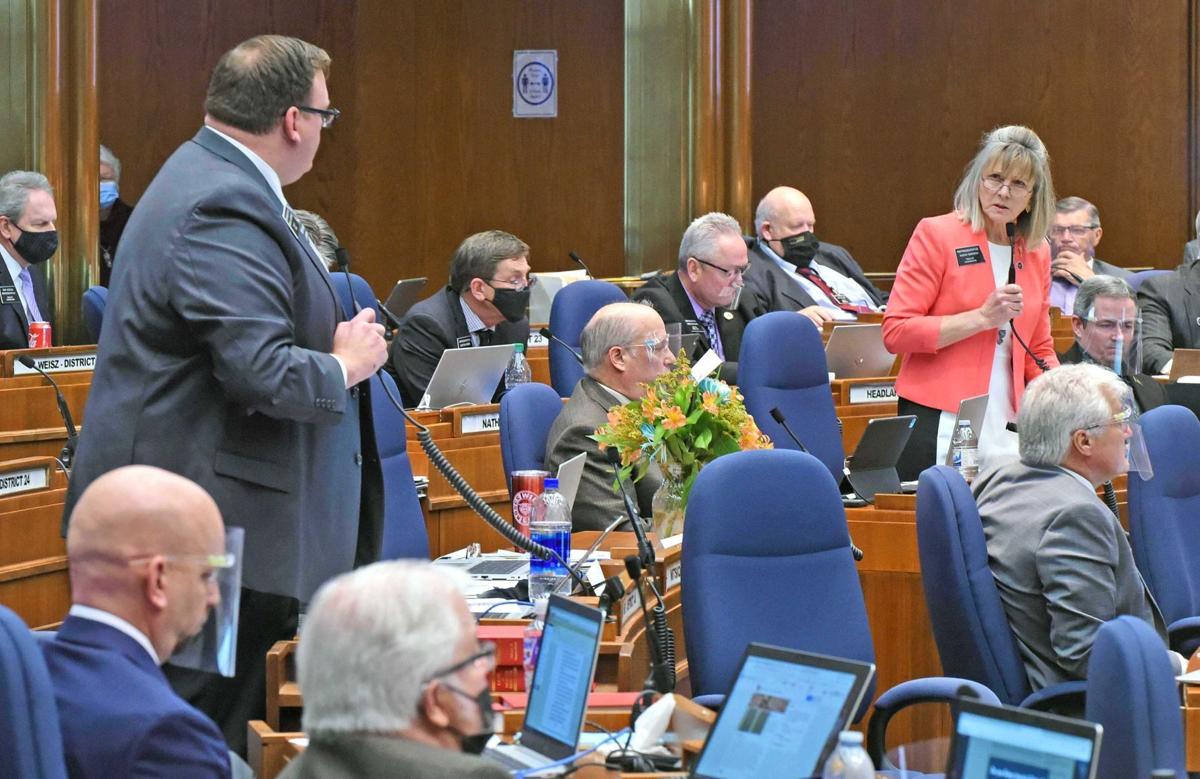 North Dakota's House of Representatives on Thursday passed a bill supporters say preserves fairness in girls sports but opponents say discriminates against transgender student athletes.
House Bill 1298, brought by Rep. Ben Koppelman, R-West Fargo, passed 65-26, and now goes to the Senate.
The bill would prohibit a publicly funded school or entity from allowing a person under 18 to participate on a high school girls or boys team exclusively for the opposite sex, or from sponsoring events that allowed it. The bill would allow girls to participate in school sports for boys. For example, some girls play on boys football teams.
Bill proponents said the legislation would ensure fairness in girls sports and support Title IX, a 1972 federal law that protects people from sex-based discrimination in school programs and activities that receive federal money.
"It upholds 50 years of progress and protecting women against discrimination and advocates for the preservation of the biological base standards for female sports competition," said Rep. Kathy Skroch, R-Lidgerwood, who is a former school board president.
Rep. Scott Louser, R-Minot, said "it's OK to vote yes on this bill and to do it with full confidence."
"I'm the proud father of two lovely young ladies and I want every opportunity for them amongst their peers to learn, play, compete, associate, grow and succeed," Louser said.
He criticized "baseless personal attacks that go unchecked," often against Republicans in public policy debates such as the one surrounding the bill.
"When voting yes brings the expected criticism, I say bring it on. Let it make you stronger in your convictions," said Louser, the assistant majority leader of the House.
The bill's main sponsor said "it's kind of concerning when we no longer can use common sense and we no longer know what the definition of terms mean."
"Some have said, 'Oh, this bill just doesn't follow the science.' We've got science going back probably well before United States that backs this. This isn't new science. Men and women just didn't cease to exist. They've existed for a long time, and we've been able to recognize the differences," Koppelman said.
House Minority Josh Boschee, D-Fargo, said the bill would put discrimination in state law, open the state up to lawsuits and hurt LGBTQ kids already at high risk for bullying and suicide.
"Let's move forward, let's defeat this bill and take care of the kids of our state," he said.
Rep. Mary Schneider, D-Fargo, called the bill "thinly veiled prejudice under the the guise of protection."
"This bill is fomenting fear where no problem is present," she said.
Rep. Greg Westlind, R-Cando, opposed the bill, believing more research needs to be done into how it would affect North Dakota youth sports programs such as club and traveling teams and large tournaments. He also said the bill would supercede a transgender student board regulation of the North Dakota High School Activities Association, which oversees prep sports.
Any transgender student who is not taking hormone treatment related to gender transition may participate in a sex-separated interscholastic contest in accordance with the sex assigned to him or her at birth.
A trans male (female to male) student who has undergone treatment with testosterone for gender transition may compete in a contest for boys but is no longer eligible to compete in a contest for girls.
A trans female (male to female) student being treated with testosterone suppression medication for gender transition may continue to compete in a contest for boys but may not compete in a contest for girls until completing one calendar year of documented testosterone-suppression treatment.
The association didn't testify on the bill.
The American Civil Liberties Union of North Dakota called the bill "an attempt to codify discrimination against transgender youth and undermine the oversight and authority of the North Dakota High School Activities Association to ensure equitable and fair participation in high school sports."
Bills have been proposed this year in 16 state legislatures that would exclude transgender youth from athletics, according to the ACLU.