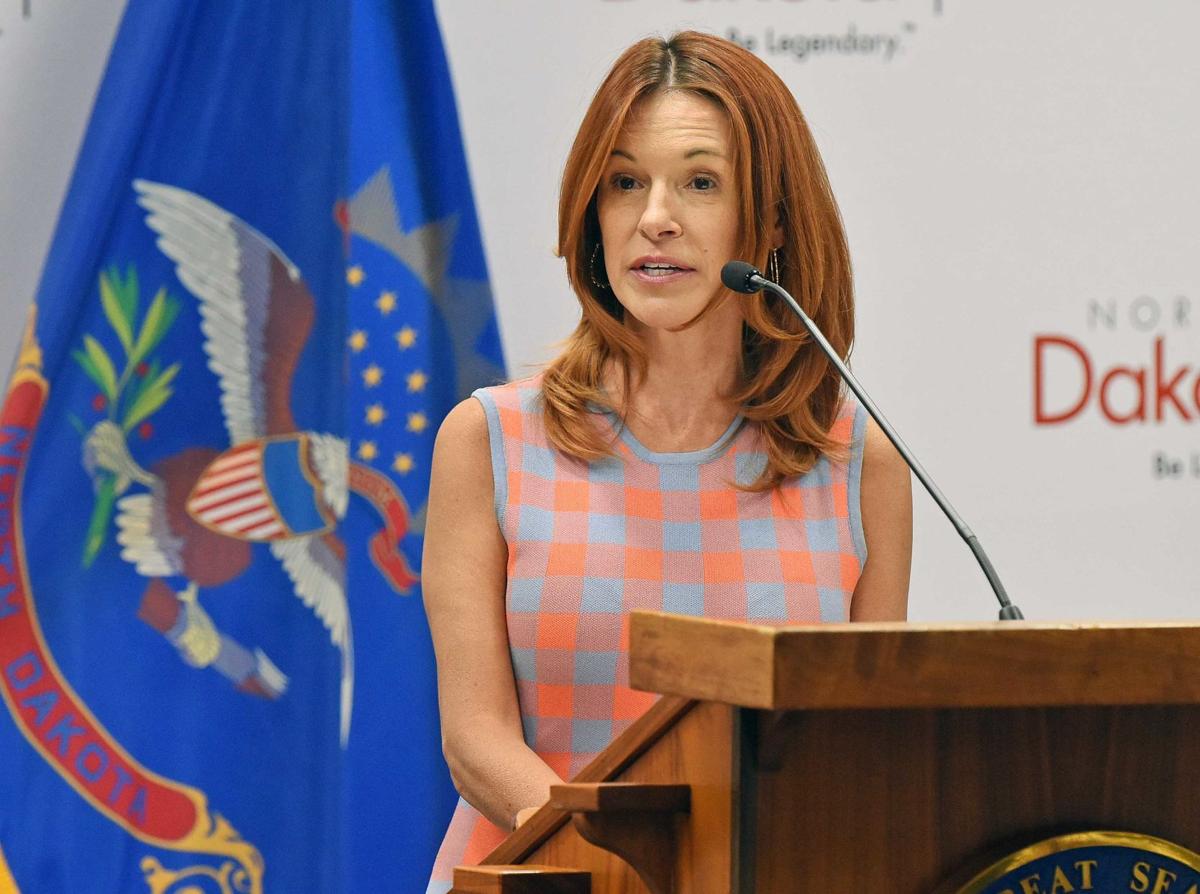 North Dakota's Republican Party is supporting the reelection bid of State Superintendent Kirsten Baesler, who pleaded guilty to drunken driving in March but still dominated the June primary.
More than two-thirds of the party's 58-member State Committee voted in a secret ballot on Saturday at its meeting in Medora to award Baesler its letter of support over Underwood School District Superintendent/Activities Director Brandt J. Dick. The office is nonpartisan, but political parties issue letters of support for candidates. Baesler is seeking a third term in office. 
"This was a tough process because they're both Republicans and both seeking a letter of support from the party," Republican Party Chairman Rick Berg said.
Berg in February called Baesler's DUI arrest "a serious matter," but said Saturday that Baesler's life "has changed dramatically."
"She looks at this as how she moves forward from this can be an example to others," Berg said.
Both Baesler and Dick spoke to the committee before the vote, Berg said.
Baesler, who received the support of Republicans in 2012 and 2016, advanced to this year's general election by getting 54% of the vote in the June primary. She will face Dick in November for the job overseeing North Dakota K-12 education.
Baesler has been more publicly visible amid the closure last spring of North Dakota's K-12 schools due to the emerging coronavirus pandemic. She has helped coordinate the state's response and guidance for schools as they prepare to reopen in the fall.
Baesler said she was grateful for the support and thankful to the party and those who voted for her in the primary. The state is going through "extraordinary times," Baesler said, adding that the Department of Public Instruction's  focus needs to be on providing quality education for students while keeping them, teachers and the community safe.
"It's better with us all working together," she said.
Dick said he found it interesting that the vote was taken at all. The party's support is usually decided by hundreds of people at the state convention but was done Saturday by a much smaller committee, which "can make a difference," he said.
"I'm going to a vote of the people," Dick said. "The people of North Dakota are going to decide who should lead DPI and who would set the best example for the students."
Party leaders decided to delay the superintendent decision in March following Baesler's Feb. 26 DUI arrest, which Berg said was a factor.
Later in March, the party canceled its state convention due to the coronavirus pandemic, leaving Republican candidates unendorsed. Baesler that same month pleaded guilty to misdemeanor DUI under a plea agreement that included almost a year of unsupervised probation, a $500 fine and $250 in court fees. She also sought treatment after what she called "an extremely poor decision" to drink and drive.
It did not appear to impact her in the primary. She far outdistanced Dick, who received about 26% of the vote, and Charles Tuttle, who got 20% and did not advance.
All three candidates had intended to vie for the NDGOP's support in March before the convention was canceled.
North Dakota's superintendent of public instruction sits on several state boards, including the Board of University and School Lands, which oversees the state's mineral interests, among other duties. The superintendent has an annual salary of $125,880.
Be the first to know
Get local news delivered to your inbox!