Concerns of settling at Mandan High School first arose five or six years ago when the district redid the flooring in the gymnasium, according to Mark Andresen, principal.
A northeast corner of the gym had to be shimmed up about 3 inches because it had settled so much, Andresen noted.
Then, the hallway outside the gym started to heave and crack. In November, a plumber found a small puddle in a steam tunnel underneath a shower inside the girls locker room. When the plumber cut a pipe off, the whole drain fell out of the shower floor, creating a hole.
"At that point, we decided that we needed to close (the shower) off for emergency issues," Andresen said.
On the other side of the shower, which is separated by an 8-inch wall, are restroom stalls that also were closed out of concern for their structural integrity. And another shower was closed in the boys locker room due to similar issues.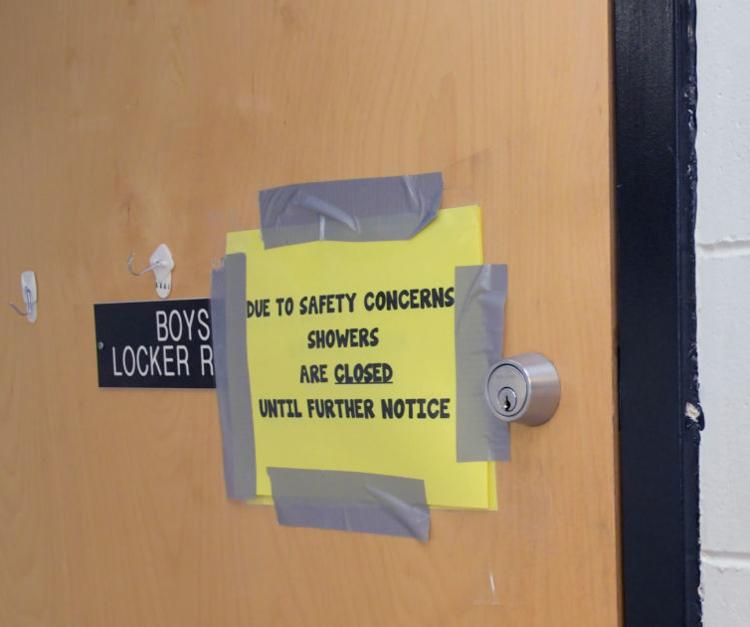 According to Andresen and Mandan Public Schools superintendent Mike Bitz, these problems are indicative of an aging building compounded by cycles of freezing and thawing. District officials are now faced with the question of whether it's worth renovating the building, which was built in 1957, or constructing a new high school.
"We've got some real big decisions to make," Bitz said. "It's starting to show its age."
Isolated area
After a portion of the shower floor in the girls locker room opened up, the district hired ICON Architectural Group, Mandan, to investigate.
Architect Lee Pierce said concrete samples were collected from the areas in question as well as from other parts of the school to test the strength.
"The concrete tests we took ... (show) the concrete is in good condition, so we feel this is an isolated area," she said.
The girls locker room and boys wrestling locker room are condemned, and  are no longer a threat to students safety, Andresen said.
Looking for land
Mandan grew by about 200 students this school year, raising alarm bells for district officials about classroom space.
Mandan High School is at capacity with about 1,100 students, according to Andresen, adding that, this fall, the school is projected to surpass that number.
"Mandan is a growing community, it really is. It could be the next West Fargo, if you do things right," said Andresen, who sees the need for a new high school.
"I think everybody would like a new facility. The question is how do you pay for that, and the taxpayers are the ones who are going to have to decide that," he said.
The high school uses one portable classroom. Few classrooms are vacant, and there are several "roving teachers," meaning they don't have their own classrooms and use whatever rooms are available.
"The need is there," he said. "But we're going to do what we can to educate kids."
Bitz said a new high school will likely come with time.
In 1979, the district purchased property that wasn't used until 2012 when Red Trail Elementary School was built there. In 2011, the district purchased property in the Lakewood area that remains vacant.
"We know that someday we're going to need a new high school; we know that we need 40-plus acres to do that," he said. "I don't know that anything is imminent ... but we also know that to find 40 acres is not going to happen overnight."
Bitz said he and Mandan School Board President Tim Rector recently met with some city officials to discuss building a new school, which would require a bond referendum.
Bitz said the district is still paying off the bond it took out for Mandan Middle School, and paying off a middle school and high school at the same time would be difficult for the community.
As for the high school, on Monday, the school board agreed to allow ICON Architectural Group to do a full facilities assessment of the school and the Brave Center Academy to determine the full extent of the needs.
Bitz said the company hopes to have the report done by the fall.
Pierce, an architect with ICON, said she should have preliminary estimates done this month to determine the cost to fix the girls shower and restroom. Depending on the price, the renovations may be competed by the fall.