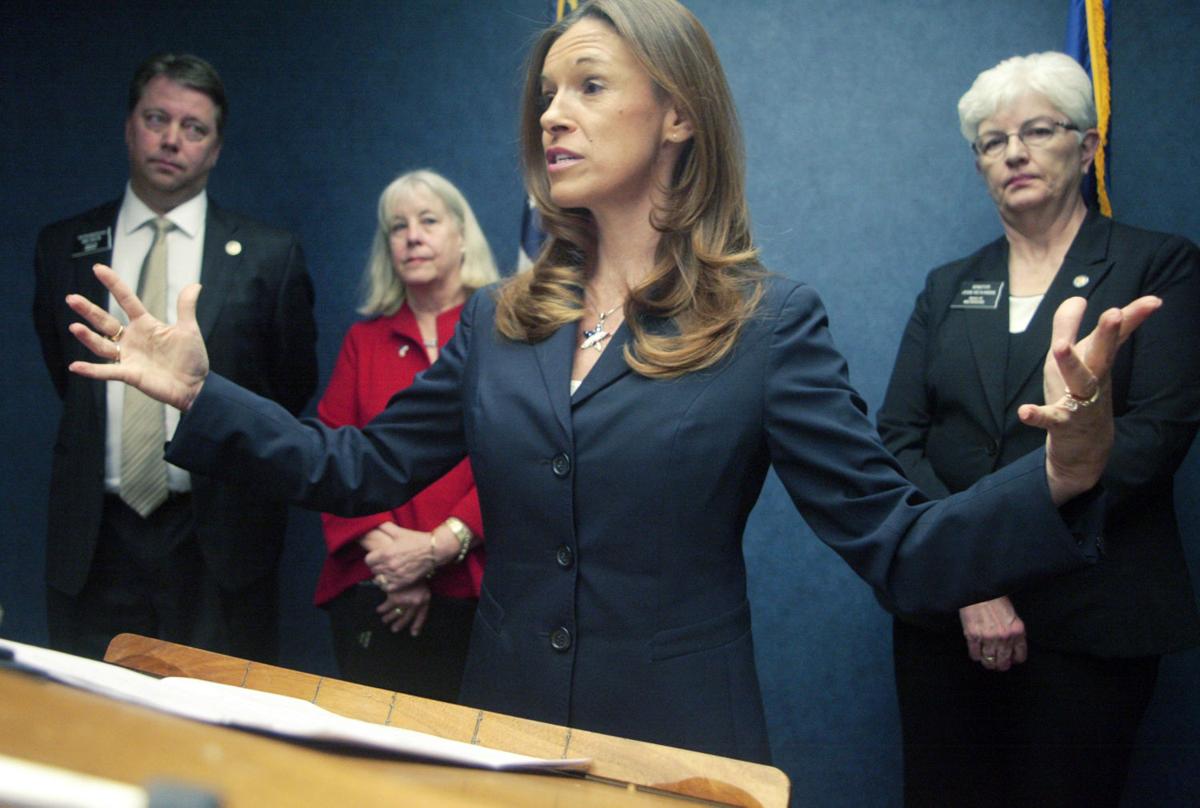 Students in North Dakota will have to pass the U.S. citizenship test if lawmakers approve a bill this spring to make the 100-question exam a graduation requirement.
State Superintendent Kirsten Baesler and first lady Betsy Dalrymple announced the measure Monday, alongside House Education Committee Chair Mike Nathe, R-Bismarck, who will sponsor the bill during the upcoming legislative session.
To pass, students would have to answer at least 60 questions correctly. Immigrants seeking citizenship are given 10 of the 100 questions on the civics portion of the naturalization test and must get at least six right.
The test asks questions about American government, geography and history such as "What is an amendment?" and "What is one reason colonists came to America?"
A 2009 survey found that only 3 percent of students in Oklahoma and 4 percent in Arizona could answer 60 percent of the questions correctly.
"This must change, and it must change now," Dalrymple said.
Baesler said each school district would decide how to implement the test.
Sharon Espeland, an assistant principal at Century High School who spent more than a decade teaching history and government, said she doesn't believe the curriculum would need to change for students to pass the test.
Students already go beyond that material in social studies classes, she said.
Should the bill pass, she said teachers would have to discuss how to best administer the test.
"It's a 100-question test," Espeland said. "We have 50-minute periods to take that test. I'd want to give ample time for students to do well."
At a press conference Monday morning, Baesler said districts could choose to offer the exam all at once or break it up so students take a portion each year.
Bismarck Superintendent Tamara Uselman said she believes students should know about the country's founding documents but noted that she has not seen any data showing the merits of administering the citizenship test in schools. She would like to see the information covered on the exam stay with students long after they finish taking it.
"They should do something with that knowledge — they should be engaged," she said.
Whether the information sticks depends upon the student, Espeland said.
"I think the test is perhaps one step toward the goals we want for our students," she said.
Mandan Assistant Superintendent Jeff Lind said he would like to see a copy of the bill, but he doesn't have any major concerns about the proposal.
"The idea that we want our graduates to have a good working knowledge of how government works, and specifically how the U.S. government works, is important," he said.
Lind said he's confident the current curriculum covers the information on the test. High school students in Mandan must take classes in U.S. history and government to graduate, as is the case throughout the state.
North Dakota is one of a handful of states that will consider the new graduation requirement. Lawmakers in eight states have indicated they will sponsor bills that require students to pass the test, said Sam Stone, national campaign manager for the Civics Education Initiative.
Stone's organization is pushing to get similar bills through all 50 states by Sept. 17, 2017, to mark the 230th anniversary of the signing of the Constitution. The push to get kids taking the test came out of a 2013 board meeting of the Joe Foss Institute, which aims to promote knowledge of freedom and patriotism among youth.
A year later, the Civics Education Initiative began the push to get state lawmakers on board. Former U.S. Supreme Court Justice Sandra Day O'Connor, former New York Mayor Rudy Giuliani and renowned journalist Carl Bernstein support the initiative, Dalrymple said.
Once the first states take up the measure this spring, Stone expects more legislatures to follow suit.
The test is available for review on the U.S. Citizenship and Immigration Services website.
"It doesn't look very hard to pass because the questions and answers are right there," Uselman said.
Stone said districts could offer a multiple-choice test or one like the actual citizenship exam that asks students to fill in the blanks.
"We are definitely encouraging them to do a fill-in-the-blank style test because we feel they will get a lot more out of it that way," he said.
Students can pass a multiple-choice test more easily by using the process of elimination, Stone said. Requiring that students write in the answers forces them to demonstrate they know the material, he said.
In North Dakota, Republican and Democratic lawmakers have signed onto the bill as co-sponsors.
If passed, the graduation requirement would apply to students in all public and non-public schools in the state, though exceptions may be made for students with disabilities. Students would be able to retake the test until they receive a passing score.