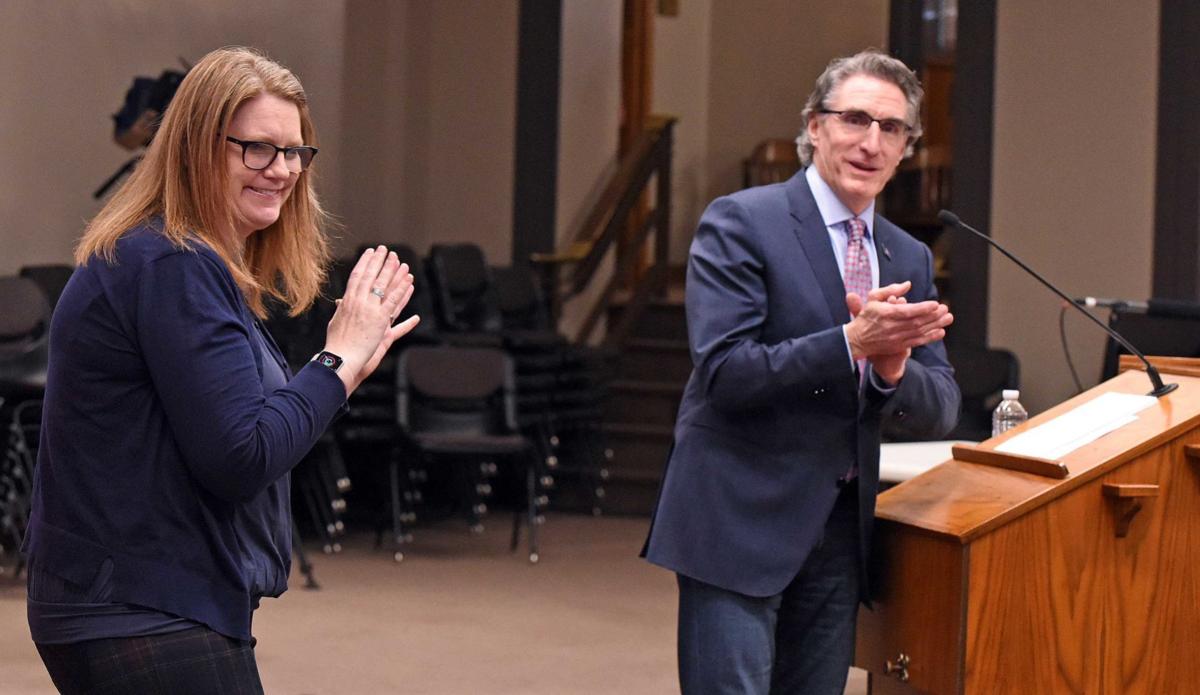 The interpreters who stand adjacent to Gov. Doug Burgum at his coronavirus press briefings are launching a series of videos to teach people the basics of American Sign Language.
The first video, posted Monday to the North Dakota Department of Public Instruction's Facebook page, instructs viewers on how to sign the alphabet.
"The best way to start is to be able to finger spell a little bit," said Lindsey Solberg Herbel, adding that beginners can also learn some basic signs for individual words.
Many viewers of the governor's press conferences will recognize Solberg Herbel, who is on-screen, teaching, in the first few videos. She's an outreach interpreter based in the Bismarck office of the North Dakota School for the Deaf and has spent numerous afternoons the past two months at the state Capitol, translating the governor's words, those of his guests and questions from reporters.
"I was getting a lot of attention because of it, and I really didn't want the attention for myself," she said. "I thought, what would be a good way to use this attention to promote inclusion in our classrooms and in our communities?"
She hopes the videos can serve as useful activities for children stuck at home. They could also be used in schools when in-person classes resume. Adults, especially those who know or work with a deaf person, can learn from them too, she said.
Future topics include numbers, colors and simple phrases such as, "Hi. How are you?"
Solberg Herbel has filmed five videos so far with the help of fellow outreach interpreter Renae Bitner, who has worked at several of the governor's press briefings as well. Those videos will be released in the coming weeks, and they plan to work on more down the road.
"Going forward, we want to include members of the deaf community to showcase their skills because they are the true masters of ASL," Solberg Herbel said, using the acronym for American Sign Language.
A recent statewide count estimates that 120 people across North Dakota use ASL as their first language, Bitner said.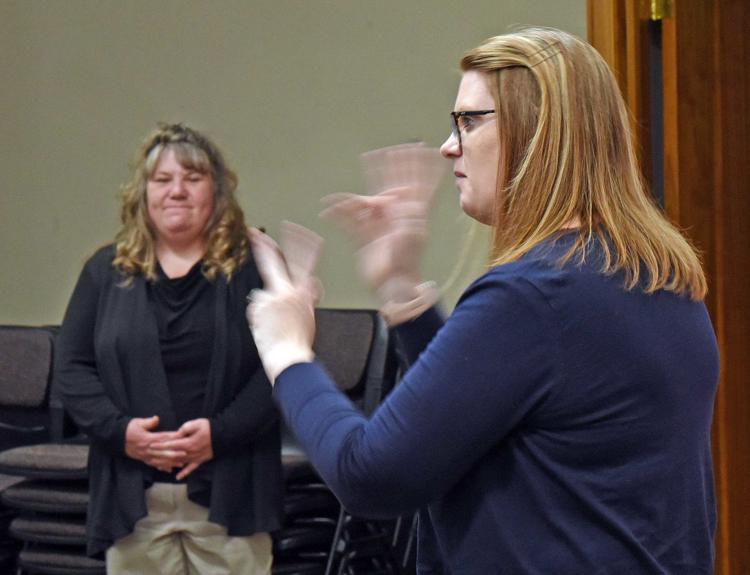 To practice, the interpreters recommend that people visit the website asl.ms. The tool gives the viewer an opportunity to watch words spelled out in ASL while controlling the speed of the on-screen hand that's signing.
Around the state, some colleges offer sign language classes, including for members of the public who are not students. The School for the Deaf delivers instruction to some K-12 schools via video. The interpreters are working on putting together a list of more sign language resources for those interested.
The grammar structure for ASL differs from spoken English. It's closer to French, a product of the founder of the first school for the deaf in the United States having visited a similar school in France in the early 19th century, Bitner said.
By the time Thomas Hopkins Gallaudet founded the school in Connecticut, a number of people in nearby Martha's Vineyard in Massachusetts had already adopted their own form of sign language because the area had a large deaf community.
"They used French sign language that they brought over, but they also eventually incorporated the signs that were already existing here in America," Bitner said of the school in Connecticut. "That's what became American Sign Language."
The language is always evolving as new words are added. Lately, for example, the deaf community and interpreters have had to come up with signs for words like "coronavirus" and "contact tracing" as the pandemic adds a slew of public health terms to Americans' vocabulary.
"The deaf community is very tight-knit," Bitner said. "When there is something that everybody is talking about, they are pretty quick to come up with signs."
Technology helps to spread signs for new words, as people film themselves and post videos to apps such as Facebook. In one popular Facebook group, "ASL THAT!" people ask questions and carry on discussions about new signs, including for coronavirus-related words.
Some of those words are used all the time by Solberg Herbel and Bitner at Burgum's press conferences. The same goes for interpreters doing similar work in other states, whose visibility has been elevated as residents tune in to the governors' frequent updates on the virus.
"It's really drawn attention to the fact that deaf people are in every part of our community," Bitner said. "They need to know what's going on just as much as hearing people do."
Concerned about COVID-19?
Sign up now to get the most recent coronavirus headlines and other important local and national news sent to your email inbox daily.