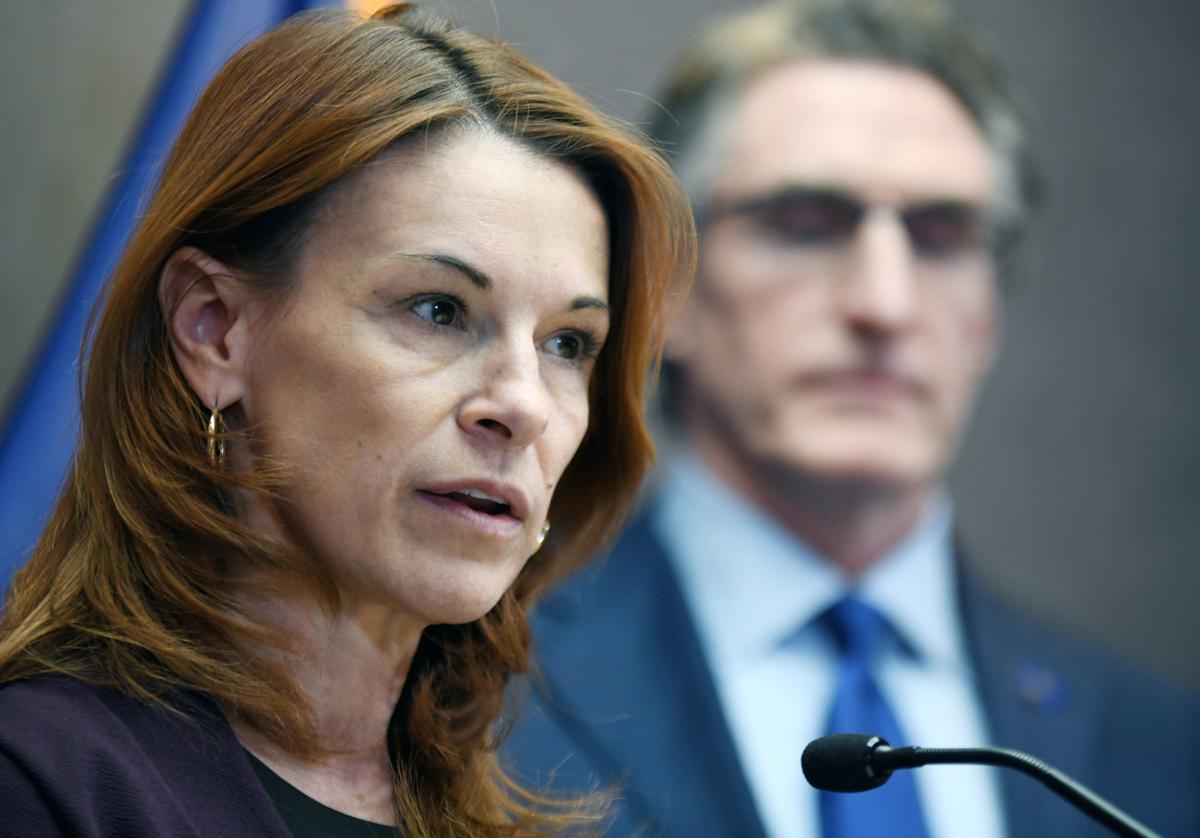 Gov. Doug Burgum on Sunday night ordered North Dakota's K-12 schools shut down for a week, just two days after he and State Superintendent Kirsten Baesler said schools would remain open despite the coronavirus pandemic.
Burgum ordered the 175 school districts in the state to close through Friday. He called on school administrators and leaders to report to work on Monday and Tuesday and come up with plans for reopening -- developing strategies for such things as screening students. The school-closing decision will be revisited at the end of the week.
Burgum acknowledged that "We know this creates a burden for families and the work force."
The governor used a math analogy in his explanation.
"The reason has to do with the math of a contagion," he said. "We believe that … because of the high infectious nature of this, two or more people would be infected for every person who gets it."
He added that "If we have that kind of a rapid increase or spread, then that's where we run into the issue of overwhelming our health community."
Burgum on Friday declared a state of emergency in the wake of President Donald Trump declaring a national emergency. But at the time, Burgum said shutting down the statewide public school system with more than 110,000 students was not warranted.
On Sunday, Burgum said "This has been a rapidly evolving situation. Since Friday, new information has come through; some of that includes new guidance from the CDC (federal Centers for Disease Control and Prevention)."
Earlier Sunday, Minnesota Gov. Tim Walz and Montana Gov. Steve Bullock ordered public schools to close and remain shut down through March 27. South Dakota Gov. Kristi Noem on Friday ordered schools in that state to shut down for at least a week. All three states have more confirmed coronavirus cases than does North Dakota.
North Dakota has had only one presumptive case of COVID-19, the disease caused by the new virus, in a Ward County man in his 60s who was not hospitalized and is recovering at home. The man had traveled, and his case did not involve community transmission. As of Sunday, the state health department had tested 100 people for the virus, with 95 tests coming back negative and four pending.
Burgum said that due to a lack of testing, it can be assumed that North Dakota has more cases. The goal is to increase testing and have better data by the end of the week, along with other information such as the health care system's ability to handle a spike in cases, and the global availability of ventilators, he said.
The North Dakota Department of Public Instruction has received a waiver from the federal government to continue providing food to the roughly 30% of students statewide who receive free or reduced-price meals at school, according to Baesler. The food will be offered to students "in non-congregant settings," she said.
Students might also experience anxiety because of the uncertainty surrounding the school closings, Baesler said. She urged adults to provide reassurance and security by staying informed and communicating with children.
"One of the best questions we can do as adults is to ask children 'what have you heard?' and so that child can then share what they may have heard, because some might be true and some may not be true," she said.
The Department of Public Instruction is working with the Department of Human Services Division of Behavioral Health to launch resources to help explain COVID-19 to children.  
The school closure order does not apply to day cares in the state, which oversee about 44,000 children daily, according to Burgum.
It's unclear whether schools will have to make up the missed week of classes. Schools must provide a certain number of minutes of education per year under state law, and some districts have banked time, Burgum said.
The situation is unusual because of the uncertainty surrounding it, the governor said.
"We know what to do in a flood, we know what to do in a blizzard, we know what to do in a drought," Burgum said. "This is new territory for us."
North Dakota United President Nick Archuleta said the organization that represents 11,500 teachers and public employees is glad Burgum is putting "the health and safety of our kids and teachers first."
He added, however, that "It is imperative that the children currently receiving special educational services continue to receive those services during this difficult time. 
"We must also be sure to make available the nutritious meals that students affected by food insecurities depend on every day," he said. "Finally, we must keep teachers and education support professionals whole. Their work is being interrupted through no fault of their own, and it would be a mistake to withhold their salaries as they cope with the challenges forced on all of us by the COVID-19 virus." 
Concerned about COVID-19?
Sign up now to get the most recent coronavirus headlines and other important local and national news sent to your email inbox daily.