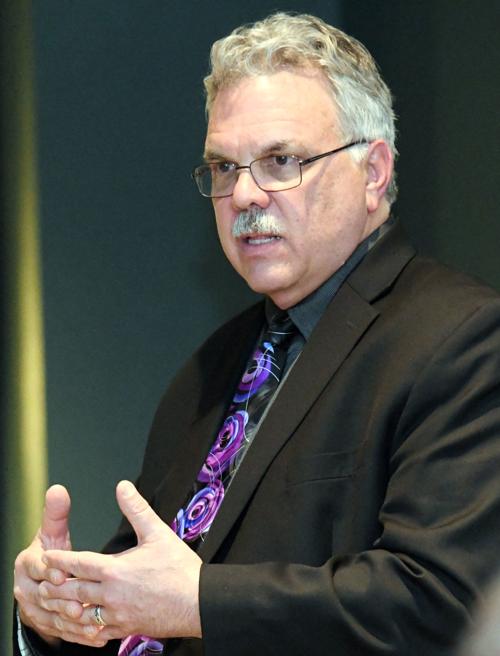 The committee aiding in the search for the next president of Bismarck State College chose three finalists Thursday.
Clark Harris, Douglas Jensen and Philip Klein remain in the running.
Their names will now be sent, unranked, to the State Board of Higher Education, which will hold its own round of interviews on March 26 with the finalists before voting to select BSC's next president. The interviews with the board will be livestreamed for public viewing.
Forty-one people initially applied to succeed Larry Skogen, who is retiring as president at the end of June. The search committee held video interviews with 12 before inviting five candidates to campus this week.
Each candidate spent time meeting with students, staff and community members during the campus visits.
Harris recently served as vice president of academic affairs at Laramie County Community College in Wyoming, where he now serves as special assistant to the president. Previously, he was the dean of technology at Mott Community College in Flint, Mich. He said during his open forum on Monday that his strengths include his charisma and background in career and technical education.
Jensen is president of Rock Valley College in Illinois, a position he's held since 2016. Previously, he was president for the Alabama Technology Network in the Alabama Community College System. He said during his open forum on Tuesday that his strengths include workforce and economic development, and working with state legislatures.
Klein is dean of the School of Health and Public Safety at South Piedmont Community College in North Carolina. He was previously a firefighter and an adjunct professor, and he has worked as a dean and an associate vice president at Gwinnett Technical College. He said during his open forum on Tuesday that his strengths include his ability to relate to students who struggle, and his experience creating an education program at a technical college. 
Search committee co-chairmen Dan Leingang and Tim Mihalik thanked members for their time and effort throughout the "exhaustive" search process.
"We are excited as the process moves forward. We owe a debt of gratitude to the search committee members who volunteered time and will allow us to move the candidates on to the interviews on March 26," said Mihalik, a Higher Education board member and the only member of the initial search committee with the ability to actually vote on who becomes BSC's next president.
Be the first to know
Get local news delivered to your inbox!