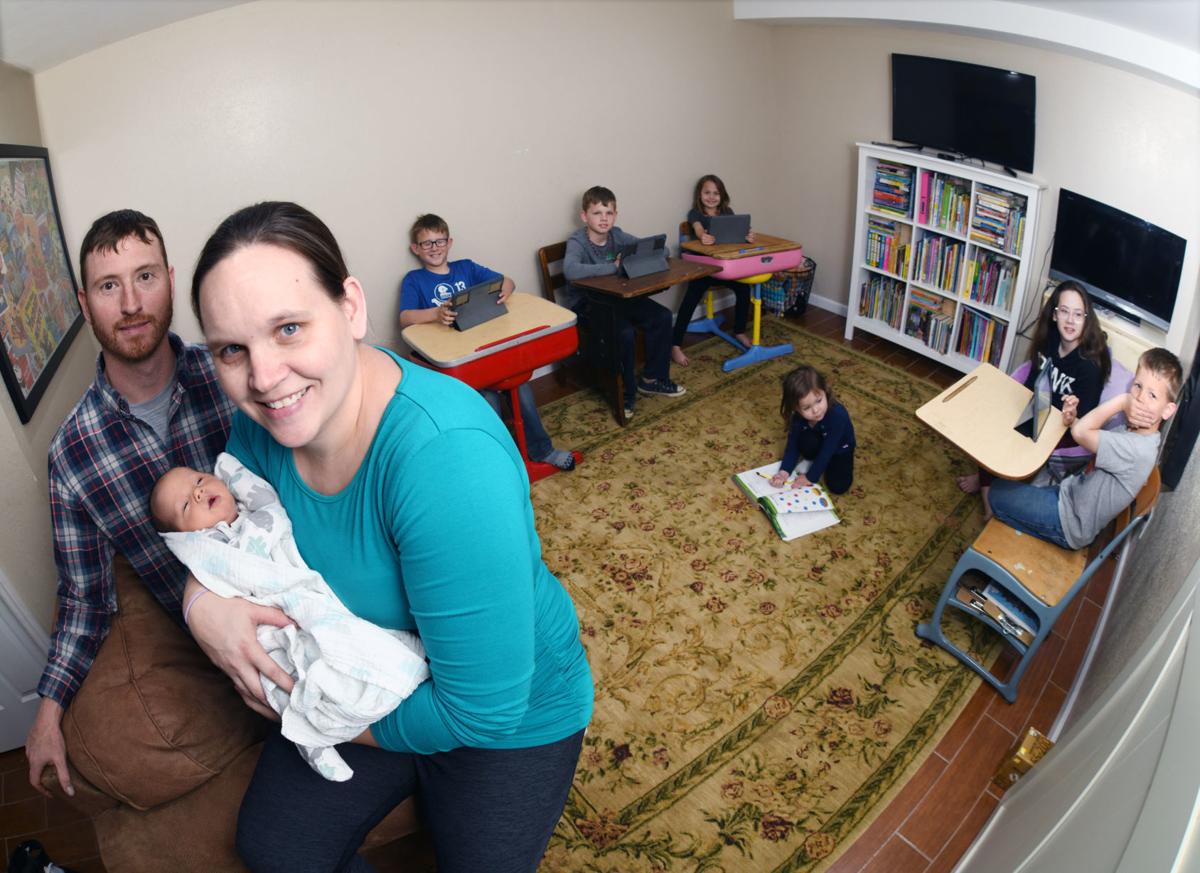 Bismarck and Mandan public schools were busy educating students online Wednesday, the day the governor set for beginning remote instruction in North Dakota amid the coronavirus outbreak.
Gov. Doug Burgum on March 15 announced schools would be closed for one week. On March 19, he announced that North Dakota schools would be closed to students indefinitely due to the coronavirus pandemic, and he directed administrators to put together distance learning plans for the remainder of the school year.
The plans were due last Friday. The governor's office and the Department of Public Instruction reviewed them throughout the weekend and early this week. All 171 plans were submitted on time and approved by Wednesday afternoon after a "herculean" effort by educators and the department, DPI spokesman Dale Wetzel said. An additional 39 plans for nonpublic schools also were approved, but those schools do not have any state education aid at stake.
Burgum at a Tuesday news conference said most distance education plans looked good, but he had asked some districts to provide more clarity about student and teacher expectations.
Mandan
Mandan Public Schools was one of the first districts to submit its distance learning plan, and it received approval on Saturday after making a few tweaks, Assistant Superintendent Jeff Fastnacht said.
Mandan was uniquely positioned to roll out distance learning quickly because of moves it had made in the past, Fastnacht said. While other districts rushed to figure out how to get devices to students, Mandan five years ago had implemented a "one-to-one" learning plan, meaning every student had a device. Because of that, Mandan was already familiar with the online learning management system known as Canvas and was able to quickly shift all learning online the first week that closures were announced.
Administrators and key instructional personnel met the night Burgum announced the closures and continued meeting throughout the week. High school courses already had an online aspect, so some teachers were ready to resume instruction that week on March 18, just three days after the governor's announcement.
The remainder followed suit, and all Mandan classes were fully rolled out online by March 25. A tech help desk line was set up prior to that date for parents, students and teachers to call with questions.
"I don't think any school in the state, none of us were 100% ready for this. I mean, no one ever thought we'd be here," Fastnacht said. "But when you have the technology in each kid's hand, when you have a good learning management system that you can lean upon, the move ... wasn't as big a leap as I think other schools have had to jump."
Brooke Wiedrich, a mother of five Mandan students, said schooling from home was going more smoothly this week after the family got clarity on what was expected and figured out how to use iPads and the Canvas system. The kids have a list of tasks they need to get through each day, and they need to be logged into Canvas for at least an hour a day.
"It's not the typical 8 to 3:30 (school day)," Wiedrich said. "My middle school daughter, she has (video) conferences in each one of her classes every single day at a certain time. My other ones in middle school have a live conference once, maybe twice a week."
Family members are adjusting to the changes, but Wiedrich said it helps that they are getting into a routine.
"Everybody's kind of been thrown into it," she said. "It's a huge learning curve."
Separately, the Mandan School Board met on March 16 to approve paying staff in full for the remainder of the school year.
Bismarck
Bismarck Public Schools submitted its plan to the state on the statewide due date last Friday. It kicked off its distance learning on Monday after getting approval from the state.
Administrators and key teaching personnel got together right away the Monday morning after Burgum's announcement to lay out the core principles for distance learning. Core principles included beliefs that the workload should be equal for both students and teachers, that it should be as familiar as possible, and that it could allow for some flexibility, said BPS Director of Professional Learning Brittany Upton.
Bismarck is the largest school district in the state, with more than 13,000 students at the start of the school year. Rather than seeing that as a challenge, school officials "thought about using our size to our advantage," Upton said. They did that by dividing and delegating tasks between different school buildings and instructional teams to split up the immense amount of work it took to set up a distance learning plan in a rushed fashion.
Bismarck Public Schools is a one-to-one district for grades 6-12, meaning students in those grades already had a district-issued device. Distribution dates were quickly set up for families with students in grades K-5 to ensure that every household had at least one district-provided device.
The district is using both Moodle and Google Classroom learning management systems. Packets also are available as a nondigital option for families.
At the elementary and middle school level, uniform "learning boards" built for an entire week of instruction for all schools were rolled out this week. At the high school level, instruction is more individualized by building and classroom because it's trickier to build the same content and pacing for all students, Upton said.
Bismarck Superintendent Jason Hornbacher urged parents to reach out to teachers, principals or the district's central office with feedback.
"The more feedback we get, the better off we're going to be," he said.
Separately, the Bismarck School Board met on Wednesday to approve paying permanent staff in full for the remainder of the school year.
Concerned about COVID-19?
Sign up now to get the most recent coronavirus headlines and other important local and national news sent to your email inbox daily.