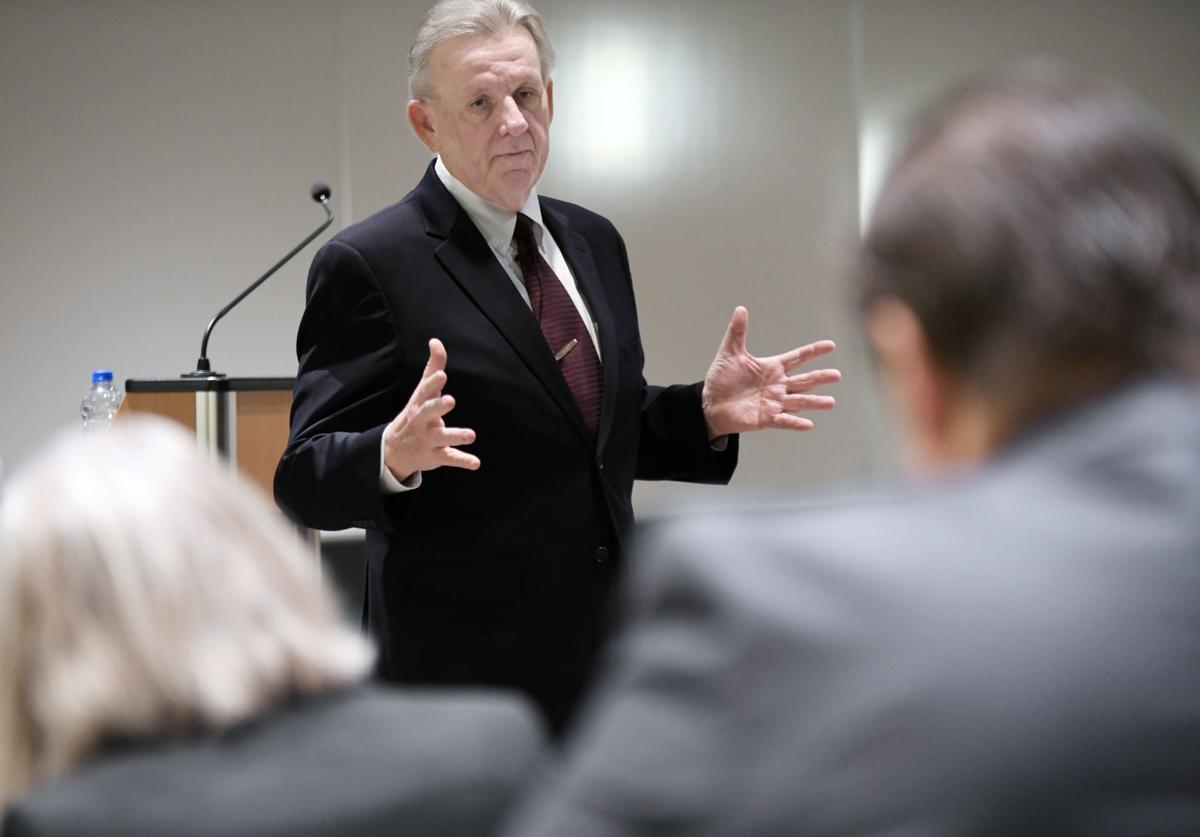 Two Bismarck State College president candidates with experience going through a nontraditional education path discussed workforce development and the importance of continuing education during the second day of open forums for semifinalists.
Community forums for candidates Douglas Jensen and Philip Klein were held Tuesday. Forums for candidates Richard Sax and Clark Harris were held Monday and touched on a number of the same topics, including workforce development, which has become a theme this week.
The final community forum, for candidate Joan Poor, will be at 3 p.m. Wednesday in the Basin Electric Auditorium at the National Energy Center of Excellence on campus.
Whoever gets the job will succeed the retiring Larry Skogen.
Doug Jensen
Jensen is the president of Rock Valley College in Rockford, Ill., a position he's held since 2016.
He talked up his technical background experience creating a workforce development system.
The polytechnic mission being pursued by BSC is one of the main reasons he applied for the job, Jensen said. He likes the college's focus on workforce and economic development, which he considers one of his biggest strengths. 
He said "top-tier" manufacturing firms seek pipelines for talent when considering a move to a new area, and he sees BSC as able to leverage its position in the state capital to attract businesses to the region. He said he was involved in meetings with companies such as Airbus and Mercedez-Benz and helped create a unified workforce system when he worked in Alabama. He was previously president for the Alabama Technology Network in the Alabama Community College System. 
Jensen said it's important for liberal arts and technical instructors to communicate with each other to best benefit the students, buts he sees liberal arts as being a community college's "core" despite his mostly technical background.
"I think the key with the liberal arts and sciences is basically making sure those courses align with the career and technical pathways," Jensen said. "The key is how do you start that conversation with both sides?"
The smaller size of BSC also appealed to him.
"It's big enough that it has resources, but yet it's the right size where you can still have a personal relationship," Jensen said. 
He said he's has success working with lawmakers at both the state and federal levels by demonstrating that education is "not an expense, but an investment."
He said he was able to secure more than $1 million from the Illinois Legislature for a program to help low-income black mothers get job training.
Jensen earned a doctorate of education from Edgewood College in Madison, Wis., and master of science and bachelor of science degrees from Geneva College in Beaver Falls, Pa. He earned an associate of science degree from Community College of Allegheny County in Pittsburgh, where he later worked for more than 15 years.
Phil Klein
Klein is the dean of the School of Health and Public Safety at South Piedmont Community College in Polkton, N.C.
He talked about his personal experience as a continuing education student, his background as a firefighter and a talent gap he sees in the workforce.
He said he could relate to students who initially struggled going to college because he dropped out of community college after his first semester at age 18 and became a firefighter before going back to continue his education at age 25.
He said it's crucial for a community college to not forget about nontraditional adult students as the economy continues to shift. Adult learners can help "recession-proof" an institution that is facing budget cuts by helping to provide a constant stream of students, he said.
It's important to provide a pathway for continuing learners to transition into a credit-based program to provide different levels of education for different types of students, he said.
"It's a matter of making sure that we have classes that fit adult learners' schedules," he said.
He sees a gap in today's workforce with "soft skills," such as writing and public speaking, and wants to find a way to embed more of those skills in technical classes.
"My vision is to not just lead this college in doing that, but lead the country in doing it."
He said it's crucial for students, especially health care students, to get quality internship experiences with companies that are looking to hire. High-quality job experience is what separates job applicants from each other, he said.
On BSC's polytechnic direction, he said the college has to be careful not to "out-educate" itself from the current core of students.
He said he had some experience dealing with legislators and experience getting "creative" with fundraising.
Klein previously created a paramedic education program at Chattahoochee Technical College in 2012. He also has worked as a dean and an associate vice president at Gwinnett Technical College in Georgia. He earned an associate degree in liberal arts from Nassau Community College in New York, a bachelor's degree in political science from Queens College, City University of New York, a master's degree in public administration from Kaplan University in Iowa and a doctorate in higher education management from the University of Georgia.
Upcoming
The BSC Presidential Search Committee will hold six closed meetings throughout the week to discuss candidates' attributes before selecting at least three finalists on Thursday afternoon. The finalists will be forwarded to the State Board of Higher Education, which will make the final decision on who to hire as BSC's next president at its March 26 meeting.
Be the first to know
Get local news delivered to your inbox!