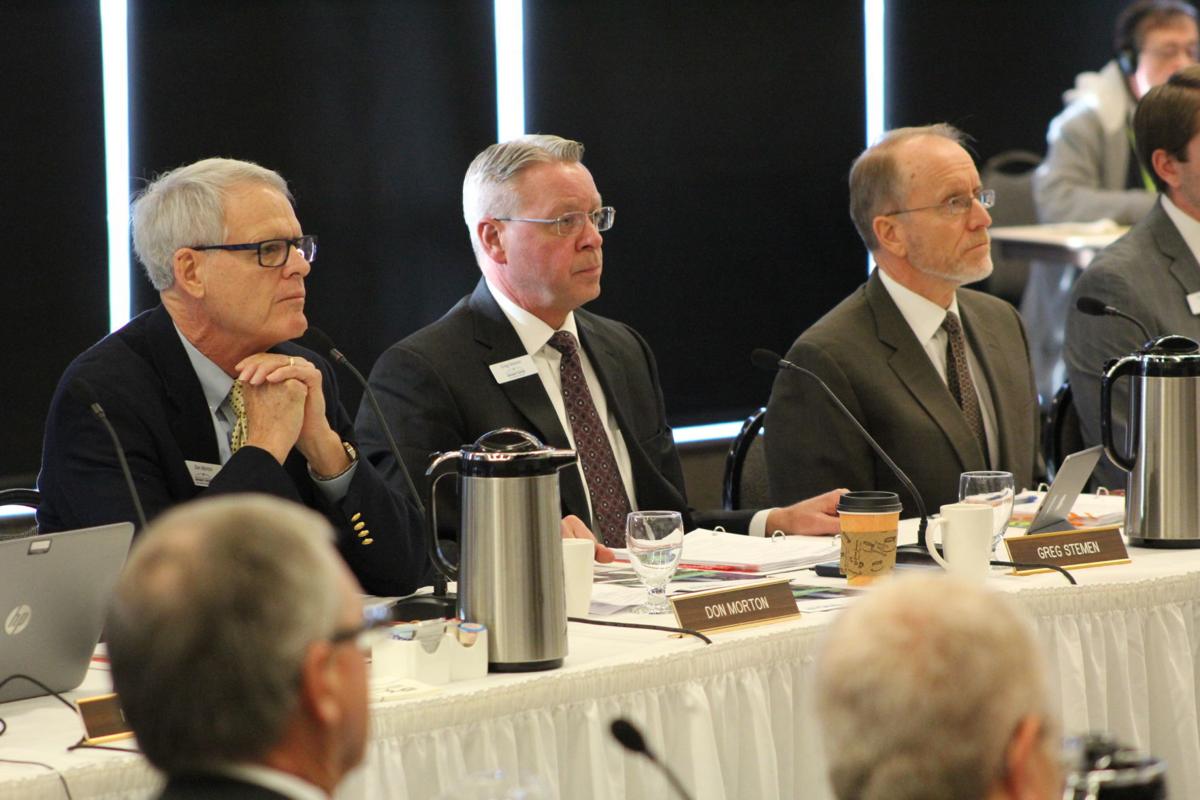 Thirteen people have applied for two vacancies on the North Dakota Board of Higher Education.
The two openings are for the seats of board vice chairman Greg Stemen, who resigned on Sept. 27, and board member Nick Hacker. Both Stemen's and Hacker's four-year terms end June 30.
Hacker is one of 13 people who applied for a seat on the board. The person selected for Stemen's seat will begin serving on the board immediately and will be eligible for reappointment in June.
Thomas Atkinson, Bismarck, an environmental engineer for the Western Area Power Administration
James Carlson, Fargo, a pharmaceutical researcher at Axis Clinicals
Nick Hacker, Mandan, president of North Dakota Guaranty and Title Co.
Brandon Lemer, Bismarck, activities director and business teacher at Shiloh Christian School
Robert Marthaller, Bismarck, retired school superintendent and former assistant superintendent in the North Dakota Department of Public Instruction
Timothy Mihalick, Minot, business development officer at First Western Bank & Trust Co.
Lonnie Pederson, Oxbow, executive director of the Jeremiah Program
Mike Seminary, Bismarck, former Bismarck mayor and business development manager at Houston Engineering
Taya Spelhaug, West Fargo, North Dakota manager of Microsoft TechSpark
Ruth Swaney, New Town, tribal education director for the Mandan, Hidatsa and Arikara Nation
Wayne Trottier, Rugby, school administrator
Benjamin Vig, Sharon, farmer
Susan Wefald, Bismarck, writer and community volunteer, former state public service commissioner
You have free articles remaining.
Wefald, who has also served as a member of the Bismarck School Board, said she applied for a position partly to address cuts to higher education.
"I'm a financial conservative, but I do think we need to work with Legislature to provide strong financial support for higher education that can be maintained, and I'm anxious to work on that," she said.
Wefald said she's interested in the interim position on the board, but would consider a four-year appointment after that.
State Superintendent Kirsten Baesler chairs a committee that recommends candidates for the Board of Higher Education to the governor. The governor's picks must be confirmed by the state Senate.
The nominating committee will meet next month to make three lists of names: one to serve the remainder of Stemen's term, as well as Stemen's and Hacker's successors.
The state Board of Higher Education, which oversees North Dakota's 11 public colleges and universities, has eight voting members.