Bike riding and dangerous game hunting might seem like topics too different to be discussed at the same venue, but they are two of many that will be part of the annual Bismarck Tribune Sport Show that starts Friday and runs through Feb. 17 at the Bismarck Event Center.
Jairo Ramos Lagos, a former professional biker, will present seminars on electric bicycles, and Pierre Moolman, owner of a South African safari company, will speak about dangerous game hunting.
Ramos Lagos competed professionally in the road bike and mountain bike categories. He started riding at the age of 18 and, in 1997, became mountain biking national champion of Honduras. He's still an avid biker, but now at age 44, he feels fatigued after 40 or 50 miles of riding. In his 20s, he could push that to 200 miles.
"I remember how good that felt," he said.
An electric bike has made longer rides possible for him. They might fit the bill for people with medical conditions, a rider who has trouble keeping up with a partner or maybe someone who simply wants biking to be fun again.
Ramos Lagos, a service manager at 701 Cycle and Sports in Bismarck, has seen changes in bikes over the years, but big engineering changes in electric bikes hit about 2010.
"They figured it out," he said. "It was like a boom globally."
The bikes weigh about 53 pounds on average, but with the assistance of the motor, the rider won't feel that difference. They would if they had to pedal home, he said, but the bikes are equipped with a smart battery that can offer as much assistance as the rider wants and also save enough power for the return trip.
If it's more excitement you seek, Pierre Moolman of Sun Africa Safaris will provide information on hunting plains game and dangerous game in South Africa. The difference between those two is stark. If a person is 80 percent prepared for a plains game hunt, the result can be a fine hunt with no problems.
"On a dangerous game hunt, if you are only 90 percent well-prepared, you can get killed," he said. "You need to be 100 percent on everything."
Moolman, who has 30 years experience in the hunting industry, founded Sun Africa Safaris, based in Eastern Cape, South Africa, in 2001. It's easier to sell a water buffalo hunt today than it is to sell a plains game hunt, according to Moolman. He attributes that to the influence of social media and that veteran hunters might want to test their skills at the next level.
"Hunting plains game may provide excitement, challenge and a small amount of danger," he said. "However, it is an altogether different experience to hunt an animal that is perfectly capable of hunting you in return."
Moolman will outline the requirements for hunting dangerous game, including minimum legal rifle caliber and how to practice and develop shooting skills. A hunter should be able to put two shots into a moving target the size of a paper plate in four seconds or less. A professional hunter will be there for back-up, but it's not a guarantee of safety.
"In the end, this is your hunt and you are responsible for the outcome," he said.
Sport show attendees also can find seminars on walleye fishing by professional anglers Ted Takasaki, Jason Przekurat and Bernie Keefe, a kids fishing clinic by the Future Angler Foundation, several sessions on marine electronics by Scheels and Lowrance Marine Electronics Universit, and an off-highway vehicle class by North Dakota Parks and Recreation.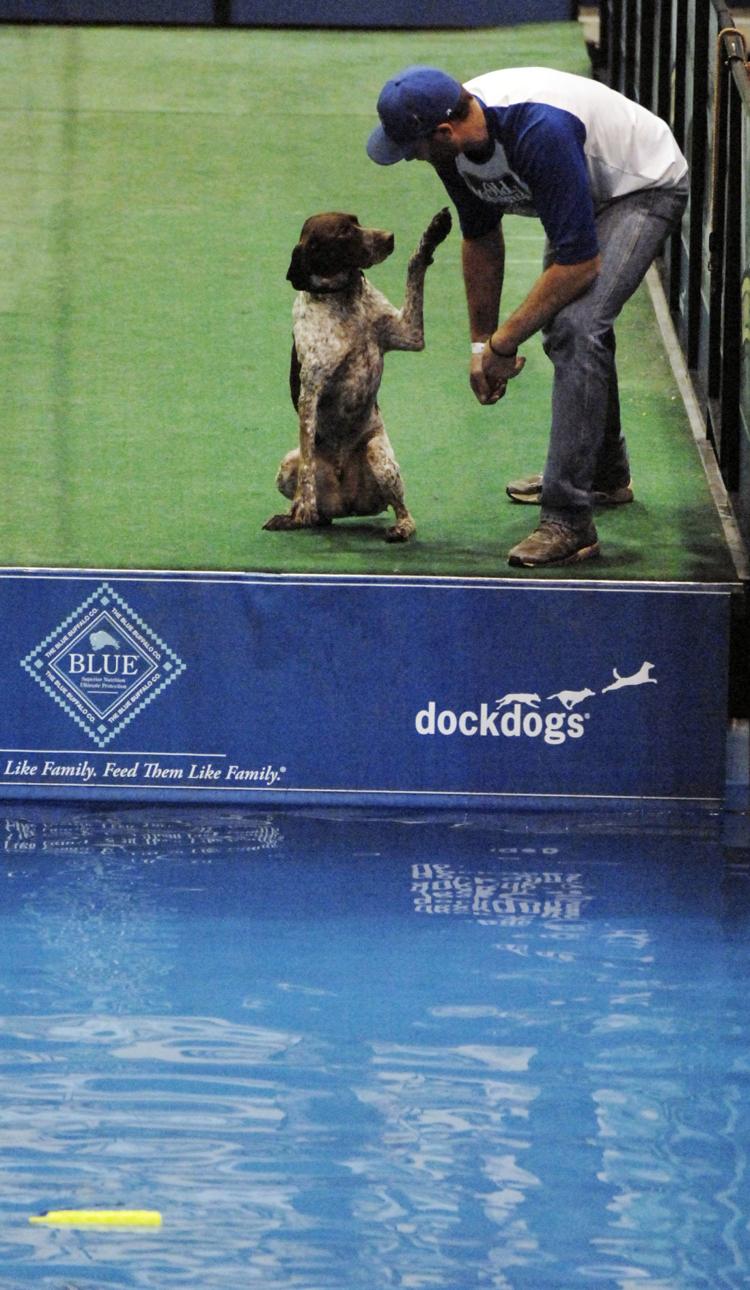 The Dock Dog competition is back, too, and with it comes one of its most popular competitors, Skeeto Bear. The 6-year-old Chesapeake Bay retriever will compete and make a special photo opportunity appearance at Family Night on Friday. She won the Big Air competition in 2016 and 2017 and finished second last year. She's developed a following of sorts, said owner Sandy Thiel, of Bismarck.
"She loves people," Thiel said.
The Dock Dog competition is held over all three days and includes Big Air, Extreme Vertical and Speed Retrieve categories in pro, semi-pro, contender and amateur divisions.
More than 100 vendors are expected at the show.