Authorities arrested a Washburn chiropractor Thursday in connection with the killings of four people found dead Monday at a Mandan business.
Mandan Police Chief Jason Ziegler said police arrested Chad Isaak, 44, of Washburn, who lived in a mobile home park managed by RJR Maintenance and Management.
Ziegler said Isaak was arrested without incident on suspicion of four counts of Class AA felony murder in connection with the deaths of RJR co-owner Robert Fakler and employees Adam Fuehrer and William and Lois Cobb.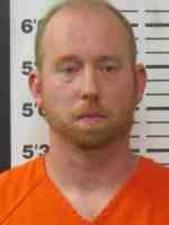 "The victims suffered stab wounds and/or gunshot wounds," Ziegler said.
Police identified a suspect vehicle through surveillance video, leading to a traffic stop in Washburn where McLean County deputies and the North Dakota Bureau of Criminal Investigation detained Isaak.
Ziegler said evidence in the vehicle and on Isaak provided probable cause for Isaak's arrest. He was arrested at 7:46 p.m. Ziegler said police are not looking for other suspects.
Isaak was being held at the McLean County Jail in Washburn. It was unclear when formal charges would be filed or when Isaak would make a court appearance.
North Dakota court records do not show a criminal history for Isaak.
Isaak opened Isaak Chiropractic of Washburn on Main Avenue in 2015, according to a feature story on Isaak in a 2015 supplement to the McLean County Independent. Isaak first opened a practice in Hazen in 2006, the news story said.
The chief said a motive for the killings is unknown. He would not comment on whether investigators had recovered a weapon or weapons. Ziegler also said he could not offer a time frame for the homicides and emphasized the investigation is still active.
You have free articles remaining.
Ziegler said police had not received a report from the State Medical Examiner's Office.
Police discovered the bodies after receiving a 911 call for a medical assist about 7:30 a.m. Monday to the business at 1106 32nd Ave. S.E.
The Mandan Police Department declined a request from The Bismarck Tribune for the audio or transcript of the 911 call, citing the ongoing investigation as the reason for not releasing the information.
Mandan Mayor Tim Helbling thanked emergency responders and community members for their parts in the case and supporting those involved.
"We live in a great community and when adversity strikes, we all come together and that is shown by the support that we have seen in this community all week," Helbling told reporters.
A combined memorial service will be held Tuesday at Bismarck Community Church for the four victims. Funeral director Bob Eastgate has said the families wanted to have a combined service because the co-workers were close friends.
Donations for family members of those slain are being accepted at Midway Lanes in Mandan through 9 p.m. Friday.
Ziegler said he'll confer with his staff on closing down a tip line related to the case. He said the case will involve a long process of prosecution.
"This is far from over," Ziegler said.