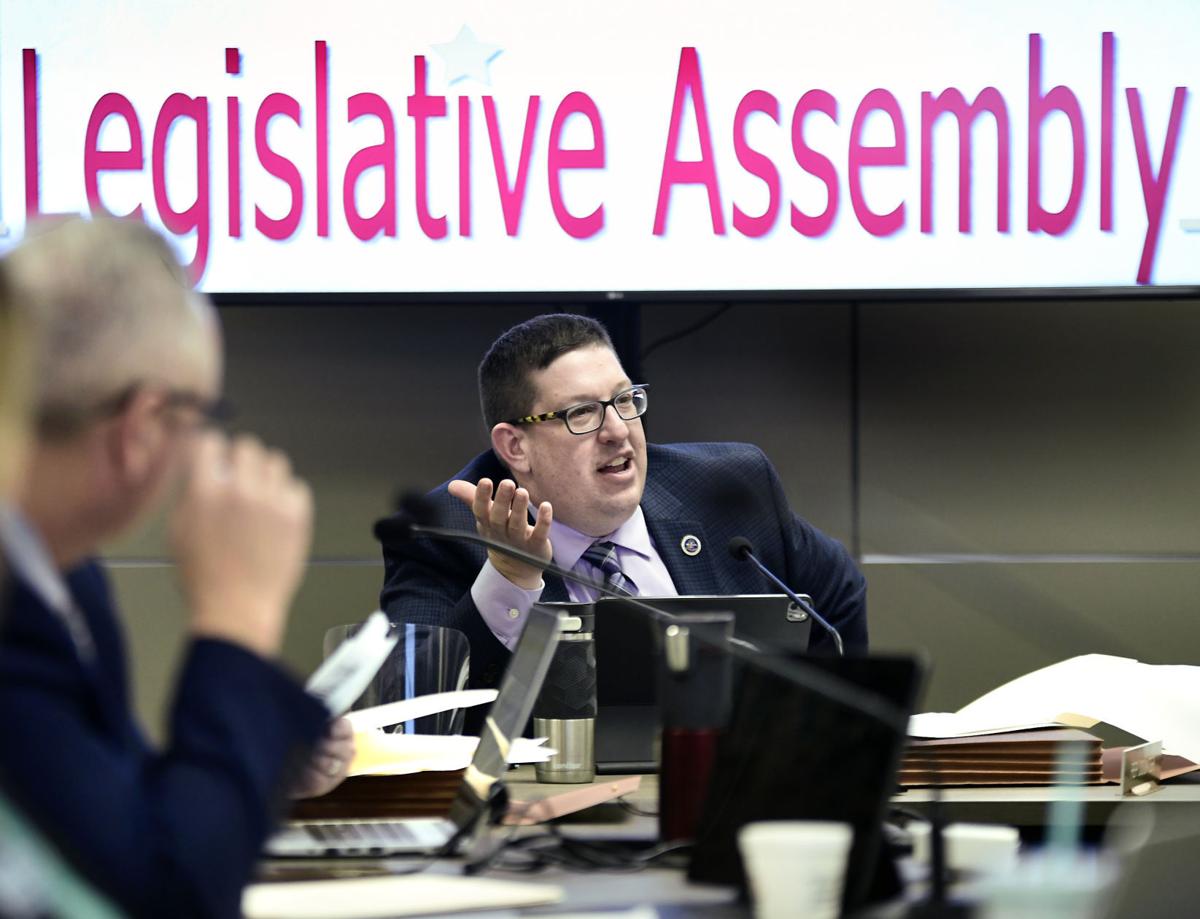 Two North Dakota lawmakers who say they are personally opposed to marijuana introduced joint bills on Wednesday to legalize the drug for recreation and tax it.
Rep. Jason Dockter, R-Bismarck, outlined House Bill 1420 to the House Human Services Committee. The bill would legalize but restrict recreational marijuana.
Rep. Craig Headland, R-Montpelier, introduced House Bill 1501 to the House Finance and Taxation Committee. The bill would set a tax policy for recreational marijuana.
Both representatives say now is the time for lawmakers to make moves on legalization, after three pushes for ballot measures in recent years, and after South Dakota voters legalized recreational and medical marijuana in 2020.
Montana voters approved medical marijuana in 2004 and last year legalized recreational marijuana. Minnesota's Legislature approved medical marijuana in 2014. Neighboring Canada legalized medical marijuana in 2001 and recreational marijuana in 2018.
North Dakota's top House lawmaker, who also says he is personally opposed to legalizing recreational marijuana, supports the bills in principle.
"I'm not an advocate, as you can tell, but if we're going to do it, let's do it right and have the policy set with a taxation policy," said House Majority Leader Chet Pollert, R-Carrington.
'We want to be proactive'
Dockter acknowledges his bill is ironic, given his opposition to recreational marijuana.
"We're going to try to do something different in government, and we want to be proactive instead of reactive," he told the Tribune.
He said he wanted a bill "that is as most restrictive as possible to fend off" initiated ballot measures, citing South Dakota's vote, which legalized marijuana through the state constitution. He also doesn't see the constitution as appropriate placement for marijuana legislation.
"Most of the support (for the bill), again, has been 'Let's do it our way' and not let outside interests and outside money dictate what recreational marijuana would look like in the state of North Dakota," Dockter said.
North Dakota voters rejected marijuana legalization in 2018, and two citizen efforts failed to garner enough signatures to make the ballot amid the coronavirus pandemic in 2020. One of those efforts has been renewed for 2022, to legalize marijuana by planting it in the state constitution.
"It could be two years, four years, six years that we'll get an initiated measure that will get passed to be put in the constitution, and then we're going to have to deal with the language that was approved by the ballot and approved by the voters," Dockter told the House Human Services Committee.
His bill would allow recreational marijuana to be sold only at dispensaries, where medical marijuana already is available to qualifying patients. The state's two medical marijuana manufacturers also would grow the plant for recreational use. 
North Dakota voters legalized medical marijuana in 2016. The 2017 Legislature implemented the program, which has more than 4,400 active patient cards.
Dockter's bill allows edible and smoking recreational marijuana products, and users must be at least 21. Users wouldn't be able to carry or consume the drug at schools, on school buses, at school events, at child care centers or in correctional facilities. Users would be barred from "undertaking an activity under the influence of marijuana if doing so would constitute negligence or professional malpractice."
Employers also would be able to discipline employees for possessing or consuming marijuana at work, or for working while under the influence. The bill also prohibits unauthorized people from growing marijuana plants, and limits users to possessing 1 ounce or less. 
State health officials also would have six months to adopt rules for aspects of recreational marijuana, such as edible products and growth and sale.
Jody Vetter, who is leading the 2022 constitutional initiative effort, called the bill "a step in the right direction," but she's concerned about the bill prohibiting home-growing and still providing misdemeanor penalties for certain possession amounts.
"Personal possession of cannabis shouldn't become a criminal act by measurement of amounts," Vetter told the Tribune.
Bismarck Police Chief Dave Draovitch opposed the bill in written testimony, citing "serious consequences" for children who ingest marijuana edibles. He cited reports of increased use among Colorado high school students and increased exposure among young children. But Draovitch wrote he does "commend the efforts" of the bill to keep edibles away from children.
"The problem is adults need to keep the edibles secure," he wrote.
The House Human Services Committee will discuss amendments to the bill next week, said Chairman Rep. Robin Weisz, R-Hurdsfield.
'Best served?'
Headland said legalization was so dense a topic it needed a tax policy brought in a separate bill.
The bill would levy a 15% tax each on growers and retailers, and send 3% of retail taxes to cities and counties with marijuana stores. Manufacturers and retailers would need to be licensed. Headland called the policy "fairly straightforward," based on other states' taxes.
He shares Dockter's views on broaching legalization in this legislative session, eyeing the potential 2022 constitutional initiative.
"Is the public best served with the Legislature holding hearings, vetting the processes and coming up with the best possible legislation for it, or are we best served by an initiated measure?" Headland told the Tribune.
Vetter said she agrees with the bill, calling it "a fair tax rate." But she's worried prices would be "overwhelming," citing medical marijuana costs. 
Headland said he will work with the state Tax Department to devise language on effecting the tax policy should his bill pass but Dockter's fail and a 2022 measure succeed. Vetter's proposed measure would allow the Legislature to regulate marijuana sales.
The attorney general's office also will work with tax officials on legal definitions in the bill. 
Parallel to the two bills is House Bill 1201, introduced by Rep. Shannon Roers Jones, R-Fargo, for decriminalization of marijuana. If either or both of the other bills were to pass, she said, she "probably wouldn't pursue" her bill, which she is holding to see what happens with the legalization and tax bills before having a hearing.
It's the same as a bill she brought in 2019, removing criminal penalties for possession of small quantities of marijuana, and establishing a $50 noncriminal offense.