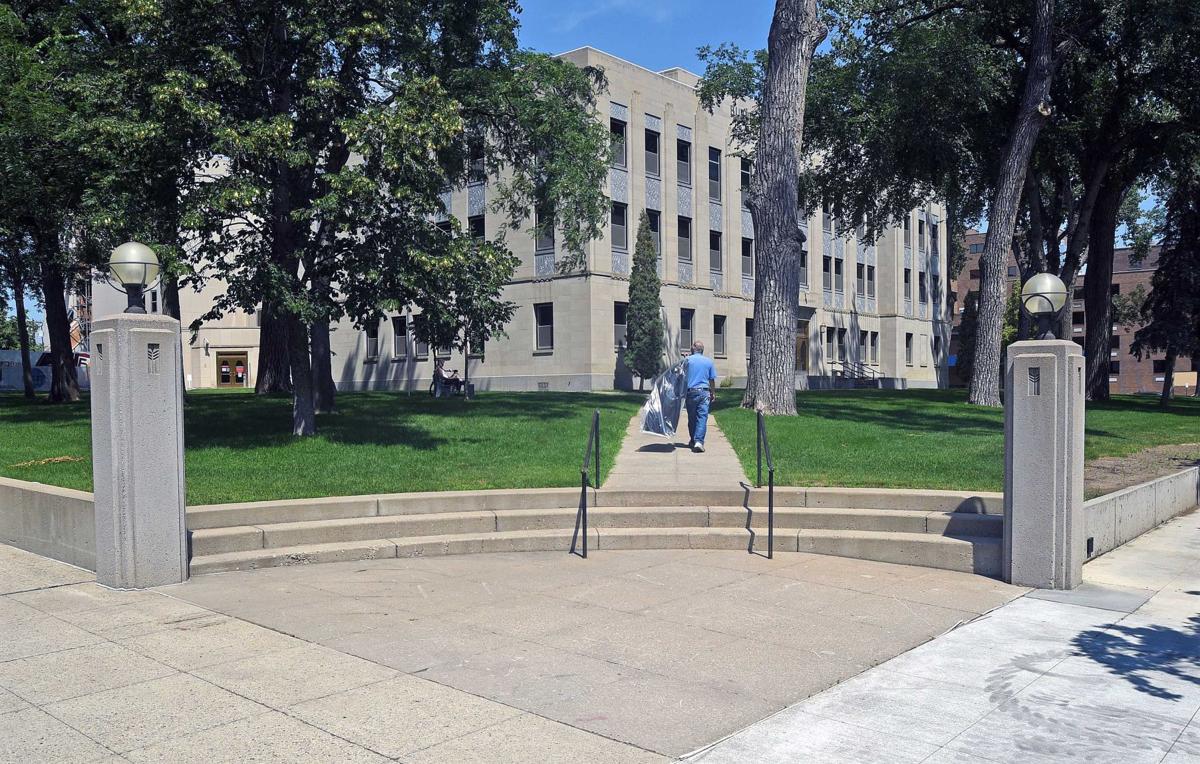 Court filings in 2018 in North Dakota stayed fairly steady while Burleigh and Morton counties' judicial district remained the busiest in the state.
The South Central Judicial District in 2018 continued a yearslong trend of logging the most civil, criminal and total case filings of the state's eight judicial districts, according to data from annual North Dakota court system reports.
The district, reduced in area from the transfer of three counties in 2014, also has led in most jury trials every year since 1998, but for 2016.
"When you look now at case filings, they're surpassing even the East Central (Judicial District) with Fargo in it," State Court Administrator Sally Holewa said. "I don't see that trend changing. I think this area is on a cusp. I think that you will start to see more of a snowballing effect as the years go by."
The South Central Judicial District saw 29,856 total case filings in 2018, including 6,036 criminal cases and 6,280 civil cases.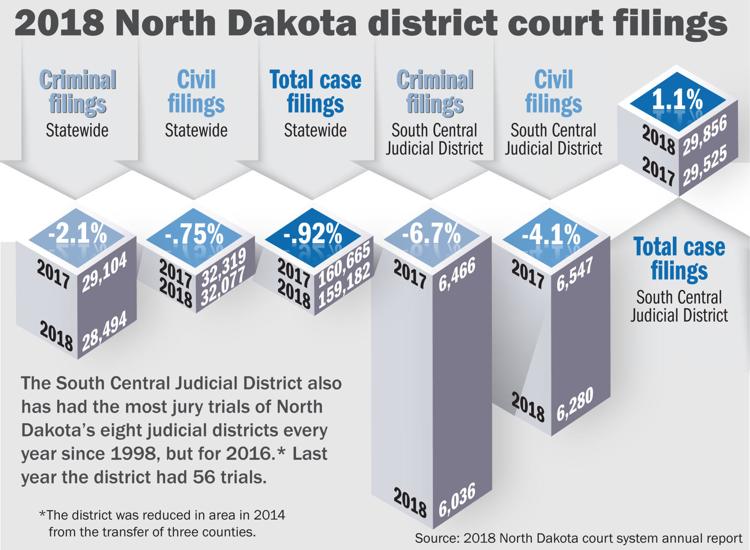 Its total case filings — including criminal, civil, small claims, traffic and juvenile cases — last year increased 1.12 percent from 2017, according to the 2018 North Dakota court system annual report. The judicial district covers Burleigh, Morton and seven mostly rural counties.
The East Central Judicial District, which is Cass, Steele and Traill counties, had 25,787 total case filings last year as the second busiest judicial district in North Dakota. Cass is the state's largest population county.
South Central also saw 56 jury trials in 2018, while East Central and Southeast came in next at 43 last year. 
Donna Wunderlich, trial court administrator for the South Central Judicial District, said the court system expects more case filings as the Bismarck-Mandan population continues to grow within a judicial district covering a large area of North Dakota.
"Cass County is the single busiest county, but this district encompasses nine counties," Wunderlich said.
New judge
For the past 10 years, the South Central Judicial District has been short two to three judges, according to weighted caseload studies. 
North Dakota lawmakers, in their recently wrapped legislative session, approved a new judge and court reporter for the busy district. Wunderlich said they may start in September. Gov. Doug Burgum will appoint the judge from a judicial nominating process. 
Holewa said the new judge will hopefully help cases be resolved faster. 
"One of the things that you want to look for with this judgeship is it creates more of a window for other judges, too," Holewa said. "They're splitting the load." 
Preparing orders or rulings is perhaps the most time-consuming part of judges' duties, she added. 
Nine judges currently serve the South Central Judicial District. Lawmakers added its last new judgeship in 2015.
'Fairly steady'
Burleigh County State's Attorney Julie Lawyer said case types "run the gamut" as far as what trends her office has seen in the past year. 
Administrative traffic citations were up about 7 percent last year in the South Central Judicial District. Violent crime, such as assaults and rape, remains consistent, Lawyer said.
Prosecution proceeded on two homicides in 2018 in Burleigh County, related to a fatal shooting and a beaten infant.
The South Central Judicial District's drop in jury trials from 76 in 2017 to 56 last year was noticeable, said Lawyer, who was elected state's attorney last fall, taking office Jan. 1.
"I don't know if it's because we're making deals more often or just people are just taking more responsibility," she said.
Wunderlich said jury trials can fluctuate, but last year was more in line with 2016, when there were 59 that year in the South Central Judicial District. 
Holewa said yoyos in numbers of jury trials may correlate with a "testing period" for new judges and new prosecutors or new case law established affecting some area of legal dispute.
Moreover, statewide district court filings decreased about 1 percent from 2017 to 2018, "fairly steady," according to Holewa.
"Just within normal fluctuations for us, and there was nothing too unexpected in any of what I saw," she said.
Sign up for our Crime & Courts newsletter
Get the latest in local public safety news with this weekly email.