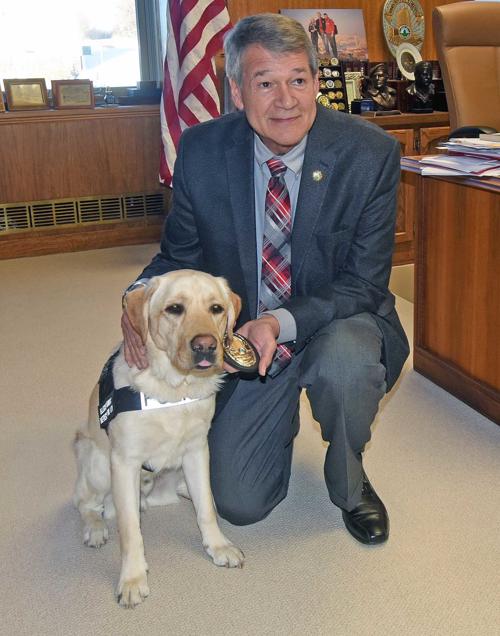 North Dakota Attorney General Wayne Stenehjem on Monday inducted the newest agent into the state's Bureau of Criminal Investigation.
"We're happy to have you on the team," Stenehjem said as he presented a badge to Hex -- a mellow, yellow, 2-year-old Labrador.
Hex is paired with Special Agent Jesse Smith, who is based in Fargo with the bureau's cybercrime unit. The dog specializes in locating electronic devices such as hard drives, cellphones and memory cards -- items commonly associated with child pornography.
"Anything that can store data is what they're trained to indicate on," Smith said of the dog's abilities. Hex is trained on the chemical in the solder of the memory in electronic devices.
Smith led Hex through an exercise of finding five tiny electronic devices hidden throughout Stenehjem's office at the state Capitol, telling the dog to "seek" and "show me" to indicate micro-sized items hidden inside a book, a pop can, even a quarter. 
Hex was trained at Jordan Detection K-9 in Indiana, where he graduated on Nov. 15 after six months of training and two weeks of handler school. He was funded by Operation Underground Railroad, which works to eliminate child sex trafficking. Officials didn't say what the cost was. The bureau must report statistics from the dog's deployments.
Smith said Hex is the first electronic detection K-9 in the Upper Midwest. Wisconsin is the closest state with such a dog. He is the first K-9 for the bureau, which has used local agencies' dogs in the past.
Smith expects Hex will be used about 50 times a year across the state. Thirty-eight local law enforcement agencies are part of the North Dakota Internet Crimes Against Children Task Force.
"We work together, and they'll call us up and we'll deploy him wherever needed," Smith said.
Hex will be used for secondary searches after investigators have already obtained a search warrant and seized what electronics they can initially find.
Sign up for our Crime & Courts newsletter
Get the latest in local public safety news with this weekly email.