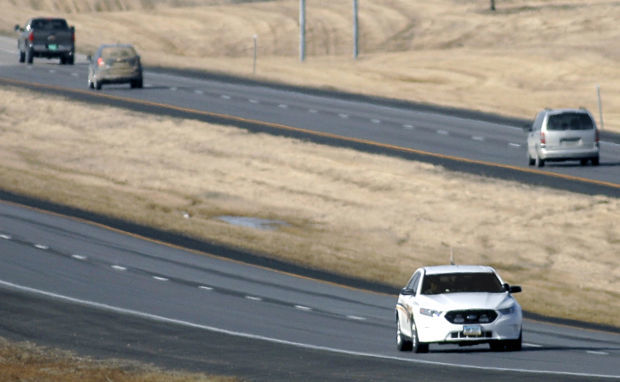 North Dakota Highway Patrol troopers may soon be stationed at a school near you.
State Superintendent Kirsten Baesler recently announced a proposal to station Highway Patrol officers in school buildings where their presence would help make the school safer.
The idea spawned about a year and a half ago when Highway Patrol Col. Michael Gerhardt approached her with the suggestion.
"I thought it was an excellent idea," said Baesler, adding that she and Gerhardt decided they would coordinate to make this happen. There is not a date in mind for when troopers will be placed in schools, and Baesler said they both plan to meet Friday to discuss details and how to put this plan in action "as soon as we possibly can."
"I think it was important for us ... as state leaders to really talk about how can we impact, comprehensively, the safety of all of our schools in the state," she said.
Troopers cover wide areas in the state, which would determine at which school buildings they would work, according to Baesler.
Highway Patrol Lt. Michael Roark said the next step would be to identify geographical areas in the state where there's a need for these services and not duplicate efforts of any other law enforcement agency already doing work in schools.
"It will be a collaborative effort with local law enforcement agencies. Like there may already be a sheriff's office that's somewhere in a school, maybe we can help out that sheriff's office, maybe we can assist them," Roark said.
Baesler and Roark don't see a cost associated with the measure and say it would increase security at school. Roark said schools would only need to provide office space, nothing permanent, possibly just a desk and a chair.
"This wouldn't cost the citizens of North Dakota anything," he said.
"This really is a no-cost way to provide some additional safeguards for our students," Baesler said.
In the wake of the Parkland, Fla., shooting that left 17 staff and students dead, Baesler said she convened a meeting Thursday with educational stakeholders: North Dakota United, which represents the state's teachers and public employees, the North Dakota School Boards Association and the North Dakota Council of Educational Leaders, which represents administrators.
The conversation was about how to improve safety in North Dakota schools. This includes the addition of Highway Patrol troopers, as well as increasing schools' access to school resource officers and providing threat assessment training to teachers and staff.
"We understand we need to have a multifaceted approach to a very complex issue," Baesler said.
Nick Archuleta, president of North Dakota United, said the meeting with education stakeholders was "one small step" that's part of a comprehensive plan to address school safety.
"What (the meeting) shows is the stakeholders in North Dakota, the teachers, the administrators, the school boards, are all on board and they all want the same thing, and that is, of course, to come up with a comprehensive plan to protect our children as much as we possibly can," he said.
Archuleta has said he is opposed to the idea of arming teachers with guns. The issue of school security has been a topic during the past few legislative sessions, and each time there has been a variation of a gun bill. Last session, a bill failed that would have allowed concealed firearms in schools. Archuleta said there was no support for last session's bill from superintendents nor school board members.
"That tells me that at the local level, at least, they don't really want that responsibility or reliability," he said.
Archuleta said he would like the discussion of school safety to include legislators, K-12 students and community members.
"I think we need to look at a series of measures we can put in place to keep our kids as safe as possible," he said, adding that this could include making schools physically safer by reconfiguring or remodeling them.
Baesler said the group, with an even broadened membership, will be meeting again.
Additionally, at Thursday's meeting, the group discussed the need for more behavioral health services in schools. Archuleta agreed that more investment could be made in these services, particularly for rural schools.