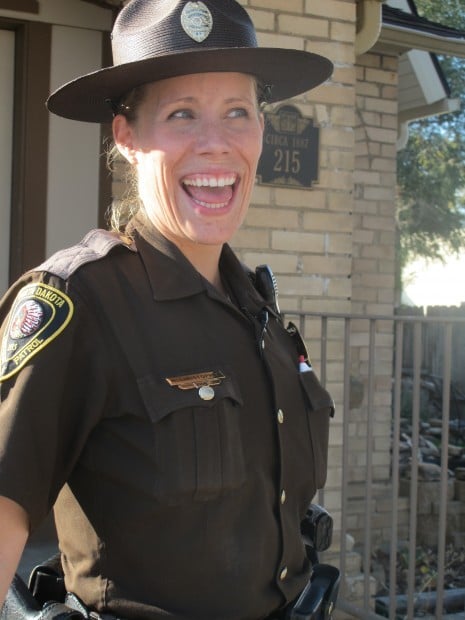 DICKINSON — Megan Christopher ducks the bad boys' bullets and keeps on after them.
She convinces a suicidal Iraq war veteran to put down six different guns in a standoff with a dozen police that ends without a drop of blood being spilled.
Only two years on the North Dakota Highway Patrol and she's proved to be cool when the situation's hot and a clear smart thinker when it's murky and scary out there.
But, cops don't talk that way.
She says the cops on the patrol tell her she's a magnet for trouble, similar to how some people attract mosquitoes and some don't.
"Things always happen to me, it's just always been that way," she said in an interview last week at a church-turned-coffeehouse in Dickinson. She drank chai tea, a fragrant brew about the same color as her brown uniform.
The thing is, not all magnets are the same strength.
"Things happening" might explain why, a year ago, she would be the one flashing her lights at a pair of Alabama prison escapees and their companions, when one would fire a .9mm bullet that lodged into the headrest beside her.
It wouldn't explain why after ducking to the side, she grabbed her radio, yelled "Shots fired! Shots fired!" and kept right on going.
"Things happening" might explain why she would be on duty Sept. 21 when Brock Savelkoul, an out-of-control Iraq veteran from Minot, went through Watford City with weapons drawn and then headed south on Highway 85.
But it wouldn't explain how she, without any real training in hostage-type negotiations, talked for two cold hours that felt like six to a man who wanted to die, who had enough guns and ammunition to kill everybody and had a dozen police guns drawn on him, and brought it all down to a quiet, safe ending.
For that matter, it wouldn't explain why afterward she sat and talked with that veteran. Except that during their long exchanges and her constant pleas to, "Put your guns down, please, put your guns down," she had promised him she would.
Her boss, Capt. Eric Pederson, gave the OK for Christopher to be interviewed, although a little reluctantly.
The publicity's good and well deserved, it's just that after too much of it, people start believing what they read about themselves, he said.
"But Megan's not really like that," he said.
To illustrate how not-impressed-with-herself she is, Christopher begins her account of these incidents with a laugh at her own expense.
"I was having pie at Perkins (in Dickinson)" when the bad-boys-on-the-run call came in, she said. "Lemon meringue pie, actually. Hey, it wasn't a doughnut."
In seconds, she was in her car, headed east on Interstate 94, in hot pursuit. She watched one of the men emerge from the passenger window, get his haunch on the window sill and point his gun at her.
"I saw the silver ring, the muzzle flash. I heard 'pop' 'pop.' I didn't know the slug ended up in my hat (hung on the seat beside her). I wasn't really scared to death. I was more scared for the community wherever they were going, that they might hurt someone who isn't trained," she said.
She kept up the chase into Gladstone and lost sight of the escapees' vehicle. She couldn't be sure they weren't south of town, "down behind a dark hill, waiting to take me out. So I slowed down."
Police descended on the community and that chase eventually ended in a standoff, the escapees holed up in a rural garage south of Gladstone. One of the escapee couples tried a run-and-gun breakaway at daylight and were both hit and injured by return fire.
In retrospect, Christopher says she's thankful the escapees didn't stop for her flashing lights back on the interstate on that June 2009 night.
"I'm glad I didn't walk up to that car; so glad they didn't stop," she says.
She wears Kevlar and has never fired her weapon on duty.
She waited a week to call her folks, Kim and Rita Christopher, owners of a pet store in Rapid City, S.D., after that incident.
Rita Christopher says she has a collage of photos of her daughter in the store, with a one-word sign above it that says it all: "Stress."
"I worry about her a lot. A gal by herself, attractive, in a car by herself, driving all over by herself, approaching strangers," she said.
She isn't surprised that her daughter has performed so well for the North Dakota Highway Patrol.
You have free articles remaining.
"I believe she was just born that way, with a do-it-my-way attitude since she was a child, since she was a baby, actually,"" Rita Christopher said.
Christopher's "way" has not been a straight path.
She's lived around the country and, if not in money, is rich in life experience.
Now 35, she's a trained firefighter, emergency medical technician, has worked a variety of jobs and worn a number of uniforms, including one for Lowe's and the ubiquitous black pants-white shirt of a hotel wait staff. She has a mass communications degree from Black Hills (S.D.) State University and played the upright bass for the Black Hills Symphony.
She came to North Dakota for the same reason that historically so many women have — following a man.
That didn't work out, but in the process of getting her feet on the ground, she saw an ad for the North Dakota Highway Patrol.
She was accepted after a series of interviews and went through the required six months of academy training.
None of the open locations were on her preference list, but she picked Beach, figuring at least it's west and handy to Highway 85 and Rapid City.
Beach suits her, especially the special guy she met when both of them turned out to fight a fire in an upstairs apartment above the Town and Country Department Store.
She liked him right away when he turned to her, a woman, for help troubleshooting his fire equipment.
She's got a sweet little apartment, a place out back to grow flowers and vegetables and she's working toward a master's degree in strategic leadership.
"It's all about tools to be successful. I'm either motivated, or I have attention deficit disorder. I have a desire to learn, but more a desire to be better," she said.
She's funny at her own expense.
She's got a good pick-up line for starting the story of the night of the Savelkoul standoff.
"Well, I was at the King Buffet (in Dickinson) when the call came in," she said. Her smile cracks wide open because she's really enjoying the timeworn parody of cops and diners.
That's it for humor. After that, her story is one of grim concentration, of tracking in darkness lit by flashing lights which gun he had, which gun he'd kicked away, of monitoring the other officers, of holding a public address microphone and talking for so long that when she finally put it down, her hand was curled and cramped.
Savelkoul later said it was Christopher's voice that penetrated the dark, drunken confusion in his mind. "She saved my life that night," he said a few days afterward in an interview from jail.
Christopher said she believed that as long as she was talking and he was listening, there was hope.
"I was really relieved that he was not shot. The whole time, the EMT in me was imagining where that gunshot was going to be and how I could take care of it. He did have his weapons pointed at his head," she said. "The relief was not just because he's a vet, that was part of it and it's amazing what he did for us, but I would have felt that way with anyone. I think there was restraint on everyone's part."
Pederson said in situations like the one with Savelkoul, "sometimes it's a persistent, calm voice that gets through. Her womanly voice, it seemed to be working so we stuck with it. It seemed to be the right choice."
He said, "We were very pleased with how it went."
Christopher said she kept it simple. "I tried not to get too psychological, because that can get twisted," she said.
That night, she was afraid for him, but for not for herself.
Those are not the kind of stories her mother likes to hear when her daughter phones home.
"She has confidence and a way with words. But he could have started shooting and he could have started with her," Rita Christopher said.
At the coffee shop, it was time for Christopher to put her trooper hat back on. Her shift had ended a while ago and she still had a lengthy drive back to Beach.
As she prepared to leave, her eyes got that look eyes do when they're seeing a memory, not the person or the room in front of them.
"I really didn't want to shoot him. He seemed so hurt and confused and he wanted it to stop. But not that way," she said.
The day after all that, she said, she was up at 8 a.m. conducting school bus safety checks in Belfield.
It had not been just another night, but it was just another day in the life of a North Dakota Highway Patrol officer.