WASHBURN − When Detective Justin Krohmer received a photo of a vehicle linked to the Mandan homicide investigation, the white pickup in the picture was a familiar one.
"I've seen the vehicle around town probably 800 times," said Krohmer, who works for the McLean County Sheriff's Office.
Krohmer recognizing the suspect vehicle was the lead that led investigators about 40 miles north of Mandan to Washburn on Thursday. That's where authorities arrested Chad Isaak, 44, who was charged Friday with felony murder for the killings of four people at RJR Maintenance and Management in Mandan.
Krohmer and his parents were patients of Isaak, who owned a chiropractor practice on Main Avenue in Washburn.
As law enforcement did surveillance on Isaak's mobile home on Thursday, Krohmer knew Isaak planned to work that day because Krohmer's mother had a chiropractor appointment at 5:15 p.m.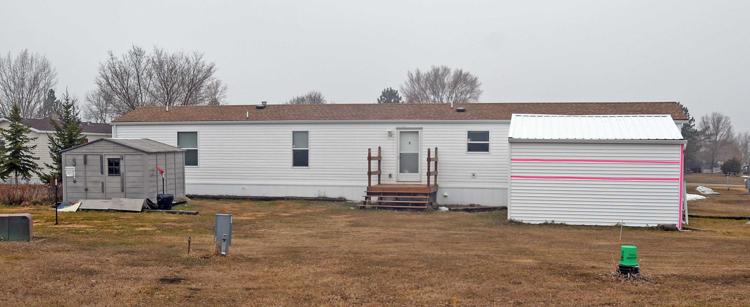 "That's a big shock," Krohmer told the Bismarck Tribune on Friday. "It kind of gives you an uncomfortable feeling. I trusted him."
Wade Krohmer, the county jail administrator, said he was in disbelief when his son showed him the photo of the suspect vehicle, the same pickup parked in downtown Washburn every day.
"No, it can't be," Wade Krohmer said, recalling his reaction.
Detective Krohmer notified the Mandan Police Department about 1 a.m. Thursday after he recognized the vehicle identified from surveillance footage, a 2008 Ford F-150 pickup, that had been distributed to statewide law enforcement, according to court records filed Friday.
An estimated 25 to 35 law enforcement officers from McLean County, the Bureau of Criminal Investigation, Mandan Police Department and some federal agencies were involved in detaining Isaak, Krohmer said.
You have free articles remaining.
The officers conducted surveillance on Krohmer's home in Northview Mobile Home & RV Park, waiting for him to leave.
"With the seriousness of these crimes that he's a suspect of, our goal was to get him out of the house," Krohmer said. "We didn't want him to start a barricaded subject situation."
Mike Bryant, a resident of the mobile home park, said he watched the scene unfold as heavily armed law enforcement surveilled Isaak's home. Bryant said he asked officers about 9:30 a.m. Thursday what was going on and was assured that residents were all right.
"It was wild," Bryant said. "It's not every day you come out in Washburn and see three dudes with ARs."
Krohmer said Isaak appeared unaware of the law enforcement presence and stayed in his home until shortly before 4 p.m.
After Isaak left the mobile home park in his pickup, officers conducted a traffic stop near the Captain's Cabin bar in Washburn. Isaak was detained while investigators obtained a search warrant for the pickup, where officers discovered blood.
Mandan police said Isaak was officially arrested at 7:46 p.m. Thursday.
"It was amazing teamwork between all departments involved," Krohmer said.
Isaak has no criminal history and the McLean County Sheriff's Office could not recall any calls to his home or law enforcement interactions with him, Krohmer said.
Morton County prosecutors charged Isaak with four counts of felony murder for the killings of Robert Fakler, William and Lois Cobb and Adam Fuehrer.
Isaak's attorney, Rob Quick, declined to make a comment on his client's behalf.
Lt. Rick Richard of the McLean County Sheriff's Office complimented the "colossal amount of cooperation" between law enforcement agencies that led to Isaak's arrest.
"This was a multi-agency effort. It's unfortunate it's a member of our community. We're all distraught by that," Richards said. "But by the same token, we're happy we were able to keep the community safe by apprehending the suspect."