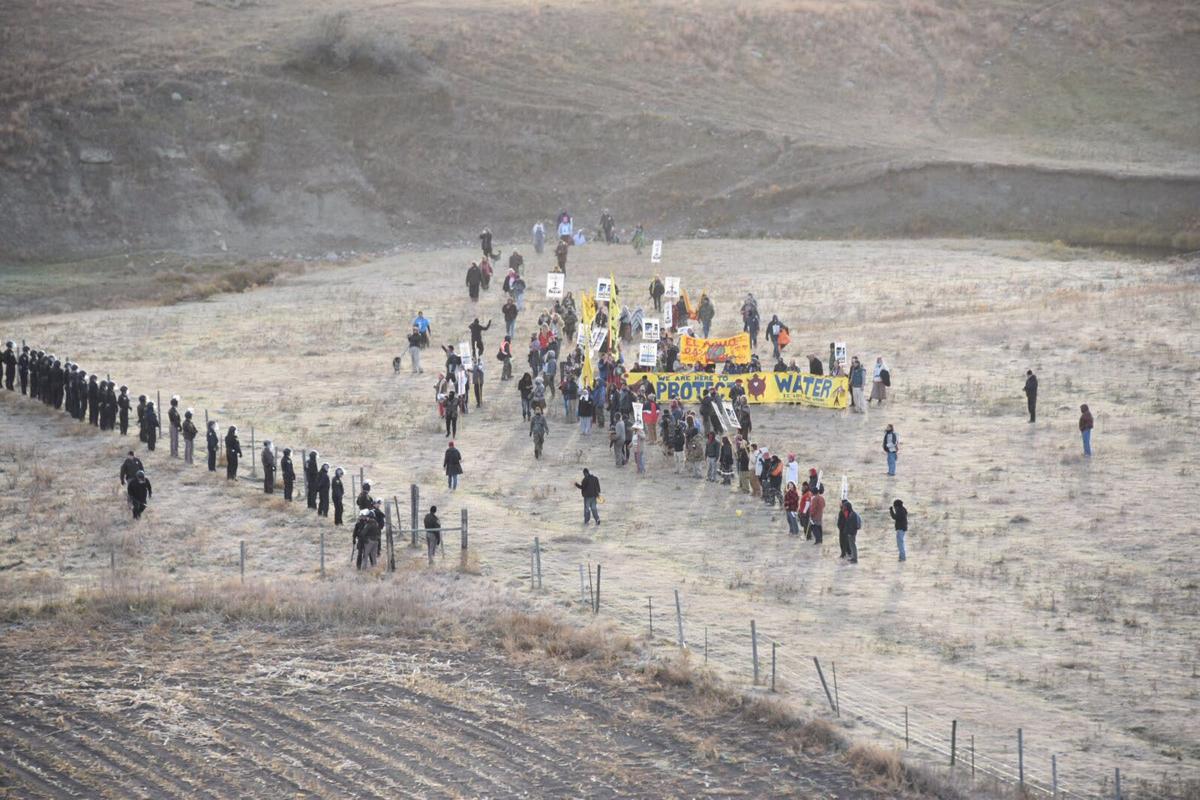 Six pipeline protesters who were among 126 arrested on Oct. 22 saw their cases dismissed this week.
Mark Labato, David Pakenham, Ronald Williamson, Lorenzo Serna, Victor Puertas and Sean Jordan were charged with criminal trespass and engaging in a riot in connection with a Dakota Access Pipeline protest in southern Morton County. Some had attached themselves that day to a vehicle found at the construction site.
Bruce Nestor, a Minnesota-based attorney affiliated with a group of attorneys representing the protesters, said he believes the other cases from that day also should be dismissed.
Nestor represented Serna, a journalist with the volunteer media collective Unicorn Riot. Nestor said the Committee to Protect Journalists and other groups concerned with First Amendment rights had written letters arguing that Serna should not have been charged.
"The dismissal does reflect that there was no factual or legal basis to charge him in the first place, regardless of whether he was a journalist," said Nester, adding he reviewed hours of video and hundreds of photographs from both police and protesters from that day that don't support the claim that a riot occurred. He also said there wasn't any proof that the property was posted against trespassing.
"These cases should never have been filed, they never should have been scheduled for trial and they should have been dismissed long ago," he said. 
Morton County Assistant State's Attorney Brian Grosinger made motions to dismiss the six protesters' cases. The cases were scheduled to go to trial this week.
Grosinger did not respond to two phone calls and two email requests for comment. Last month, Grosinger did say he would recharge some of the cases that were dismissed. In at least two instances, the defendants have been recharged with physical obstruction of a government function.
Victorio Camp, of South Dakota, faces charges of criminal trespass and engaging in a riot stemming from the Oct. 22 protest. Camp's attorney Matthew Arthurs said Camp took a plea deal of a single count of disorderly conduct and deferred sentence, because Camp couldn't risk being recharged and having to make a trip back to North Dakota.
Nestor said he doesn't believe the state should make plea bargains for those arrested on Oct. 22, who may take the deal because they live far away.
"Now the state is able to extract guilty pleas from some people simply by making an offer that you can't refuse for someone who lives hundreds of miles away or is no longer in the state," Nestor said.
A total of 761 arrests were made during the protests, according to the North Dakota Joint Information Center.