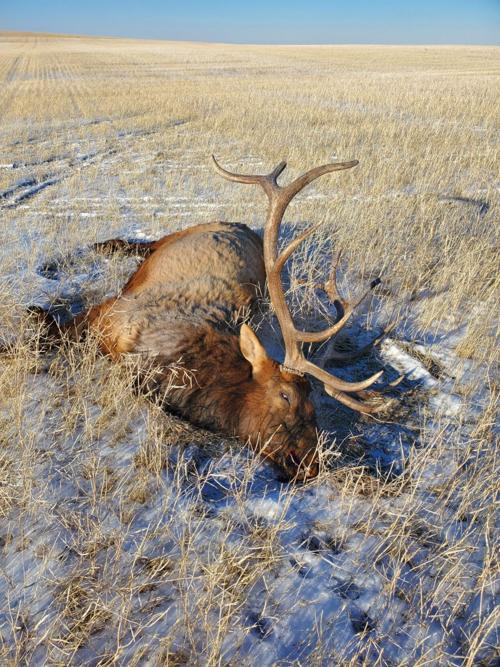 Eight landowners who enjoy watching an elk herd near Keene have added to the reward being offered for information about the illegal killing of two bulls that had become a common sight in the area.
"They felt it firsthand," said John Bradley, executive director of the North Dakota Wildlife Federation.
The group chipped in $1,600 in an effort to get someone to step forward with information about the poaching earlier this year, Bradley said. The landowners -- hunters and outdoorsmen themselves -- have chosen to remain anonymous.
The money has been added to the $2,000 reward that initially was offered through the Report All Poachers program. The wildlife federation administers the anti-poaching program in conjunction with the North Dakota Game and Fish Department and State Radio.
Authorities believe the elk were killed in the afternoon or evening of Feb. 17. They were found about a mile north and a mile east of the McKenzie County Road 55 roundabout north of Keene. No meat was taken from either animal. The head of one elk was cut off. The bull that was left intact had six points on each side of its rack and was of respectable size, Game and Fish officials said.
Shooting an elk out of season is a misdemeanor punishable by a year in jail and a $3,000 fine. Lesser misdemeanor charges of wanton waste and hunting without a tag also could be filed. A violator also could be made to pay restitution to the state and could lose hunting privileges, officials said. A taxidermist can't legally mount a big game head without documentation that it was legally taken.
North Dakota resident hunters can shoot only one elk in a lifetime in the state, making an elk tag a prized draw. To see one go to waste "is really a shame," Bradley said. The wildlife federation has taken donations to boost past investigations "but not from this large a group of landowners," he said.
"We hope the money will be what gets us over the finish line," he said.
Officials are looking into leads and the investigation is still open, District Game Warden Joe Lucas said. The meat from the two animals could not be saved.
Anyone wishing to pass along information about the incident can call the Report All Poachers tip line at 701-328-9921. Callers may remain anonymous.