Robyn Krile said she felt she was finally being heard when she appeared last year before the North Dakota Peace Officer Standards and Training Board.
Fired after a prosecutor deemed her not credible to give testimony upon reviewing Krile's alleged remarks concerning arrests without backup, the POST Board was to review if she violated the peace officer code of conduct.
"That part felt good," the former Bismarck police sergeant said.
"The takeaway is that she was honest and she did not lie in any aspect of her employment," said her attorney, Chris Redmann.
However, Krile hasn't found another job in law enforcement since her termination, though she's applied at several agencies. She now works in asset protection for a local business.
"Maybe it is a token sort of success, but I think that her being able to keep her license says to other law enforcement agencies, at least from an objective perspective, that there was no improper conduct that Robyn committed," said Redmann, a former Fargo police officer.
Krile received one of the 20 hearing notices sent to officers from the POST Board in 2017. While cleared by the board in her situation, other officers see sanctions all the way up to revocation of their peace officer's license.
"There's individuals in here that should not be in the law enforcement field, and the board has determined that by revoking their license," said Duane Stanley, executive secretary of the nine-member POST Board, largely comprised of upper-level officers from around the state.
Before the board
Stanley said the POST Board's reviews are decidedly case-by-case, and sanctions of adverse license action vary for officers found to have violated the code of conduct.
"There's a process in place but it can go in several different directions and every one is a little bit individual and unique based on the circumstances," said Stanley, who is also a special agent with the North Dakota Bureau of Criminal Investigation.
Last year, five officers received various lengths of probation for their license, all under the condition to commit no further criminal or administrative rule violations.
Three other officers had licensure suspensions for various numbers of days, all followed by a year's probation. Three more officers had their licenses suspended until further review, pending outcomes of criminal cases.
And four officers faced "the ultimate sanction," Stanley said: revocation of their license.
Here again, circumstances are varied, as described in POST Board complaints:
Former Burleigh County Sheriff's Deputy Michael Cheeseman lied in an internal investigation.
Former Beulah Lead Police Officer Dustin Pekas admitted to sexual contact with a teenager. 
Former Dickey County Sheriff's Deputy Peter Stark pleaded guilty to misdemeanor reckless driving and disorderly conduct.
Former LaMoure Police Chief James Watson is charged with multiple felony sexual offenses.
They may all apply for reinstatement of their license after a year, pending the board's acceptance of their application and consideration at a hearing.
Stanley said the board has had more hearings in recent years, likely due to better reporting, agencies' responsibility to report and the board's implementation of the code of conduct in 2014.
"Is it a good thing that we're having hearings? No, we wish we didn't have any," Stanley said. "The fact that we do have them and we are able to deal with officers that have been making poor decisions, I'm glad we have the ability to do that, the mechanism in place to address those issues."
Bismarck Police Lt. Steven Scheuer said two former Bismarck officers have been submitted for POST Board review since 2014. Bismarck Police Chief Dan Donlin said "we're bound to let the POST Board know" of potential violations of the peace officer code of conduct.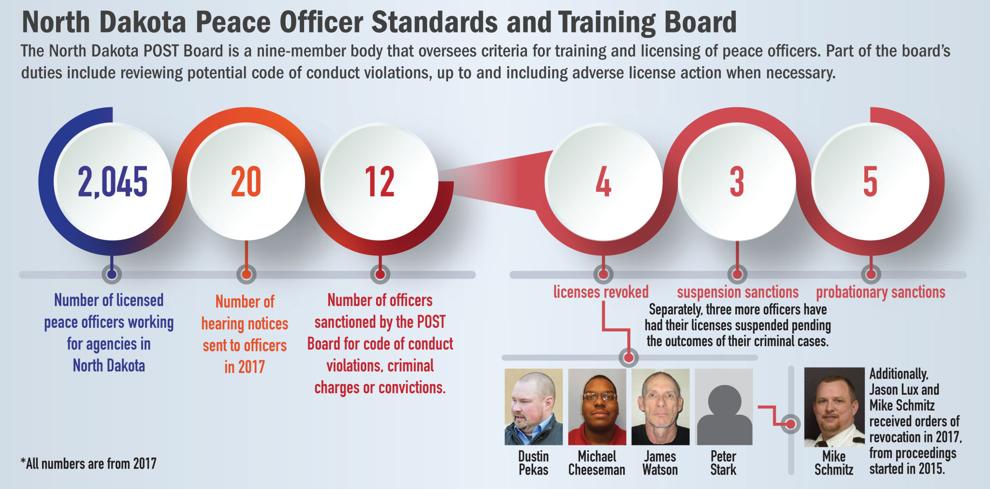 Integrity at stake
Former Lt. Mike Schmitz, fired a year ago from the McKenzie County Sheriff's Office, had his license revoked last year, but from proceedings started in 2015. Under a stipulation to surrender his license for revocation, Schmitz also saw his misdemeanor charges of false reports to law enforcement dismissed.
He said he blames county officials' political motivations for his charging and termination, which were unrelated. Schmitz also said he thought he "was out of law enforcement forever" after last year's events.
He's since found other work after 10 months unemployment, but declined to discuss a return to law enforcement.
"It depends on what my future holds," he said.
Bismarck attorney Mike Geiermann has represented many officers involved in shootings, at POST Board or other hearings, even trial settings. He said local politics can account for some situations, such as the McKenzie County Sheriff's Office, which had three officers criminally charged in as many months in 2015.
"I found it rather strange that the cases I got involved with were all in the same county," he said. "I spent a lot of time in McKenzie County."
Redmann and Fargo attorney Mark Friese agreed in separate interviews that there's apparently been a slight "uptick" in reports of officers lying and integrity violations.
"There seems to be this tendency or trend to try to make claims that officers are being dishonest or suggest their recollections are not accurate as a basis to a decision to impose discipline," said Friese, a former Bismarck police officer.
Friese recently represented former Fargo Police Officer David Boelke before the board. Boelke, like Krile, was fired for untruthfulness and similarly was cleared of violating the code of conduct.
"There's a big, big difference between not recalling a routine incident and the way someone else recalls it six months later," Friese said, also praising the POST Board's review independent from Fargo Police.
Geiermann addressed what he called an increase in scrutiny of law enforcement: "They're held accountable all day long for everything they do."
'A fair shake'
Redmann said he's been impressed with procedural views of the POST Board "to give officers a fair shake."
"I think the officers appreciate it because they're obviously under a lot of stress and anxiety that go along with these cases, and if they can be resolved early and efficiently, it's better for everybody," he said.
Krile also praised the board's "open mind."
"To have somebody actually come in with an open mind … and sit and look at the circumstances of the case and truly understand it and come up with that ruling — not only did they come up with that ruling, nobody voted no against it," she said.