A federal jury has awarded a Bismarck doctor $1.2 million in a retaliation case involving a physician-owned clinic.
Dr. Robert Roswick filed a lawsuit in U.S. District Court against Mid Dakota Clinic in March 2017, claiming he was retaliated against for speaking out against alleged racial discrimination of a physician at the clinic.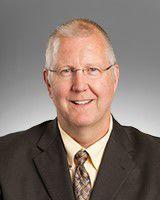 After a five-day trial last week, a jury ruled in Roswick's favor, finding that the clinic retaliated against him for his opposition to the reported racial discrimination. He was awarded lost wages and benefits.
"We're grateful at the strength and wisdom and courage that the jury showed," said Roswick's attorney, Ashwin Madia.
Clinic spokeswoman Jane Schlinger declined to comment on the verdict or whether the clinic plans to appeal.
Roswick was employed as a family practice physician at Mid Dakota Clinic from 2001 to 2016. Court documents outline several instances in which Roswick claims he was unjustly disciplined by the clinic's Board of Directors.
Roswick opposed the firing of an Indian-American physician in 2015. Prior to the doctor being fired, Roswick sent an email to about 20 doctors at the clinic about the Indian-American physician's suspension.
You have free articles remaining.
After the email went out, Mid Dakota CEO Marvin Lein sent a letter to Roswick, asking him to speak with the clinic's attorney.
Roswick's attorney responded with a letter stating Roswick "simply pointed out that the Clinic's disparate treatment" of the physician compared with that of "other white physicians was problematic and discriminatory."
Roswick was subsequently fired for various reasons, including that he didn't meet with the clinic's attorney regarding his allegations of racial discrimination against the Indian-American doctor.
The U.S. Equal Employment Opportunity Commission issued Roswick a right-to-sue letter in December 2016.
Roswick sought compensatory damages and punitive damages. A judge denied his request for punitive damages.
Despite not being awarded punitive damages, Roswick, who is now a family medicine physician at Sanford Health in Bismarck, is still pleased with the outcome of the case, Madia said.
"For him, this case wasn't really about the money. He felt the clinic retaliated against him for standing up for somebody who wasn't able to stand up," Madia said.