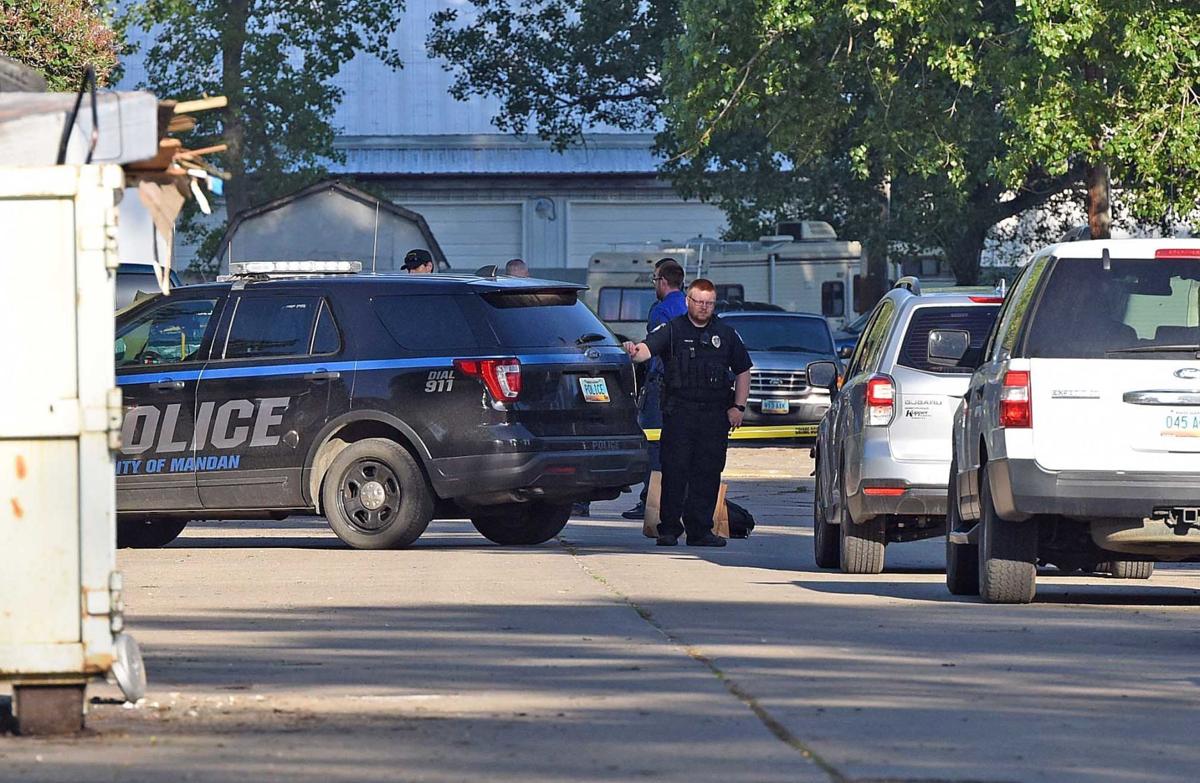 Mandan police have identified the man found dead Monday as a result of what court documents describe as a fight over the return of his girlfriend's car.
Keven Ray Stockert, 53, of Mandan, was found dead after 3:30 a.m. Monday lying on the sidewalk in front of 109 Countryside Lane near his home at a mobile home park in Mandan. 
Police said Stockert had "multiple wounds consistent with being caused by a knife or similar sharp object." An autopsy is planned. Court documents say he was stabbed or cut multiple times.
Arthur Lovett Funk, 47, of Moffit, was arrested Monday evening and charged Tuesday in connection with Stockert's death. Deputy Police Chief Lori Flaten said Stockert and Funk were acquaintances.
Morton County prosecutors charged Funk with murder and tampering with physical evidence. The murder charge, a Class AA felony, carries a maximum penalty of life in prison without the possibility of parole. 
Police allege Stockert was trying to get back his girlfriend's red 2000 Chevrolet Cavalier from Funk, who had been staying with her since Friday and had taken her car Sunday and not returned it.
Funk and Stockert had an argument by phone about 11 p.m. Sunday regarding Funk returning the woman's car, according to court documents. 
Police say video surveillance captured the car's return to the woman's home around 12:10 a.m. Monday. Stockert appeared to punch the driver in the head multiple times, before the driver exited and made several swinging motions at him and then walked away, court records say. Stockert appeared to pick up the car keys on the ground, then collapsed where he was later found dead. 
Officers say they found blood on the car and ground. Stockert had "multiple sharp force trauma" wounds on the left side of his body, according to police. 
Police later found Funk at another man's home in Mandan, according to court documents. He attributed blood on him to stabbing another man in a fight, police said. 
Other people planned to help Funk dispose of the knife involved, according to police. It's unclear if anyone else will face charges in connection with Stockert's death. 
A police affidavit says Funk told investigators he stabbed Stockert and had been receiving threatening messages from him. Funk told police he stabbed Stockert more than five times, to defend himself after Stockert hit him, according to court documents.
He also allegedly broke his cell phone and discussed fabricating a witness. He told police he had decided to turn himself in after he slept, according to the affidavit.
South Central District Judge Daniel Borgen on Tuesday set a $100,000 cash bond for Funk, including drug monitoring conditional on his posting bond, as requested by Morton County Assistant State's Attorney Gabrielle Goter.
In her bond recommendation, she cited Funk's criminal history of weapons, violence and drug charges, as well as unstable living arrangements.
Funk asked Borgen to be placed on house arrest. Borgen said he can review the bond after Funk applies for a court-appointed attorney, which he indicated he will do.
Funk is being held at the Burleigh-Morton Detention Center in Bismarck. 
He was charged in May with felony child neglect due to "disreputable" conditions in his home. 
Sign up for our Crime & Courts newsletter
Get the latest in local public safety news with this weekly email.