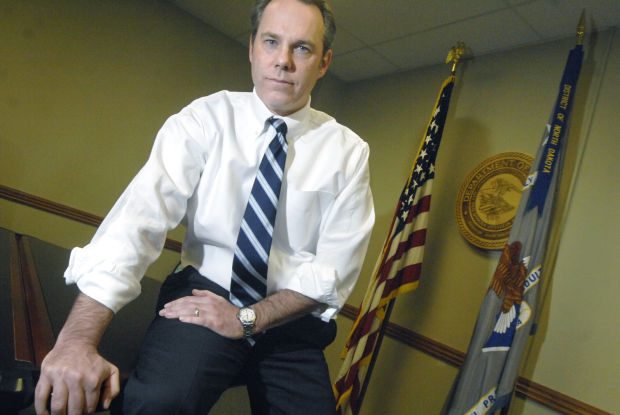 Law enforcement and public safety officials in North Dakota have been talking about human trafficking for the past few years, but the reality of the situation has been elusive. Statistics aren't available yet to back up the problem, nor are details plentiful.
Human trafficking refers to the sale or trade of humans — basically, slavery. Or as Patrick Atkinson, founder of the God's Child Project and the Institute for Trafficked, Exploited and Missing Persons, puts it, "the exploitation of the weak by the powerful."
Defining the problem is difficult, because it can take so many forms. Parents sell their children for drugs or money. Young girls are lured into the sex trade by offers of money, possessions or love. Women are kidnapped and forced into prostitution. Immigrants are pushed into low- or no-pay jobs at the threat of having their immigration statuses revealed to authorities.
Neither sex trafficking or labor trafficking are exactly new in North Dakota. Both have occurred throughout history. The trafficking that people are worried about taking root in North Dakota now is of the kind where people — mostly young girls and women — are coerced or forced into prostitution.
U.S. Attorney Tim Purdon said North Dakota — and particularly the booming western North Dakota oilfields — has become a target for organized crime, as shown by an increase in drug arrests with close connections to gangs and drug cartels. Prostitution arrests also have increased, though in most cases no immediate line has been drawn connecting the women arrested to pimps, gangs or others who may have forced them into service.
But where there is prostitution, there almost always is human trafficking. Where there is a demand, someone will try to fill it.
"Somebody has a desire; somebody else will present a product to meet that desire and price accordingly," Atkinson said.
He said trafficking often follows the boom of an economic industry, which pulls people, often young men, into a new place and provides an excess of money and time and a dearth of available female partners. Traffickers also look for places with a ready supply of vulnerable girls. In those ways, western North Dakota fits the bill.
North Dakota Attorney General Wayne Stenehjem said the advent of the Internet — and websites set up almost entirely to support the sex trade — has helped keep human trafficking off the radar and hard to track.
"It can be easier, in many respects, to make arrangements for meeting," he said.
Even without statistics or concrete examples, most people agree there is little doubt human trafficking is happening. Tim Hathaway and Karen Van Fossan, the executive director and communications director, respectively, for Prevent Child Abuse North Dakota, said reports abound from around the state.
"We have been getting anecdotal information and reports in our communities about young girls and young boys being trafficked in North Dakota, and this is of great concern to us," Van Fossan said. She said people in Williams County have reported seeing what appears to be people trafficked in hotels and motels, and she has spoken to a woman who explained how she was trafficked in Bismarck as a teen.
Stenehjem said there are estimates of 45,000 trafficking victims in the country.
"You can be assured we have our share," he said, adding that the problem is not just one of western North Dakota. "It happens statewide."
Still, ways of defining the problem and its scope remain elusive.
Minnesota faced the problem
Minnesota has been there. Ramsey County, Minn., Attorney John Choi said human trafficking was a conversation piece in Minnesota's Twin Cities for at least a decade before anyone realized the scope of the problem. Part of the problem was that the prostitutes police would encounter were unwilling to give truthful information, because the prostitutes themselves were in fear of being arrested. Even trying to use prosecution as leverage was ineffective, Choi said.
Purdon's office has prosecuted only one person under the federal human trafficking statute in which there was an identifiable victim. In that case, investigators looked into reports of a home where teenage girls were provided alcohol and drugs and men would have sex with the intoxicated girls. The reports included mention of possible gang activities and markings. Four people eventually were indicted, including Dustin Morsette.
Morsette was convicted in April 2012 of one count of sex trafficking by force or coercion and a litany of other sex, drug and tampering charges. U.S. District Judge Daniel Hovland sentenced him to 45 years in prison.
"That was a ground-breaking deal," Purdon said of the prosecution, led by Assistant U.S. Attorney Rick Volk.
The goal, Purdon said, is to make sure the Morsette case sends a message to other people who may be considering cashing in on the apparent demand for people forced into prostitution.
"Don't traffic here," Purdon said.
There have been a handful of cases in state court under a law passed in 2009. Several cases of a human trafficking nature have been prosecuted under other laws, both federally and in state court. Other cases, many of which are pending in court, have involved law enforcement officials posing as someone offering an underage person for sex, then arresting the people who show up for sexual encounters.
Those recent stings — involving federal and state law enforcement officers — showed Purdon that there was, indeed, demand for sex trafficking in the state. Such stings netted three arrests in Williston, followed by 11 in Dickinson.
"It was an eye opener for me," Purdon said. "That was alarming."
Purdon said his office is taking a three-pronged approach to combatting sex trafficking. The first prong is to treat the people trafficked as victims, rather than arresting them for prostitution. The second prong is to attack the demand and prosecute the men who seek to hire trafficking victims. The third, and most difficult prong, is going after the traffickers.
The approach is, at least in part, based on that taken by Choi and other Minnesota officials. In 2011, Choi and other county attorneys in the Twin Cities' area decided to try a new approach to human trafficking. Rather than treat the prostitutes as criminals, they would treat them as victims of trafficking, especially in the cases of children and teenagers. Instead of handcuffs, they offered services and help. And, in time, they started finding out how the victims came into the sex trade, and they gathered enough evidence to prosecute pimps for trafficking.
Because of the effort, Minnesota knows a lot about the trafficking problem its state has. Choi said his office continues to break its previous records for sentencing in human trafficking cases. The state has put money into providing services for juveniles — most of whom are girls — who are pushed into the sex trade, and private sector groups have worked on research and educating the public.
Purdon had Choi speak at his office's annual meeting in December and offer some advice about how to approach human trafficking prosecutions, which can be daunting cases that are hard to hold together. Choi said he's heartened to see the North Dakota take on human trafficking, since it's a problem that often crosses jurisdictional boundaries. He's glad to lend a hand in showing them how to proceed in investigating and prosecuting the cases.
Battling public perception also is part of the problem, too. Choi said many people have a vision of prostitution based on the movie "Pretty Woman" and believe it's a victimless, consensual relationship. In reality, it's often a young, vulnerable girl with mental health or addiction issues pushed into a situation over which she has no control, he said.
Hathaway and Choi said traffickers have an ability to zoom in on the most vulnerable kids — the ones who might have disorganized family structures, who fend for themselves, or who exhibit a need for attention. Tribal leaders have expressed concerns about their young people falling victim, since there are many vulnerable youth on reservations, Purdon and Hathaway said.
All that means is that the "prostitutes" usually are powerless once they get sucked into the situation. Atkinson said they also are likely to fall victim to other crimes because of their lifestyle, including assaults both physical and sexual.
"It's an ugly, ugly life," Atkinson said about prostitution.