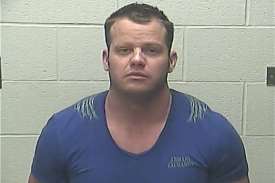 A Watford City man has pleaded not guilty to eight felony charges related to being a convicted felon in possession of guns and firearms.
James Henrikson, 34, pleaded not guilty during a short court hearing on Monday at the federal courthouse in Bismarck to seven charges of being a felon in possession of a firearm and one charge of being a felon in possession of ammunition.
Henrikson originally had been charged in mid-January with one count of being a felon in possession of a firearm. A federal grand jury later indicted him on the eight charges instead.
You have free articles remaining.
U.S. District Judge Charles Miller told Henrikson the charges carry maximum penalties of 10 years in prison. However, Assistant U.S. Attorney Gary Delorme said he is waiting on additional information on Henrikson's criminal history to see whether any enhanced penalties may apply.
Henrikson has multiple felony convictions out of Oregon. He also is mentioned frequently in the court documents of a man charged with the Dec. 15 murder of Doug Carlile in Spokane, Wash.
Henrikson was a business associate of Carlile, who was killed by an armed intruder in his home on Dec. 15. Henrikson has not been charged with anything in connection with Carlile's murder. Timothy Suckow, 50, has pleaded not guilty in Spokane County Superior Court to first degree murder. He has been held since mid-January in lieu of $2 million bond.
Authorities have suggested Henrikson may have hired Suckow to shoot Carlile. Court documents say detectives recovered a leather glove outside the house with Suckow's DNA inside.
Federal officials searched Henrikson's home in Watford City on Jan. 14 looking for evidence of financial crimes and weapons. According to documents and court testimony, they found seven firearms and some ammunition. U.S. Postal Inspector Thomas Irvin testified in court in January that he has been investigating Henrikson and Henrikson's wife, Sarah Creveling, for alleged wire fraud, mail fraud and money laundering since June 2013.
Irvin did not testify in detail about the financial crimes for which he has been investigating Henrikson. Prosecutors also have sought to seize properties belonging to Henrikson and Creveling amid allegations he defrauded investors in a trucking company, pocketing millions for himself through other business ventures begun in his wife's name.