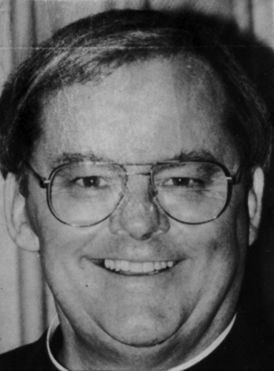 The Catholic Archdiocese of St. Paul and Minneapolis and the Diocese of Bismarck on Thurday named longtime Bismarck priest and disc jockey Father John Owens as one of 17 priests facing allegations of sexual abuse of a minor.
The announcement comes as part of a settlement agreement with the law firm Jeff Anderson and Associates, which represented alleged victims in the case.
The 85-year-old Owens now resides in Forest Lake, Minn., where he lives a life of atonement, according to a prepared statement released by the office of the Bismarck Diocese.
For nearly 40 years, Owens lived and worked in Bismarck, where he served as director of communications for the local diocese and also ran a weekly radio show on KFYR, "Padre's Platters," that reached out to area youths and discussed drugs, alcohol, acne, obesity, sex, teenage pregnancy and other problems, according to a Tribune article from June 2, 1982.
In 2002, three years after Owens retired and moved to Minnesota, the Diocese of Bismarck reported to the North Dakota Department of Human Services that "it had received reports of acts of sexual misconduct toward a minor by Owens," according to the diocese statement.
The matter also was referred to the Congregation for Doctrine of the Faith in Rome, Italy. At the time, that congregation was led by Cardinal Joseph Ratzinger, who later would go on to become Pope Benedict XVI.
"After review and investigation, the congregation ordered that Owens lead a life of prayer and penance and that his priestly life be monitored so that there is no risk to minors from Owens," the Bismarck Diocese statement read.
Owens' faculties — which include the ability to hear confessions, say mass and preach — were formally removed in 2005.
In a statement on its website, the archdiocese wrote that it "is not aware of any substantiated claim of sexual abuse of a minor asserted against Owens relating to any conduct that occurred in this archdiocese."
That statement is in conflict with the one released by Jeff Anderson and Associates, which stipulated that the released names were of those priests "who are the subject of substantiated claims of sexual abuse of minors."
According to the archdiocese, Owens name was simply released "in the interest of full transparency."
In an email statement Thursday, North Dakota Department of Human Services spokeswoman LuWanna Lawrence wrote that if the department had received a report, "state law would prevent the department from disclosing information related to it."