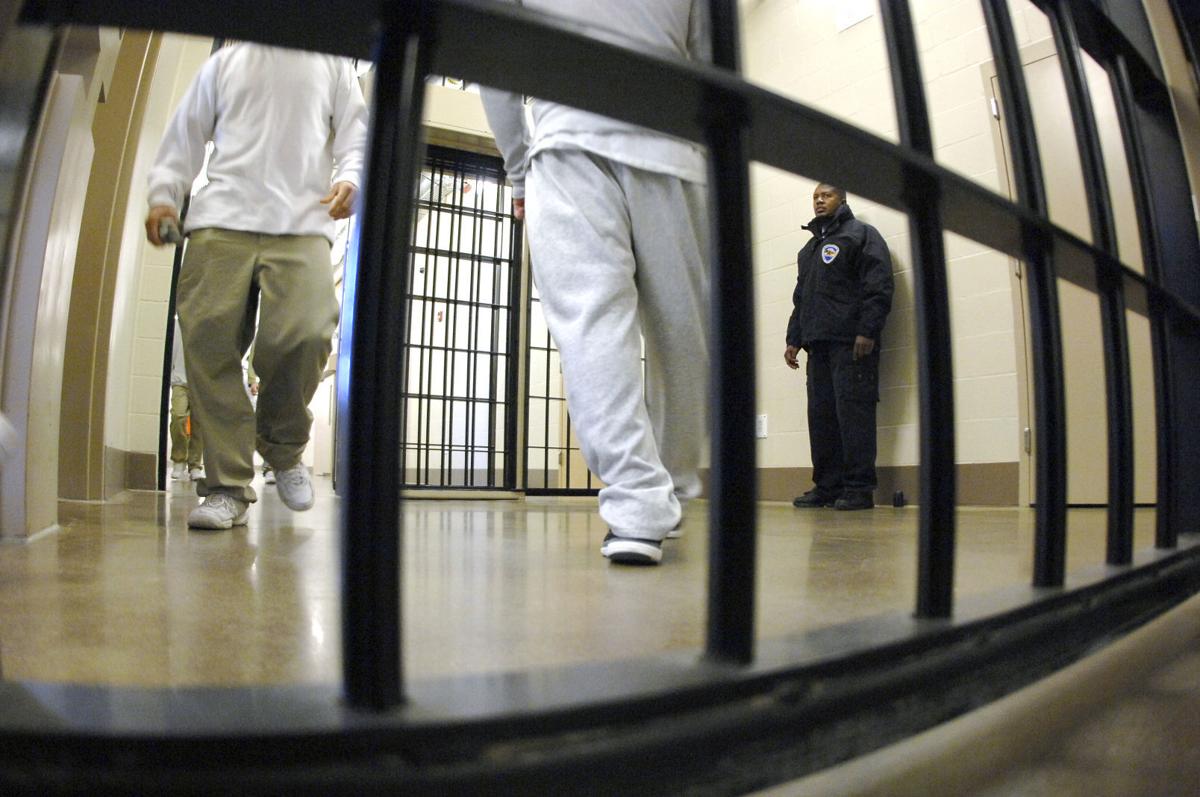 In the 2018 fiscal year, the North Dakota prison population decreased 6.5 percent, according to a report presented to legislators on Thursday.
Multiple factors are likely responsible for the figure that exceeded expectations, according to Leann Bertsch, director of the state Department of Corrections and Rehabilitation. An awareness of criminal justice reform and not overusing incarceration likely contributed, as well as sentencing practices such as "good time" for pretrial defendants in county jails, she said.
"I think there's just a number of factors: It's admissions, releases and length of sentence. A lot of the adjustments overall, I think, are creating the reduction in people incarcerated," Bertsch told the Tribune.
Burleigh County Sheriff and Rep. Pat Heinert, R-Bismarck, rated the 6.5 percent decrease as "excellent."
"Any number is good," he said during a break in the interim Justice Reinvestment Committee's meeting on Thursday morning at the state Capitol in Bismarck. "If we can reduce the prison population and keep people out of jails and keep them in other programs, it's better for everything that we're involved in, whether it's legislative stuff or law enforcement stuff."
Heinert said he expected an incarceration decrease as he watched state and local numbers in the past 18 months.
Additional decreases came in misdemeanor and felony sentence dispositions over the past year: From August 2017 to July 2018, misdemeanor dispositions fell 4.3 percent, while those for felonies fell 16.9 percent in the same time frame, according to figures from the Council for State Governments Justice Center in the Justice Reinvestment Oversight Committee report to lawmakers. 
Bertsch said some "shifting" likely accounts for the felony dispositions' decline due to reduced penalties for drug crimes. Moreover, she said it's too early to draw correlations on the various justice reforms, but results appear to be "going in the right direction." The state needs more data collection over a longer period, she added.
One piece of the puzzle has also shown "promising" figures, according to Pam Sagness, director of the Behavioral Health Division of the state Department of Human Services.
Sagness told legislators that, from March through July, 71 percent of participants in the Free Through Recovery peer support program achieved three of four criteria for outcomes including housing, employment, involvement with law enforcement or reducing substance use.
You have free articles remaining.
"I think it's a fairly holistic thing where we're addressing not only the addiction and behavior issues but also simple things like following through on do they have a job? Are they showing up for work?" Rep. Bernie Satrom, R-Jamestown, told the Tribune. "Those are huge things as far as the long-term successes."
Sagness and DOCR clinical director Dr. Lisa Peterson told lawmakers that Free Through Recovery has had 448 participants since Jan. 10.
The program's mission is to provide community-based behavioral health services for those involved with the criminal justice system. Free Through Recovery sprang from $7 million appropriated in one of several bills branded as "justice reinvestment" in the multi-branch reform effort early last year.
Lawmakers also considered what's needed for furthering the program in 2019. Sagness said a financial analysis is underway for what could continue Free Through Recovery, which mostly serves people on parole or probation. She said she receives daily requests for the program to expand to other systems, such as pretrial services and jails.
"I think the key question is going to be where can we expand Free Through Recovery in a meaningful way to be more of a diversion and preventing that criminal justice involvement but also serving, for example, social services and foster care," Sagness told the interim Justice Reinvestment Committee.
In comments to the Tribune, Gov. Doug Burgum said more time is needed to gauge the full impact of the justice reforms, but described the results so far as "positive momentum." He also commended the various groups, such as the Legislature, DOCR, DHS and CSG, that have engaged so far.
Satrom said the appetite next session for continuing justice reinvestment would likely be "for anything that works," while invoking Burgum's theme of innovation in government services as well as data-driven tactics.
Money is likely to be "very tight," he added, with scrutiny on what proposals may be brought forth.
"I think we're really about fixing things, not just putting Band-Aids on things, not just kicking the can down the road," Satrom said. 
Bertsch said changing culture and philosophy can be "hard reforms to make." She highlighted the state's reduced solitary confinement, down to about 20 inmates today from DOCR's all-time high of just under 100.
She also said she senses there's an emphasis to continue last year's justice reform efforts.
"I think people know that we can't just let off the gas now, so I think there's going to be some additional initiatives brought forward that will continue to positively impact public safety," Bertsch said.