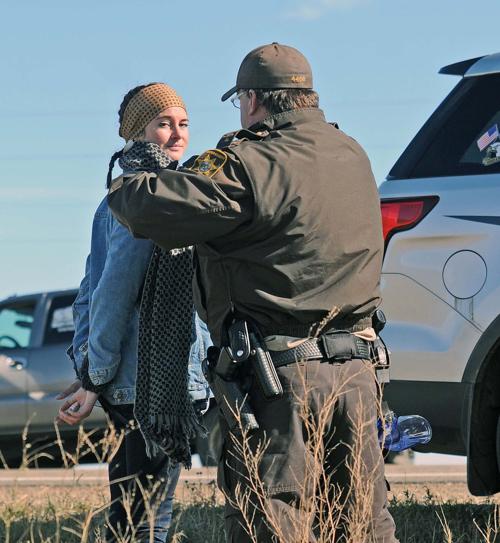 Prosecutors and judges dismissed, in March, 33 misdemeanor criminal cases resulting from arrests at the Dakota Access Pipeline protests. Another 14 cases were resolved that month by guilty pleas, according to court records. 
Most of the dropped cases related to misdemeanor criminal trespass charges from the late summer and fall. Protesters were charged with demonstrating illegally on private property where pipeline construction was underway in southern Morton County.
Prosecutors struggled to prove those charges before Allan Schmalenberger, a retired judge from Dickinson assisting the South Central District judges with DAPL cases. 
Schmalenberger decided in multiple cases that the Morton County State's Attorney's Office had not met its burden of proof in showing that protesters were given proper notice — by sign postings or warnings from an authorized person — that the land was private. 
After two trials, which Schmalenberger canceled midway through due to lack of evidence, the prosecutors entered motions to dismiss in several similar cases, citing a "notice issue."
Among those with dropped charges was Rebecca Kemble, a Madison, Wis., city councilwoman acting as a legal observer on Oct. 10, according to her defense attorney's brief. She was charged with criminal trespass, engaging in a riot, resisting arrest and tampering with evidence, but her attorney argued she was arrested while trying to leave and was simply turning off her camera, not deleting evidence.
Morton County Assistant State's Attorney Brian Grosinger said some of those dismissed cases would be recharged. Two people, Olivia Bias and Theresa Blackowl, originally charged with trespass and engaging in a riot, have been recharged with physical obstruction of a government function, essentially preventing police from performing their duties, related to an Oct. 10 incident.
Bias' attorney, Melinda Power, called it an "unpleasant surprise." Schmalenberger had concurred with an earlier motion she filed that the prosecutor's first charges did not show probable cause.
The state did not drop any felony charges in March, according to court records.
Of the 14 guilty pleas entered, two were for Class C felonies, records show. The others were misdemeanors.
Mason Redwing, 21, of Fort Thompson, accused of riding a horse at a police officer during a protest on Sept. 28, pleaded guilty to reckless endangerment. He was ordered to pay $2,000 in fines, but the sentence is deferred, meaning if he stays out of trouble for the next year he will not go to prison.
John Nicholson, 31, of Pennsylvania, accused of locking himself to construction equipment, also pleaded guilty to reckless endangerment. Prosecutors indicated that charge reflects the danger in which officers were placed when sawing people, attached with PVC pipe "sleeping dragons," off of equipment. He received a one-year suspended sentence for the crime and $450 in fines.
Movie star Shailene Woodley, 25, of Los Angeles, accused of engaging in a riot and disorderly conduct at an Oct. 10 pipeline protest, pleaded guilty to the latter charge. She was given a deferred sentence and ordered to pay $500 in fines.
Some of the other guilty pleas resulted from incidents in Bismarck, including a protest outside the governor's residence, in the Capitol and at Kirkwood Mall.
According to the joint information center, 761 arrests were made during the protests. 
Sign up for our Crime & Courts newsletter
Get the latest in local public safety news with this weekly email.