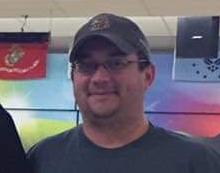 A judge on Monday set bond at $1 million for a man arrested in the shooting death of a Bismarck man.
Earl Howard, 41, of Belwood, Ontario, has dual U.S. and Canada citizenship. He is charged with murder, arson, murder conspiracy, arson conspiracy and conspiracy to tamper with evidence in the death of Chad Entzel, 42, whose body was found Jan. 2 after authorities responded to a report of a house fire on 43rd Avenue Northeast. Police have not discussed a possible motive.
Howard was arrested Thursday on the Blue Water Bridge connecting Port Huron, Mich., with Ontario, Canada. He waived extradition the next day and was brought back to Bismarck on Saturday. He made his initial court appearance Monday morning.
Burleigh County State's Attorney Julie Lawyer requested the $1 million bond, noting Howard's dual citizenship and what she said were the difficulties and expense of extraditing someone from Canada. She also said authorities had information that Howard was looking to buy land in Texas.
Howard said he has family in Texas, but he asked for a lesser bond amount, saying he wasn't a flight risk. He told South Central District Judge Bruce Romanick that he drove from Canada to Michigan to turn himself in as soon as he learned there was a warrant for his arrest, and that the charges against him would prevent him from recrossing the Canada border.
Romanick sided with the prosecution's request. Howard requested that an attorney be appointed to represent him.
Entzel's wife, Nikki Entzel, 38, also is in custody, charged with three conspiracy counts in her husband's death. Her bond was set earlier at $500,000 cash.
The nature of the relationship between Howard and Nikki Entzel isn't clear. Entzel allegedly told police she was at the home when Howard shot her husband to death after arguing with him in a bedroom on Dec. 30, three days before she reported the fire. Howard allegedly told her a propane heater near the bed should start a fire.
Entzel told authorities she moved out of the home on Dec. 30 and was living in a motel room. The room was registered to and rented by Howard, according to authorities.
Chad Entzel's body was in the early stages of decomposition when an autopsy was performed, according to authorities. State Medical Examiner William Massello concluded Entzel had at least two gunshot wounds and died from them. Police said they found a double-barrel shotgun in the bedroom.