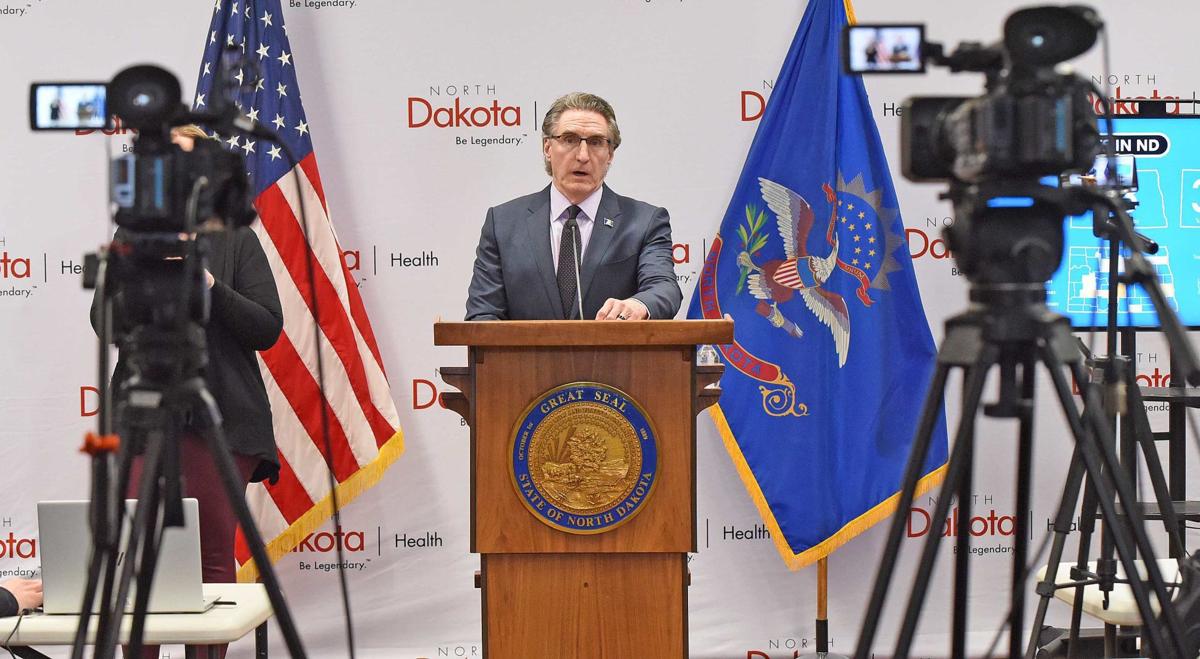 The forced closure of a hair salon at a Minot assisted living facility due to a COVID-19 executive order issued by Gov. Doug Burgum has kept some residents from attending group activities because of their appearance and could play a role in spreading the coronavirus the order is aimed at slowing, according to a lawsuit the company has filed.
Somerset Court LLC is suing Burgum and State Health Officer Mylynn Tufte in an effort to allow the facility's in-house hair salon to continue providing services to its residents, according to the complaint filed Thursday in state court in Burleigh County.
It's the first legal challenge to an executive order issued by Burgum during the pandemic. The governor declined to comment on the lawsuit, citing ongoing litigation, but he spoke in general, saying the state understands "very empathetically" that for some people in a long-term care facility, getting a haircut can be a matter of "dignity."
However, he said opening up in-house hair salons at assisted living facilities conflicts with his plans to protect vulnerable populations.
"You've got an intersection of something that by definition puts people within transmissible contact for more than 15 minutes, which is what we are trying to avoid and limit with our targeted efforts to close those personal care businesses and intersect a transmissionable moment with a vulnerable population and that would just by everybody's evaluation be putting risk on top of risk," he said.
Burgum on March 28 ordered personal service businesses such as beauty salons, tattoo parlors, barber shops and manicurists to shut down in an effort to control the spread of the new coronavirus.
The salon inside Somerset is owned by the facility but operated by an independent contractor. With the onset of the outbreak, operator Kari Riggin limited access to the salon to one person at a time and took other required precautions, the complaint states. Somerset Salon continued operating and was cited on April 14 for for failing to comply with the order. It carries a potential fine up to $1,000.
Riggin is more educated and experienced in hair washing and hair styling and would spend less time with the residents than would less-experienced aides, the document states.
Riggin works exclusively at the salon and doesn't see clients at any other location. Keeping the salon open, Boughey's complaint reads, presents fewer health risks than sending aides from apartment to apartment for such services. Some residents have "literally sequestered themselves" because they are too embarrassed about their appearance to go to the dining room or other group activities, the document states.
Somerset is asking a judge to declare that the executive order does not apply to standard activities of daily living, including the washing and setting of hair. The company also wants the judge to allow the salon to operate while the court case proceeds.
Shelly Peterson, president of the North Dakota Long Term Care Association, told The Associated Press her group has been asking for an amendment to the order to allow in-house salons at nursing homes since the order was established. She said protocols are in place at all facilities in response to the coronavirus.
"It's just common sense with all the other personal care we do for residents," Peterson said. Residents "depend on us. We feed them, clothe them and we change them."
There are 128 long-term care facilities in North Dakota and "about 70% of them have licensed beauty shops," she said.
Dave Caldwell, Somerset Court's director, told The Associated Press there are 120 residents and about 80 staff members at the facility. He said there have been no confirmed cases of the coronavirus there.
"I think the spirit of the executive order was to keep hair salons closed for the general public," he said. "This is not different than other activity of daily living that our staff performs here."
(Reporter Andy Tsubasa Field contributed to this story)
Concerned about COVID-19?
Sign up now to get the most recent coronavirus headlines and other important local and national news sent to your email inbox daily.